This article is an update to the article I wrote about Whole Foods Market, Inc. (NASDAQ: WFM) a couple of weeks ago. You can read about my first article about Whole Foods by clicking this link.
Whole Foods recently released its earnings report for its third quarter, and needless to say, the results are not exactly outstanding. Once again, disappointing earnings caused the stock to fall, and investors saw their shares lose more than 10% of their value. As of today, shares are down more than 35% since Whole Foods' October high of $65.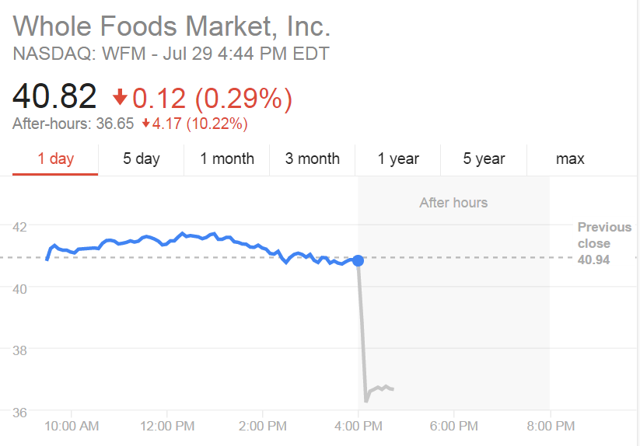 Source: Google.com
But before investors jump on the sell-off train with everyone else who panic-sold, let's step back, take a deep breath, and evaluate whether or not the decline was a result of deterioration within Whole Foods' fundamentals or a simple tripping on the shoelaces deal. As investors will see, this price drop offers an even greater opportunity to get in cheap on Whole Foods' potential.
According to analysts' reports, Whole Foods missed on a number of metrics, including revenue, earnings per share, and comparable store sales growth. But the misses are not egregious: Analysts expected Whole Foods to deliver $3.69B in revenue, which equates to 45 cents per share, and Whole Foods delivered $3.63B in revenue, or 43 cents per share. That's less than a 5% miss.
Examining Whole Foods' other woes, we see that the company's comparable store sales missed by a lot: Analysts expected 2.8% in comp growth, but Whole Foods only delivered 1.3%. This miss can be logically explained through the pricing mishap with New York City, where Whole Foods (accidently?) overcharged for prepackaged food. While an event like this will definitely do damage to Whole Foods' reputation (and subsequently, its revenue growth), such an event will most likely only have a temporary effect on Whole Foods. A recent visit to several Whole Foods revealed stores that were packed with shoppers, and it didn't seem like traffic was impacted much. Investors should expect comp growth to pick back up in the coming quarters as shoppers forget about this incident.
Gross margin declined slightly, but only by 66 basis points, which is normal in the course of Whole Foods' growth.
Earnings Do Not Point to Weaknesses in Fundamentals
So, are these disappointing numbers indicative of the beginning of the end for Whole Foods? Certainly not. The astute investor removes emotional influences from his or her decisions, and he or she can see that the causes of Whole Foods' revenue decline are only temporary in nature. Whole Foods is poised to grow even further through its 365-branded stores as these stores penetrate into new socioeconomic markets, and the company remains the leader in the natural and organic food industries. Now that shares have dropped even lower to around $36, investors have been granted an opportunity to open a cheap position within Whole Foods. The DCF that I constructed showed a base case intrinsic share price of $53, which represents around 50% in upside based on the current market price. To investors that have lost money in Whole Foods today, I would say keep your faith and your money in the company. To investors who are about to open a position in Whole Foods, I would say wait for the share price to stabilize, and then go in.
Today was a good day in disguise for Whole Foods' investors.