The Canadian transportation company TransForce (OTCQX:TFIFF) which recently released Q2'15 earnings is well poised to grow and add great amounts of value to shareholders. Headquartered in Saint-Laurent, Canada, the company continues to make acquisitions, which may not be doing too well at the moment, but is poised to unlock a good amount of value in the long haul. However, before we get into that and more, let's take a closer look at the company's second quarter earnings highlights:
Into the numbers
TransForce delivered solid growth in revenue for the second quarter at $1.10 billion CAD ($879.44 million), which was 27% higher than the comparative period last year. Acquisitions and currency movements mainly drove this growth but lower volumes and fuel surcharge offset it to a certain extent.
Net income was also 72% higher at CAD $64.12 million ($51.39 million). Adjusted earnings per share ended up 25% higher at CAD 0.69 ($0.55). Cash from operations grew at an impressive clip of 51%.
So what is driving TransForce's performance?
Well, it is mostly from making great acquisitions. Typically, when companies acquire another business, they tend to swallow it whole and change almost every aspect about it to suit their own culture and methods. This is not true in the case of TransForce. The company gives subsidiaries a degree of autonomy, which allows them to cater to various regional markets more effectively. In the mean time, it uses its own resources to bolster capacity in each of these subsidiaries. This very simple but effective formula has been the driving force for TransForce's steady revenue growth.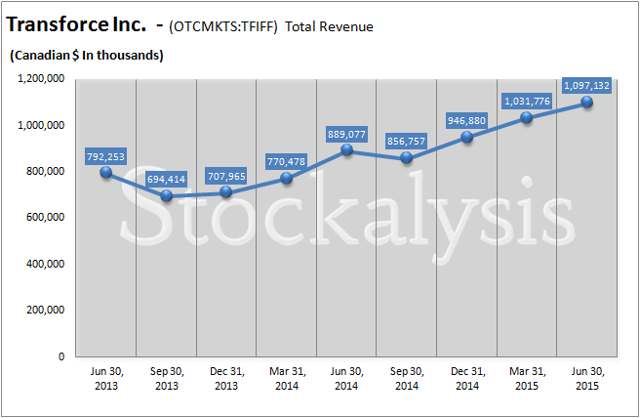 This year in May, TransForce expanded its reach with the acquisition of Hazen Final Mile, which offers co-mingled, dedicated and "white glove" delivery services in more than 20 cities in the U.S. The acquisition gives TransForce access to Hazen Final Mile's customers, which include many Fortune 500 retailers, manufacturers, and distributors offering office, automotive, healthcare, and home products.
In December last year, TransForce completed its acquisition of Contrans Group. Contrans was one of the largest freight transportation companies in Canada with a fleet of 1,400 power units and 2,600 trailers under its belt. Hence, we can say that with the aid of such acquisitions, TransForce has managed to shore up revenues consistently despite the negative effects of a weak economic environment.
In terms of Adjusted EBITDA, TransForce has seen quite a bit of growth here as well. Adjusted EBITDA, (which is net income before finance income and costs, income tax expense, depreciation, amortization and asset impairments) increased 36% in Q2'15 from the previous year's quarter. Setting aside seasonal dips in the March quarters, TransForce has been able to grow its adjusted EDITDA from just CAD $93.15 million ($88.54 million) to CAD $150.57 million ($120.70 million) in Q2'15.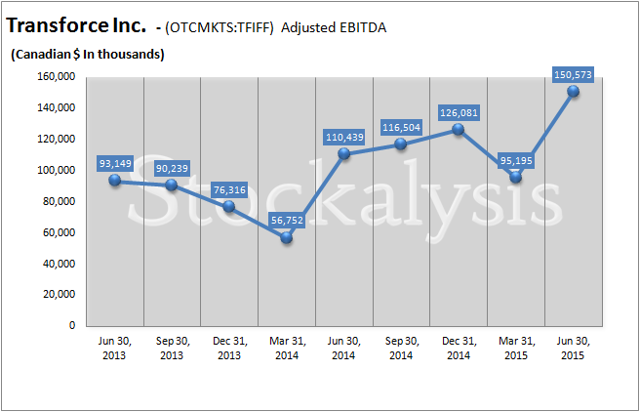 But while TransForce has managed to achieve top-line growth at an impressive clip, the bottom-line has been lagging behind. The company's historical annual and quarterly net income trends reveal choppy movements. But I wouldn't worry about that. TransForce isn't picking up on the bottom line largely due to expansion activities which involve great amounts of one-time expenses and other miscellaneous costs.
Besides investing in inorganic growth, TransForce is also using much of its cash flows to buyback its own shares from the open market. In FY14, TransForce bought back CAD $57.41 million ($49.53 million) worth of common stock. And recently in Q2'15, the company bought back CAD $52.1 million ($41.77 million) worth of stock.
Stability in diversity
TransForce boasts off a vast and incredibly diverse customer base. Not even a single client accounts for more than 10% of the company's revenue. In addition, the company also operates across a wide range of industries. As of 30th June 2015, the company's customer based industry break-down of consolidated revenues is as under: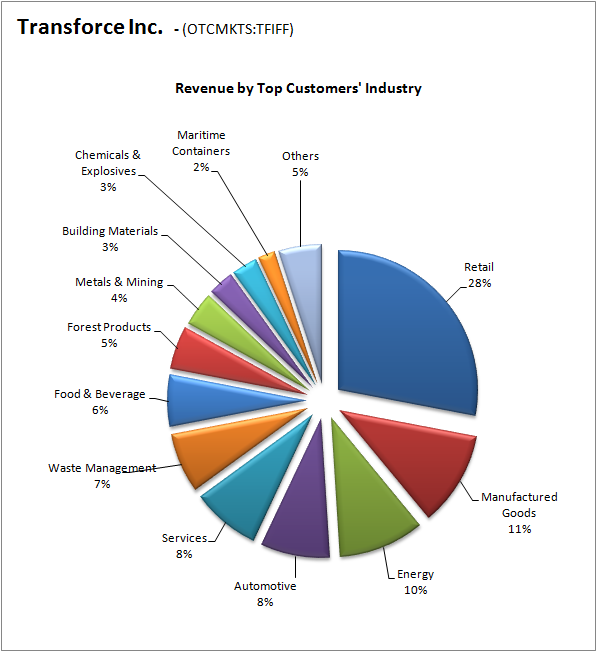 Because of this incredible amount of diversity, the company is able to weather sector-specific headwinds and even stay immune to the possibility of losing business from any of its individual customers.
Concluding Remarks
On an YTD basis, the company has lost about 25% of its value in the market, which in my opinion presents a reasonably good buying opportunity. From a valuation perspective, TransForce currently trades at a reasonable P/E of 16.49, which is lower than many of its peers. Though that is understandable because of its relatively higher debt to equity ratio.
| | | |
| --- | --- | --- |
| Company | P/E Ratio (mrq) | Debt/Equity Ratio (mrq) |
| TransForce Inc | 15.44 | 1.59 |
| Celadon Group, Inc (NYSE: CGI) | 12.56 | 1.74 |
| Con-way Inc (NYSE: CNW) | 15.36 | 0.62 |
| ArcBest Corp (NASDAQ: ARCB) | 16.51 | 0.30 |
| Roadrunner Transportation Systems Inc (NYSE: RRTS) | 18.76 | 0.75 |
| Saia Inc (NASDAQ: SAIA) | 19.09 | 0.28 |
| Old Dominion Freight Line (NASDAQ: ODFL) | 21.37 | 0.09 |
| Quality Distribution Inc (NASDAQ: QLTY) | 22.20 | - |
| USA Truck, Inc. (NASDAQ: USAK) | 23.64 | 0.99 |
| Mullen Group Ltd. (OTCMKTS: OTC:OTC:MLLGF) | 45.19 | - |
RSI index is bordering oversold levels and Money Flow Index shows a marked increase indicating that there could be a reversal in the current downward trend.
TransForce has cut down on its outlook for FY 2015 due to economic headwinds in Canada largely contributed by the slump in the oil and gas sector.
Alain Bedard - Chairman, President and CEO of TransForce had this to say during the Q2'15 earnings conference call:
"In terms of our outlook we expected that the Canadian economy will continue to be weaker than initially anticipated, as the impact of the downturn in the oil price will continue to be a significant factor in the Canadian economy. On the upside an uptick in consumer confidence and spending in the U.S. is generating more businesses in the P&C and key [ph] haul segments."
So, from a fundamental standpoint, I feel confident about the company's ability to deliver great value to shareholders in the long run. However, due to continuing weakness in the global macroeconomic environment, I would suggest buying TransForce in small quantities staggered over the next few months in order to average your bet.
Disclosure: I/we have no positions in any stocks mentioned, and no plans to initiate any positions within the next 72 hours.
I wrote this article myself, and it expresses my own opinions. I am not receiving compensation for it (other than from Seeking Alpha). I have no business relationship with any company whose stock is mentioned in this article.
Editor's Note: This article discusses one or more securities that do not trade on a major U.S. exchange. Please be aware of the risks associated with these stocks.