Magal Security Systems (NASDAQ:MAGS) is an Israel-based security company specializing in the provision of comprehensive, turnkey solutions, perimeter security and integrated physical and cyber solutions.
MAGS began as a subsidiary of Israel Aerospace Industries but was eventually spun out, going public on the Nasdaq in 1993.
The nature of the company's business, which is in a large part dependent on government contracts, results in some very lumpy earnings year to year, depending on the projects MAGS is working on at the time. Some built-in stability is beginning to occur, however, as there are bolt-on maintenance components to most of its installations. This is a small but growing portion of its revenues.
MAGS has been augmenting its portfolio of products and services through acquisitions over the last several years. In 2013, it acquired US company Websilicon (rebranded as CyberSeal) for $2.6m and followed in 2014 by acquiring a fiber-optic technology company for $4.3m. With a cash balance of $29.9m on hand at the end of March 2015, we can expect further acquisitions going forward based on its past actions.
MAGS has some large institutional holders of its securities:

Source: Company 20-F Filing
BMI and Grace & White have both filed 13G documents with the SEC, indicating their holdings are passive in nature for investment purchases.
The FIMI Opportunity Fund accumulated its 40% shareholding by agreeing to a private purchase in October 2014 from former major shareholder Ki Corporation at $3.50 a share, roughly the market price at the time. FIMI is a leading Israeli private equity fund with stakes in many other companies, both public and private. In its press release at the time, FIMI indicated it takes stakes in companies so "it can influence the companies' activity and enhance their value, among other things, by changes in management and business policy."
This has already started. On February 11, 2015, MAGS announced Saar Koursh as the new CEO. This was done very professionally, with outgoing CEO Eitan Livneh staying on to assist in the transition after guiding MAGS for the previous six years. Koursh came from the Brazil operations of Elbit Systems (NASDAQ:ESLT), another public Israeli security company. He became available when a large contract Elbit had with Brazil was cancelled in December 2014 due to ESLT's perceived role in the oppression of Palestinians. Koursh had good results at ESLT, with its Latin American sales increasing from $260m in 2012 to $444m in 2014. As only 7% of MAGS' sales currently come from Latin America, his expertise in this area alone should provide a boost to its presence there.
In his first conference call as CEO, Koursh gave some indications of where he intended to go with the company:
Focus on improving efficiencies on the cost front.
Integrating the

CyberSeal platform with the rest of the company.

Increasing resources for R&D focusing on fence and wall-mounted integrated sensors; fiber optic intrusion and detection systems for perimeters and pipelines; Roboguard, MAGS' agile surveillance robot; and cyber security for securing networks.
Koursh clearly sees a lot of additional value in MAGS' recent acquisitions that has yet to be revealed in his opinion. Below is the breakdown in sales by MAGS' main categories:

Source: Company 20-F Filing
You can see the CyberSeal division only generated revenues of $1.3m in 2014, likely not in line with what MAGS has hoped from its acquisition. However, this is one of the trends in security MAGS hopes to take advantage of in the coming years and has been singled out by Koursh as an area of growth.
Security Trends
On the surface, most sovereign state budgets will have a downward pressure on security spending, as defense budgets are held in check for some of the traditional infrastructure projects that MAGS serves such as airports, seaports and prisons. This will potentially put pressure on the turnkey solutions portion of its business.
However, by integrating its physical systems with cyber security, there is a chance for MAGS to gain efficiencies through systems working together better while reacting to a more cost-sensitive security environment. The need for this integration is outlined below: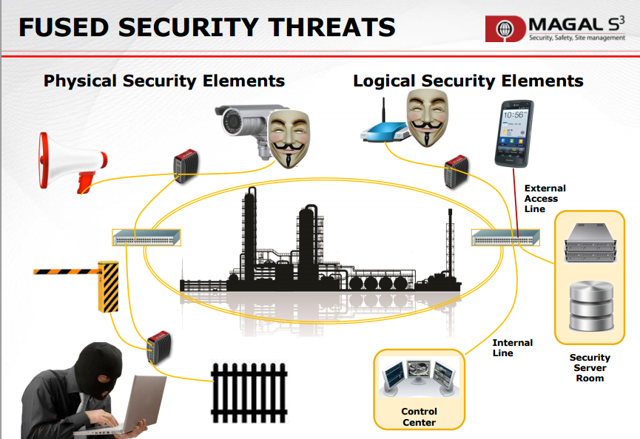 Source: Company Presentation
Koursh's decision to roll CyberSeal into the general operations of MAGS is a strong indicator that the company sees this as one of the ways forward.
An example of the type of product to benefit in this is Roboguard, an automated perimeter surveillance robot that will be able to conduct routine perimeter checks while saving on labor through automation.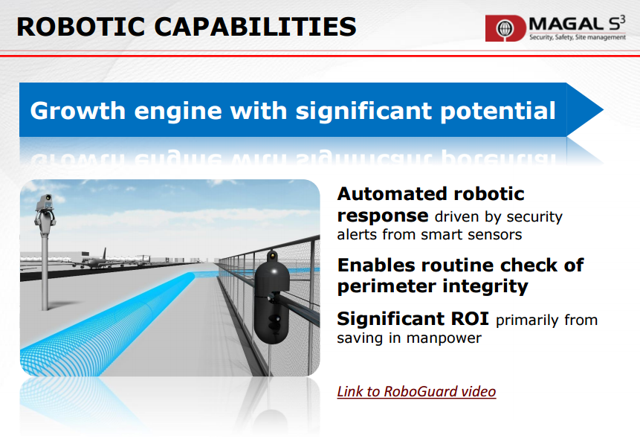 Source: Company Presentation
According to a market research report by Technavio, perimeter security growth in North America is expected to grow at a CAGR of 6.5% over the next five years to a total of $5.7B in 2019 from $4.1B in 2014. On a global basis, marketsandmarkets.com has published a report forecasting global perimeter spending to increase from $11.6B in 2013 to $17.7B in 2018, representing a CAGR of 8.8%.
Technavio specifically notes as a trend going forward in the use of fiber optics in location which MAGS has addressed with its 2014 acquisition and its existing business.
MAGS has several Perimeter Intruder Detection System (PIDS) products in addition to Roboguard above which it utilizes to fashion customized systems for its customers. Some of these, and their addressable markets, are detailed below: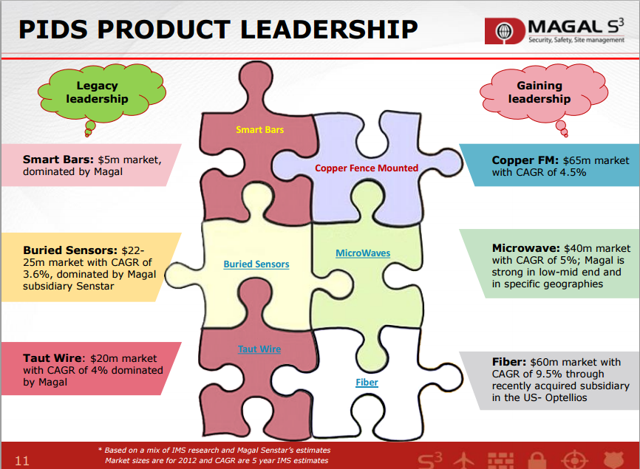 Source: Company Presentation
MAGS is positioned with several strong products as well as some potential upside in its fiber optic and CyberSeal divisions. However, we need to see if it is and will be able to capitalize on these skill sets.
Valuation
Like many of the companies I have been reviewing, MAGS has a significant cash balance compared to its market cap. Based on its latest Q1 2015, MAGS had $29.9m in net cash on its balance sheet. As a result, we end up with an enterprise value of:
MAGS Enterprise Valuation
| | |
| --- | --- |
| Market Capitalization | $67.75m |
| Less: Net Cash | ($29.90m) |
| Enterprise Valuation | $36.85m |
| Shares Outstanding | 16.3m |
| Enterprise Value per Share | $2.26 |
We can do two simple valuations based on historical data to see where we are at with respect to value. Below are the historical five-year data for MAGS from its annual filing:

Utilizing the prior year's net income of $.21 per share, we have a simple EV/Net Income ratio of 10.8x. If we use an average of the previous five years ($.07 per share), we end up with an EV/Net Income level of 30.5x.
I don't believe either of these valuations gives us a good predictor of where MAGS is going. However, MAGS does disclose in news releases whenever it wins a major tender bid. I believe that these announced orders are a good predictor of future sales while also shedding some light on MAGS business, both explicitly and implicitly.
Due to the nature of MAGS' products, the time between announcement of a contract win and its implementation can take roughly 6-12 months. There's always a chance that the actual revenues received from a contract will change from the announced amounts - scope change orders are common on these large scale bids. Time frames also are variable as simple contractual terms can hold up actual implementation longer than anticipated. With all that said, I believe these order announcements give us the best view to MAGS' financial performance going forward.
I reviewed MAGS' announced orders over the past three years as compared to its revenue levels in current and subsequent periods: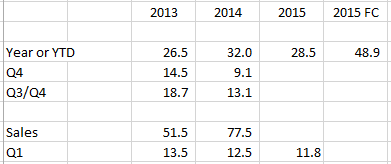 You can see the drop YOY of announced orders in both Q4 and H2 from 2013 to 2014 corresponds to lower Q1 2015 revenues. However, we see that the actual drop in revenues is quite small. I believe this is the fact that MAGS' installed base of products is generating ongoing maintenance and service revenues, giving it a buffer during down times.
More interesting is that the announced orders YTD in 2015 are just 10% below those announced all of last year, a year where MAGS profited with an EPS of $0.21.
Based on these assumptions, I created three scenarios:
Orders continue to accumulate at the same trend as they have so far in 2015 and then index them to 2014's revenues.
Same as above but we see a 4% cost savings on both cost of sales and operating expenses, similar to the improvements we see in Q1 2015 as compared to 2014. This reflects the CEO's focus on efficiency improvements.
No further announced orders in 2015, indexed to last year's sales, with no margin improvements from 2014.
Some further assumptions:
I included the $0.7m in financial income (this is generated from interest on its cash balance as well as foreign exchange translation gains) that occurred in Q1 but assume no further effects
I assumed no further shares were issued
We come up with three very disparate scenarios: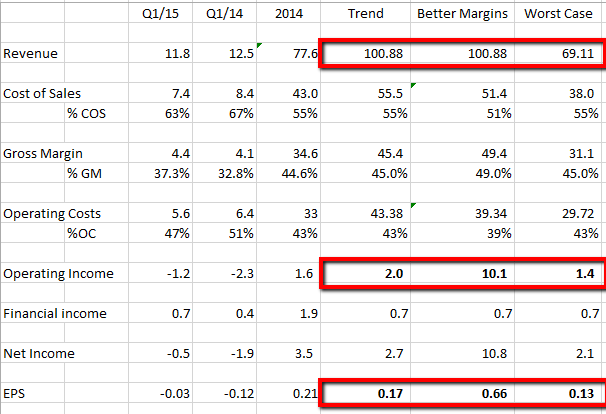 If we look at the base case, we have a $0.17 Net Income for 2015, with an EV/Net Income ratio 13.3x.
The worst case scenario of $0.13 per share gives an EV/Net Income of 17.4x.
The upside case of $0.66 per share gives a very small EV/Net Income of just 3.4x. However, this seems very high compared to its past results so let's look at how the business has varied in the previous years.
In the upside case, the additional $23.3m in revenue added $8.5m to the bottom line, at a 36.4% contribution margin rate. We have some good recent history as the drop from 2012 to 2013 and the increase from 2013 to 2014 were of similar magnitude. In the drop case, revenue fell by $26.2m in revenue with a fall in operating income of 10.0m or 38.2% of revenues. The following year, revenues bounced back by $26.0m, with operating income increasing by $6.0m or 23.1%.
Factoring in the 8% (4% cost of sales plus 4% operating expense) cost savings, this upside case is conceivable if orders continue along the pace they have in the first half of 2015. Based on this forecast and the dramatic rise and drops in net income as a percentage, MAGS' 2014 revenue levels are adequate to cover its fixed costs, such as rent, R&D, etc. This makes any additional sales, such as the best case model, very accretive to earnings.
We end up with several potential EV/Net Income models. I will compare these to ESLT's trailing 2014 multiple, bearing in mind ESLT's revenue and Net Income has been essentially flat for the last three years.
EV/Net Income Comparisons
| | |
| --- | --- |
| Scenario | EV/Net Income |
| MAGS 5 year average | 32.2x |
| MAGS 2014 | 10.8x |
| MAGS worst case forecast | 17.7x |
| MAGS base case forecast | 13.6x |
| MAGS best case forecast | 3.4x |
| ESLT 2014 | 21.9x |
In all cases, except for MAGS' five-year average result, MAGS is trading at a significant discount to ESLT. MAGS is a growing company, while ESLT is a mature company with flat revenues and flat net income, essentially trading at the S&P multiple. The reversion in multiple to ESLT's level applied to the base case gives an inferred price of $5.39, an increase of 31% from today's price level and back to where it was to start 2015. This is without the cost improvements we saw in Q1 2015, so the upside could be significantly greater.
MAGS is a smaller rival with several catalysts available to drive it forward:
New CEO. While CEO Koursh has only been on board since February, he already appears to have made his mark. The Q1 cost improvement was likely already underway before his arrival, but his conference call comments indicate we can expect to see some further improvement. With a track record of growth at ESLT, Koursh has a good chance of pushing MAGS to the next level.
Security Trend. As I noted above, there are several trends in security that MAGS has exposure to. Management has recognized the need to better market its in-house products to its customers. MAGS also has determined the need to link physical and cyber security together through its CyberSeal brand.
Further Acquisitions or Shareholder Returns. MAGS has a very large cash balance still and has had a propensity to acquire capabilities throughout its recent history. As FIMI is a growth oriented company, I can see this activity level continuing going forward. As such, I would not expect any dividends or buybacks in the near future.
MAGS has some strong tailwinds and a very compelling valuation. So what's holding it back?
Inconsistent Results. The last five years of annual results illustrates the historically high variability in earnings. Most investors like to see strong, steady earnings growth. However, the nature of the tenders that MAGS bids on makes continued volatility a high likelihood. I believe the downside will be muted going forward with the higher maintenance revenue from MAGS' installed base of projects as well as through additional product line growth from CyberSeal, etc.
Political Issues. The controversial nature of MAGS' business will mean that it is not even on the radar of some investors. An example of this was when reviewing its Wikipedia entry, I found an entire section devoted to its installation in 2004 of a controversial electric fence on the West Bank which was declared illegal by the International Court of Justice. The recent loss of a contract in Brazil by ESLT is another example that the Palestinian conflict may impact MAGS' business and potentially its investment returns in the future.
Size and More Limited Information. MAGS is a very small-cap company with little coverage. Additionally, as a foreign reporting organization, MAGS is only responsible to file detailed financial information once a year on its year end 20-F form - it doesn't have to file a detailed 10-Q like domestic issuers do. This may be helpful for them as far as keeping its operations more confidential. However, it does make them a little more opaque in trying to market its message to shareholders.
Summary
MAGS has gotten off to a very strong start in 2015 with several big contract wins. It also has improved its cost structure, giving real potential to rising profits with additional sales. MAGS provides a very reasonable margin of safety through its cash level and base sales performance, while its new CEO has several potential catalysts to drive growth going forward.
Disclosure: I/we have no positions in any stocks mentioned, but may initiate a long position in MAGS over the next 72 hours.
I wrote this article myself, and it expresses my own opinions. I am not receiving compensation for it (other than from Seeking Alpha). I have no business relationship with any company whose stock is mentioned in this article.
Editor's Note: This article covers one or more stocks trading at less than $1 per share and/or with less than a $100 million market cap. Please be aware of the risks associated with these stocks.