Starbucks (NASDAQ:SBUX) CEO Howard Schultz has remarked that China will be Starbucks' largest international market. The coffee chain has made remarkable progress in China, but with the country's population mostly comprised of tea drinkers, much of Starbucks' potential in China rests on Teavana.
This piece will look at Teavana's prospects in China's RTD tea and tea-foodservice market - two untapped areas of opportunity for Teavana. Please take note, this is only one factor in analyzing Starbucks' attractiveness, or non-attractiveness as an investment and should not be used independent of other factors.
Ready-to-Drink
China's Ready-to-Drink tea market is set to drive the global RTD tea market which is currently valued at over US$50 billion. China's RTD tea market is valued at about US$29 billion.
China's per capita consumption of RTD tea is just about one quarter of Hong Kong and about one-third of Taiwan indicating the growth potential in this industry.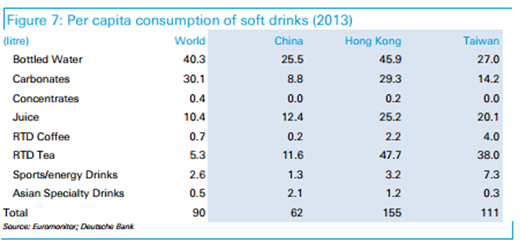 Source: Deutsche Bank report
China's RTD tea market is currently dominated by local players as multinationals have yet to gain traction among Chinese consumers.
China's Ting Hsin International Group not only dominates China's RTD market but the international RTD market as well with a 10% global market share. JBD Group is from Hong Kong while Ting Hsin and Uni-President are Taiwanese.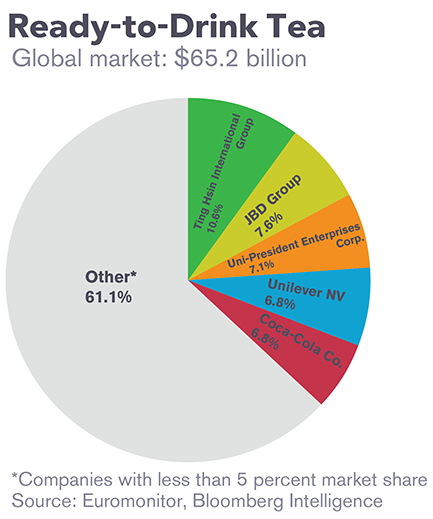 Source: Bloomberg
Within China, Tingyi (which is a subsidiary company of Ting Hsin) commands a 54% market share while Uni-President is in second place with a 29.9% market share.
In an effort to tap China's RTD beverage market, Starbucks' recently partnered with RTD tea market leader Tingyi Holding. Initial products would be reportedly focused on Starbucks' RTD coffee beverages, but later the partnership should extend to tea beverages from Teavana - Starbucks is venturing into a bottled tea segment vacated in 2013 by a Coca-Cola and Nestle (Nestea) joint venture dating to 2002.
China's RTD tea market is competitive with over 10,000 brands of tea. Tingyi's "Master Kong" brand is the market leader in China's RTD tea market controlling over 50% of the market. Apart from bottled tea, the "Master Kong" brand is also used to promote the company's instant noodles, bottled water and other consumer foodstuffs. Consequently, the brand has a strong presence among Chinese consumers, being bought by over 91% of households in China.
Apart from its market leadership position in RTD teas, Tingyi is also the market leader in instant noodles (47% market share) and bottled water (21% market share) and second largest juice producer with a 24% market share.
A few well-known multinational companies have tried unsuccessfully to penetrate China's RTD tea market. Swiss giant Nestle introduced its Nestea brand in 2002, (a RTD tea beverage produced in partnership with Cocoa-Cola) but the company pulled out of the market in June 2013. The market was dominated by Tingyi and Uni-President which together controlled 40% of the market at the time. Nestea's market share peaked at 2.3% in 2008 then dropped to 1.9% in 2010.
Before Nestle, Coca Cola experienced a few setbacks in the market for China's RTD tea which was also controlled by the same local giants Ting Hsin and Uni-President.
The bright spot for Teavana is China's rising disposable incomes and a growing middle class.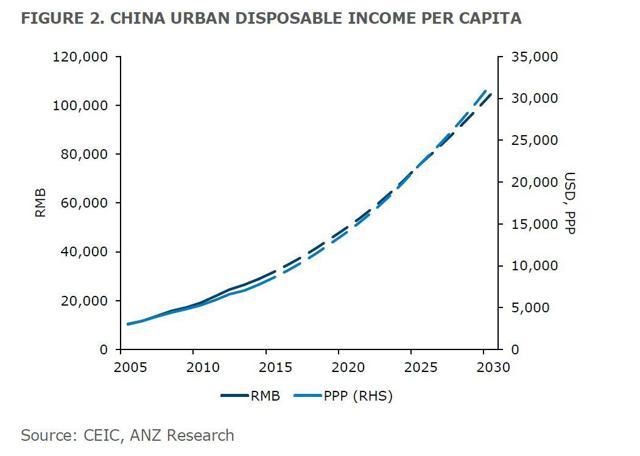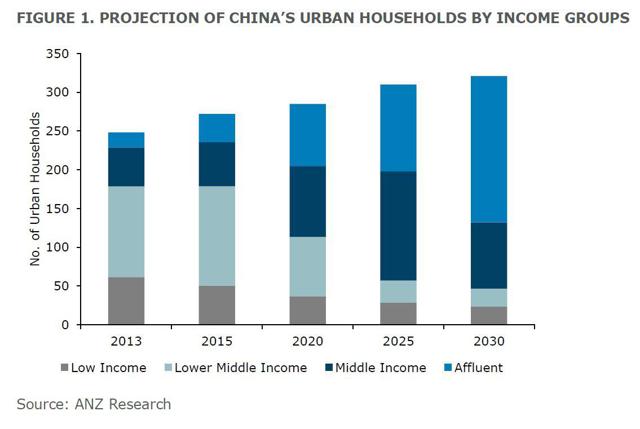 With rising disposable incomes, Chinese consumers' increased purchasing power would allow them to switch to premium brands such as Teavana. Euromonitor expects "premiumization" to take place in China's RTD market in the future and local players have reportedly started introducing new products to cater to this new demand. Uni-President for instance launched a milk tea in 2013 branded "CITEA" to fill the "gap in the high-end milk tea market" as quoted from its 2014 interim report.
Tea Foodservice
Although there is a widespread tea culture in China, there is no sizable tea-oriented modern foodservice industry the way coffee-culture gave rise to a US$41 billion coffee shop market.
According to Euromonitor data, global coffee consumption was 115 billion liters per year in 1999 (the year Starbucks began expanding beyond American shores) while tea consumption was 188 billion liters per year; in other words tea consumption was 60% more than coffee consumption. Tea consumption growth has outpaced coffee since then, and tea today is the most consumed beverage in the world after water.
In spite of these developments, while specialist coffee shops such as Starbucks have flourished, no such equivalent developments have taken place with tea. Thus, there remains a promising untapped opportunity for Teavana's tea cafes in China, specifically in tier-1 cities like Shanghai and Beijing, considering Teavana caters to an upscale clientele. As per capita incomes rise throughout China, Teavana's target market should grow.
"Tea presents a tremendous opportunity for growth," Starbucks CEO said, adding "we intend to do for tea what we did for coffee."
Apart from the over 60,000 tea houses scattered throughout the country (most of which are independently run), China has a fair number of domestic tea chains as well - Jack Hut, Happy Lemon and Tea Storm are a few examples, offering a vast and imaginative assortment of tea drinks from green tea with salt and cheese to brandy milk tea which has a generous dose of alcohol.
Most of them however, are small kiosks offering tea beverages catering to the mass market. Moreover, these tea chains are more 'beverage-focused' than 'experience-focused'. Specialty tea chains such as Teavana's tea cafes are differentiated from these local players not just through its higher-end target market but also on the emphasis of offering patrons a unique tea experience rather than just a tea beverage.
Conclusion
With China's per capita RTD consumption just a fraction of neighboring countries, this market offers good growth potential for Teavana especially as disposable incomes rise allowing consumers to switch to high-end brands. However, it is likely to take well over a year or two for the Starbucks-Tingyi partnership to deliver returns from tea since the partnership is initially focused on coffee. Additionally the partnership has yet to firm marketing, distribution and productions plans. Although there have been a few multi-national failures in China's RTD market, it is worth noting that these multi-nationals attempted to compete directly with the established local players whereas Teavana differentiates itself with premium products targeting a different demographic. With disposable incomes set to rise in China, there is expected to be a trend towards "premiumization" and Teavana's premium image puts the brand in a good position (all other things equal) to capitalize on this shift in consumer demand.
Teavana is well poised to carve out a specialist tea-based foodservice market in China. Given its premium target market, Teavana tea cafes may initially be restricted to first-tier cities but there is opportunity for expansion as disposable incomes rise. It is premature to assess Teavana's prospects, but with strong brand positioning (which Starbucks management has a proven track record), Teavana should find success.
Disclosure: I/we have no positions in any stocks mentioned, and no plans to initiate any positions within the next 72 hours.
I wrote this article myself, and it expresses my own opinions. I am not receiving compensation for it (other than from Seeking Alpha). I have no business relationship with any company whose stock is mentioned in this article.