Lost during last Friday's alarm over U.S. wage growth was the report on May GDP for Canada from Statistics Canada. Canada reported its fifth consecutive monthly decline all but guaranteeing the country will breach the technical definition of recession once the full second quarter report is ready.
GDP only declined 0.2% month-over-month, but the weakness was broad-based. The output of both goods and service producing industries fell, changes of -0.6% and -0.1%, respectively.
Durable-goods manufacturing fell 2.4%
Non-durable goods manufacturing fell 0.7%
Oil and gas extraction fell 1.0%
Mining and quarrying (excluding oil and gas extraction) fell 0.8%
Wholesale trade fell 1.0%
Finance and insurance fell 0.3%
Even Utilities fell 1.4%, a third consecutive monthly decline
The public sector fell 0.1%
On the positive side of the ledger:
Support activities for mining and oil and gas extraction gained 2.8%. This followed a whopping 9.6% surge in April.
Retail trade gained 0.5%
Construction gained 1.0%
The output of real estate agents and brokers gained 2.1%. This was the fourth consecutive monthly gain as real estate continues to shine a bright light in the Canadian economy.
The weakening Canadian dollar is at least helping the tourism industry as one would expect. Overnight travelers to Canada are on the rise as accommodation and food services increased 0.9%.
The weak GDP for May is of course little surprise given the poor economic news the Bank of Canada delivered a week earlier. The confirmation of Canada's flagging economy helped to send the Canadian dollar (NYSE:FXC) toward a new post-crisis low (high on USD/CAD):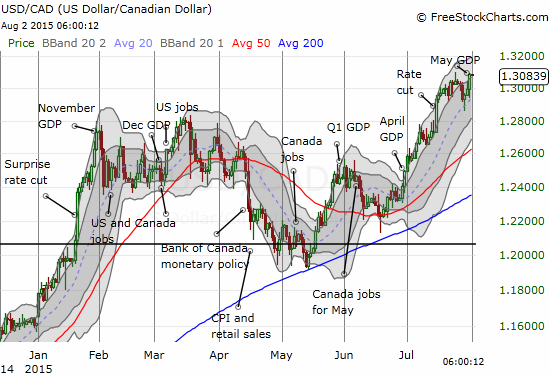 The Canadian dollar had not weakened much in the days following the Bank of Canada's rate cut
Source: FreeStockCharts.com
The Canadian dollar has not weakened as fast as I expected since the Bank of Canada's rate cut, especially with speculators continuing to ramp their net short bets against the Canadian dollar.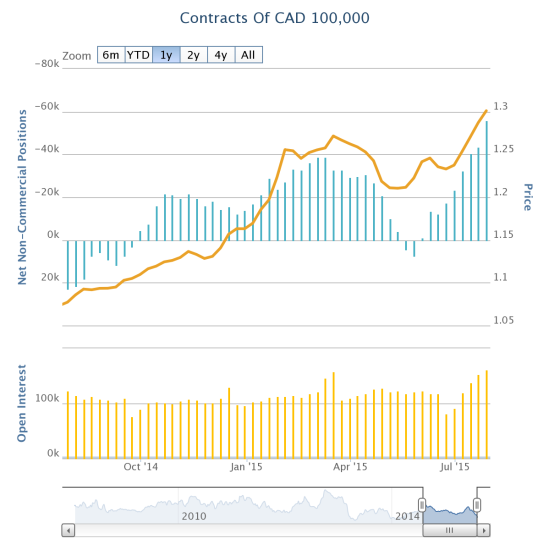 Speculators are still increasing bets on a bleak future for the Canadian dollar
Source: Oanda's CFTC's Commitments of Traders
As a result, I am still clinging to my short USD/CAD position. I anticipated some kind of trading range to develop in the wake of the rate cut, similar to what happened earlier this year. I suspect that slow rise in USD/CAD is at least a partial result of the lingering doubts about the U.S. economy that must arise given Canada's deepening weakness.
The market's hesitation over the scheduling of lift-off for rates in the U.S. means that the Canadian dollar has a bit of a grace period remaining. Look out once the market becomes confident in the Fed's ability and willingness to hike.
Be careful out there!
Disclosure: I am/we are long FXC.
I wrote this article myself, and it expresses my own opinions. I am not receiving compensation for it (other than from Seeking Alpha). I have no business relationship with any company whose stock is mentioned in this article.
Additional disclosure: In forex, I am also short USD/CAD