The rate of homeownership in the U.S. fell a fraction of a percent in the second quarter - from 63.8% in the first quarter to 63.4%. Many headlines rang with alarm. This rate is now the lowest since 1967, so it is easy to convey alarm - even as the current rate is a fraction of a percent below the lows of the 1980s and the 1990s. The chart below shows all the data available through the St. Louis Federal Reserve from the U.S. Census Bureau. Historical data going back to 1965 can be retrieved from the historical tables provided by the U.S. Census Bureau.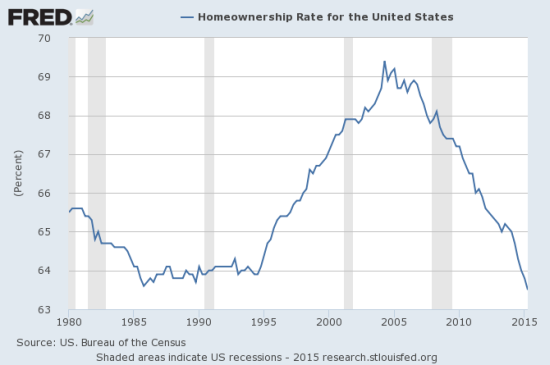 10-year cycles? Homeownership went nowhere from 1985 to 1995, ran up a mere 5 percentage points from 1995 to 2005, and reversed all the gains from 2005 to 2015. Is it even possible to identify a norm?
Source: US. Bureau of the Census, Homeownership Rate for the United States [RSAHORUSQ156S], retrieved from FRED, Federal Reserve Bank of St. Louis, July 31, 2015.
The chart above suggests a 10-year cycle could be at work for the homeownership rate. However, it is very hard to identify a norm. What we DO know is that the country ended up paying a heavy cost for boosting homeownership by a mere 5 percentage points. With that context, today's "low" homeownership rate may be no cause for alarm.
A lot of variety in homeownership rates exists across regions. While all regions experienced small year-over-year declines, a large disparity exists between the Midwest where the homeownership rate is still at a very high 68.4% and the West with a relatively low 58.5%.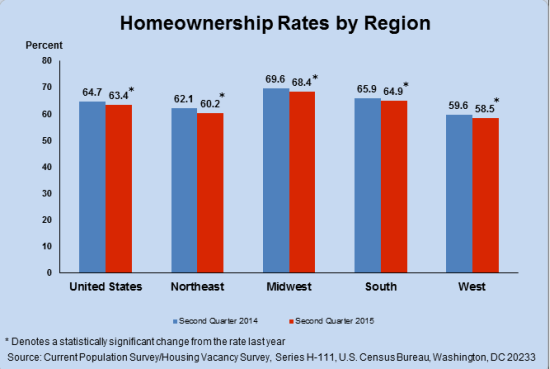 Homeownership rates vary widely across the U.S.
Source: U.S. Census Bureau
Underneath the regional variety, demographics may be the primary driver of today's changes in the rate of homeownership (and perhaps can even help explain why/how the previous surge in homeownership came at such a heavy economic cost).
In mid-July, the Census Bureau released its latest update on the living arrangements of adults in the U.S. The data show a persistent and on-going decline in the percentage of adults living with a spouse. Marriage has always been a key driver of the decision to buy a house - especially when couples decide to start a family. Buying a house requires commitment at the level of a marriage: a decision to stay put in a particular place for an extended period of time, a long-term loan, and the release of a large sum of money upfront (the down payment). Under this context, the run-up in the homeownership rate from 1995 to 2005 could have been a detour off the path of the "real rate." Of course, people living alone and unmarried partners also buy homes, and we should expect people in these living arrangements to buy homes at a greater rate mainly when the economy is very strong and/or buying a home is easier than the "norm." Currently, tight credit conditions and limited inventory in many major housing markets keeps more marginal buyers on the sidelines.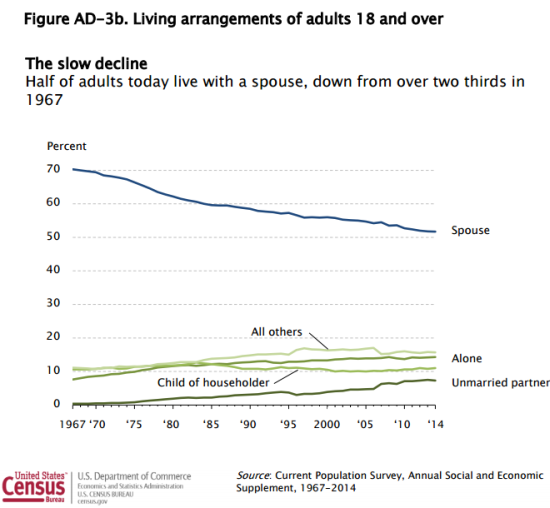 Living alone and living unmarried with a partner have pushed the rate of spousal living toward 50%.
Source: The U.S. Census Bureau
While the share of adults living with parents has remained relatively steady, the changes in younger adults indicate that a new trend of delayed household formation may be taking shape. As the rate of homeownership has declined since 2005, the share of young adults living in the "parental home" has steadily increased for young adults, men and women.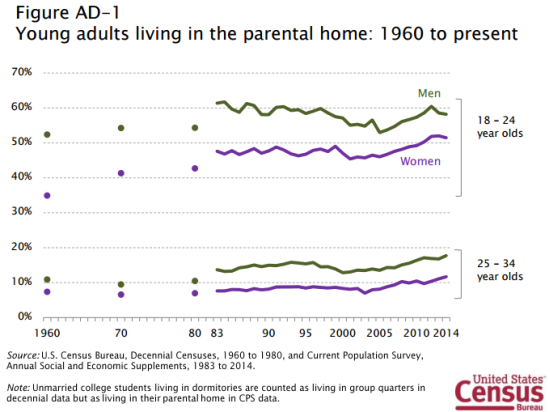 Young women are experiencing the most change in living arrangements with respect to parents.
Source: The U.S. Census Bureau
Of the population segments shown above, only men aged 18-24 have yet to achieve new highs in the share living in the parental home. The other three segments just reached marginal new highs in the last few years. The only long-term and consistent trend shows up for women aged 18-24 where their rate has gone from 30% in 1960 to just over 50% today. Otherwise, changes in these rates have lasted 10 to 20 years. Thus, it is premature to suggest that a new, long-term trend is underway for all these segments of young adults. If the trends in household formation DO persist, then they could imply on-going delays in spousal living if the phases of adulthood continue the current sequence.
So with these demographic shifts it is no wonder that rental housing construction is more robust than homebuilding and home sales are still struggling to separate from levels that were consider recessionary in previous cycles. Both new home sales and existing sales for June were reported over the past two weeks. Housing bears see these numbers and continue counting down the days until the next down cycle for housing. I see these numbers and wonder how much better homebuilders will do if the current trends change direction even slightly. So far, most publicly traded homebuilders have proven adept to adjusting to the new realities.
Most recently, DR Horton Inc. (NYSE:DHI) reported strong earnings that included a pick-up in entry-level sales. This encouraging news complements an increase in first-timers in recent existing home sales data. Such news has proved tantalizingly elusive for homebuilders; I even argued earlier that new first-time buyers are not likely to show up in greater number or share this year. The subsequent rally in DHI shares helps demonstrate the potentially strong impact from small, yet positive, changes in the first-time buying demographic discussed above. A fresh reduction in long-term interest rates has also likely helped iShares US Home Construction (BATS:ITB) in its latest rise toward 8-year highs.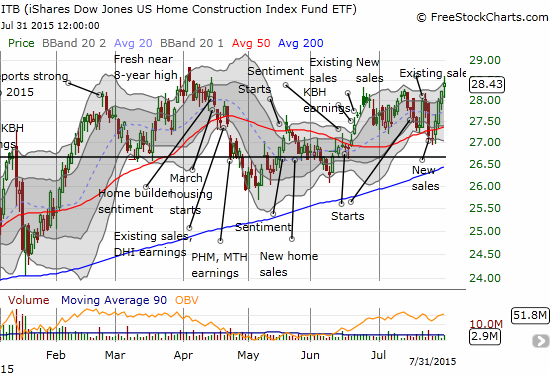 The iShares US Home Construction is on the move again toward a fresh 8-year high
Source: FreeStockCharts.com
Disclosure: I am/we are long ITB.
I wrote this article myself, and it expresses my own opinions. I am not receiving compensation for it (other than from Seeking Alpha). I have no business relationship with any company whose stock is mentioned in this article.