For a better understanding, I highly recommend reviewing the potential narrative and charts laid out in Part 1 and Part 2 of this missive.
Contractionary Trajectory
Jeffrey P. Snider on the latest revisions to US GDP: "Interpretations about economic performance thereafter should be contained within that paradigm, and so continued instability and weakness, even to the point of outright and sustained contraction, wouldn't be at all "unexpected" it would, in fact, be the logical and inevitable destination. For now, even GDP to belatedly show the 2012 slowdown that was obvious everywhere else should end the recovery debate entirely, especially in the wake of all those same economic accounts falling apart once again and to a degree not seen since 2009."
Q1 GDP BEA estimates went from +0.2 to final -0.2. Q2 and Q3 ?? TBD. Even if they are flatliners, given what's going on elsewhere (QE, recession, China implosion), the dollar could hold its position or gravitate higher.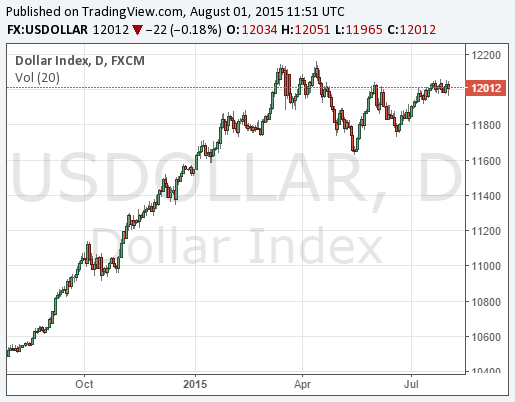 The Fed may raise twice this year to set up IOER/RR levers. Any success may depend upon how they use those levers and how much they convert from ER (excess reserves) to RR (required reserves) to reduce the balance sheet. IMO, after raising, the Fed will begin to shrink the balance sheet. See The Feds Ultimate Balancing Act for further details.
The interesting thing will be what USTs do. My spider sense says as the dollar advances, southern Euro-peon and Russian/Ukrainian debt will get swept under along with the HY, EM, Energy, Oil, China and other Asian dependent dominoes. Thus pushing USTs further into the position of the only game in town, or being the least dirty shirt in the laundry.
Mercenary Trader: "And yet if "risk off" comes back in earnest, bonds could surge again (and yields fall) as capital withdraws from global markets and USTs come back into vogue as a safe haven. This, too, would add to US dollar strength, which in turn would make everything worse..." (as in EM, HY and global dollar denominated debt.)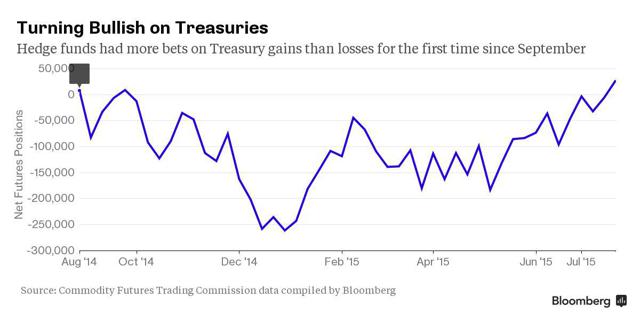 Nice to see validation from other sources and in other parts. Above note the Sept 2014 hedge fund positioning in USTs. Note the decline into January 2015 - matching the collapse in oil prices. Note the July 21, 2015 position, just as bullish on USTs as last year, or bearish on commodities and bullish on the dollar.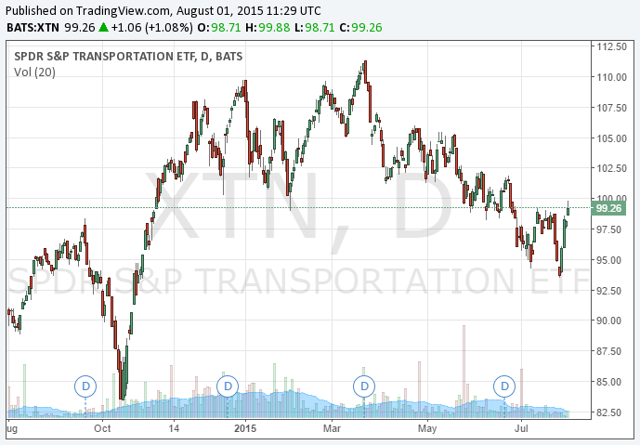 Above note, transports XTN have been signaling since March 23rd.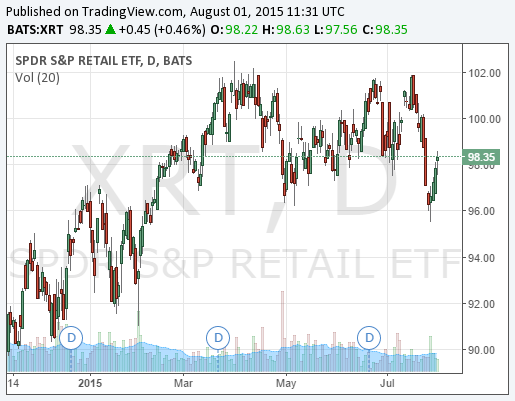 Above note, retailers XRT forming twin peaks and pulling back since July 16th.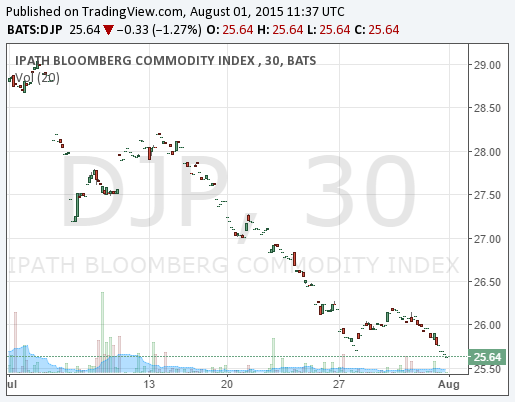 Above note, the Bloomberg Commodities Index dropped 9.2% in July to its lowest level since 2002.
More from Mercenary Trader: "The US dollar carry trade is the pain train that is still just down the track. Emerging market governments (among other institutional borrowers) are effectively net short trillions of dollars worth of USD via dollar-denominated debts. As the world gets "squeezed" by the USD carry trade unwind, a stronger greenback is going to make all that pain worse."
For brevity, and not to give out any more hints, we are not going to discuss the downward trajectory that materials and certain industrials are on, along with commodities, energy, transports and retail. Add it up, China imploding and slowing, US and Europe never really had an organic or durable recovery and are now (barring further massive intervention) contracting into further recession. Global economy slows down, commodities importers and exporters slowdown, global consumer spending slows down, growth worries abound. This should further suppress commodities (potential flash crash in Dec.) and inflation expectations. Note the use of the word expectations, not reality, only the anchored expectations derived from econometric falsity and media narrative.
From Part 1: "Have you ever heard the tide going out prior to a tidal wave? That's where we might be right about now. Barring some kind of miraculous August through November surge in economic activity, required reserves or money flows, the November to January seasonal decline will resonate like the silence, just before a massive wave rears its head and forms a curl. We are not predicting the end of the world as we know it, just pointing out subtleties."
We might find out what that sound is like. More to come in Part 4, stay tuned, no flippin.
Recommended reading for inquiring minds. Warning: Reading not only those listed below, but every installment of these multi-part missives could lead to a better understanding of the market forces in play and how to profit from them.
For a complete missive series listing click here.
These global economic developments could affect numerous markets, sectors, indexes, commodities, forex, bonds, mutual funds, ETFs and stocks.
A List of Market Plays
Disclosure: I/we have no positions in any stocks mentioned, and no plans to initiate any positions within the next 72 hours.
I wrote this article myself, and it expresses my own opinions. I am not receiving compensation for it (other than from Seeking Alpha). I have no business relationship with any company whose stock is mentioned in this article.