Since Groupon (NASDAQ:GRPN) sold a majority stake in its TicketMonster Unit, the share price tumbled to historical lows. It went from $8.18 in April to $4.82 right now, having decreased by more than 40% in a couple of months. The market was expecting more from this deal but it fails to realize that it was actually a good deal to Groupon. While it decreases total revenues reported, it strengthens the balance sheet and enhances the cash position. In this article, I'm going to explain why I do believe Groupon offers a tremendous value at these depressed prices going forward.
Groupon trades at historical low multiples as you can see in the below graphs. Enterprise Value to Revenues hits record lows at 0.71, while the historical average is at 1.33. Over the years, Groupon has been growing its revenues base from $1.61 billion in 2012 to $3.2 billion in 2014. For 2015, the company provided a guidance of $3.15 to $3.3 billion (after excluding the TicketMonster unit from reported sales).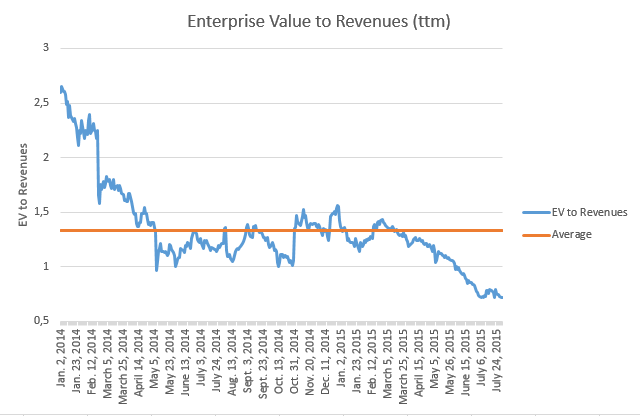 The company is still in a growth phase: growing revenues is one of the management's priorities to develop the business, before reaching a critical mass to start monetizing it appropriately. Excluding foreign exchange turmoil, Groupon is still growing at a 10% pace and is likely to continue going forward. In fact, the company is pursuing different investment opportunities to deliver additional value from its customers. It has recently bought out OrderUp, a food delivery service.
Groupon CEO Lefkofsky wants to build a global marketplace where customers can buy everything at a discount. He tries to capitalize on Groupon's existing customer base to add additional services to leverage the existing platform and add to the bottom line. When the market starts to realize that Groupon could be very successful in this strategy, the share price will double. The company is uniquely positioned to benefit from its ~50M active users to build a wide range of additional services around its core business of selling goods. This is where Groupon can meaningfully increase its profitability going forward. The strategy is to lure the customers into the existing platform to buy additional services using the same existing architecture.
The company is also cheap on an Enterprise to EBITDA perspective as well as on an EV to Free Cash Flow. Right now, the company trades at an EV to FCF of 9.57, which is really low in comparison of Amazon (NASDAQ:AMZN) 56.03 EV to FCF as of today. For fiscal year 2014, Groupon generated approximately $200 million in FCF and sits on $975 million in cash and equivalents. Groupon has the financial flexibility to invest in its future, without impacting its financial stability. Right now, the company has a current ratio of 1.31 and no long term debt, which points out its financial soundness. Once again, the share price is dirty cheap on an historical perspective.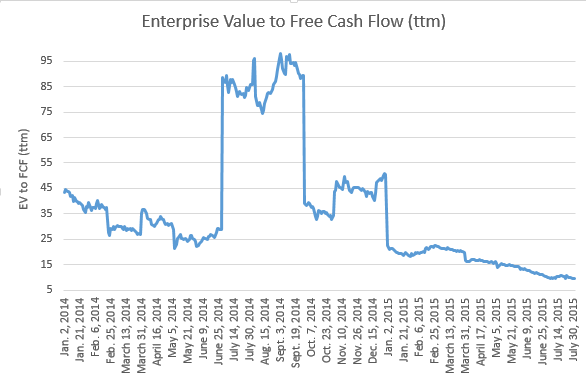 Regarding the EV to EBITDA multiple, the company trades at 16.17, which is historically low once again.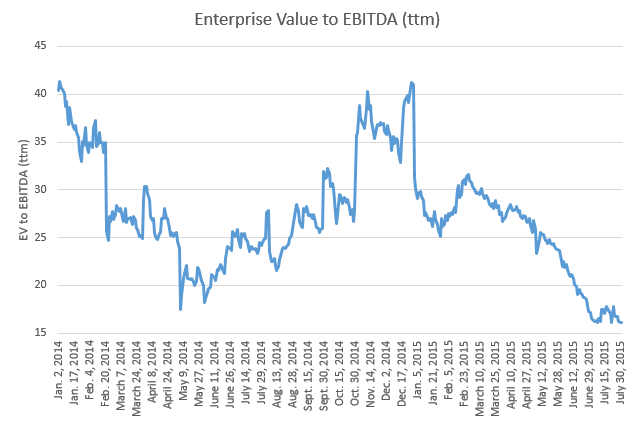 After looking at three different metrics to value Groupon going forward, it seems that the market is inappropriately discounting the company's true value. In fact, CEO Lefkofsky provided an EBITDA guidance of $315 million. If we apply the current multiple of 16.17, we find an Enterprise Value of more than $5 billion. To put things into perspective, current EV is at $2.29 billion. If we use an EBITDA multiple of 25 (in line with historical valuation), we get an astounding $7.8 billion EV. This is why I do believe Groupon should be trading around $7-$8 a share.
Conclusion
At these prices, you can buy a growth company at a "value" price. The market still has to realize that the company has more value without its majority stake in TicketMonster because it can invest its resources in the core business. Groupon additional services such as OrderUp could offer meaningful value in the future. With the depressed valuation multiples and the big cash position, I do believe Groupon is a buy going into earnings. The earnings release could be the catalyst for the market to wake up in the face of Groupon current valuation.
For those who invest with options, here is my opinion. For traditional investors, you could buy half your position at today's price and write the January 2016 Put $4 with your remaining cash allocated to this position. If Groupon trades higher than $4 in January 2016, you will collect $0.27 of premium, if not you will double your existing position at $4. Another solution would be to write covered calls for your entire position.
Disclosure: this article is not a recommendation to buy or sell any securities. It lays out my opinion only. Before buying or selling any securities, you should do your own due diligence and meet your financial advisor.
Disclosure: I/we have no positions in any stocks mentioned, but may initiate a long position in GRPN over the next 72 hours.
I wrote this article myself, and it expresses my own opinions. I am not receiving compensation for it (other than from Seeking Alpha). I have no business relationship with any company whose stock is mentioned in this article.