Facebook (FB) shareholders have been quick to move from exulting over the company's fantastic Q2 earnings to worrying about costs and growth rates. It is my opinion that 2016 revenues from the United States will soar on the wings of secular growth turbocharged by political advertising.
As we are all too aware, the presidential political season has already begun. State primaries (and local advertising) begin in February 2016 with the New Hampshire primary (and the Iowa caucus).
Election Money Doubling in 2016
In 2012, the presidential election cost $2.3 billion. The Hill speculated that the 2016 presidential campaign will cost twice as much (inflation will have increased less than 10% between 2012-2016). The Washington Post weighs in with a more conservative estimate of only $4.4 billion. In 2012, the National Journal estimated 66% of the Obama campaigns' budget (excluding PACs) was spent on media; they note that if campaign spending was flat, digital advertising would more than triple (to over $260 million). USA Today reported the conservative Koch brothers have budgeted $889 million for the 2016 election cycle, up from the $240 million their Freedom Partners PAC spent in 2012. I think it is clear that political spending during the 2016 cycle should double from the (then) record amount spent in the 2012 cycle.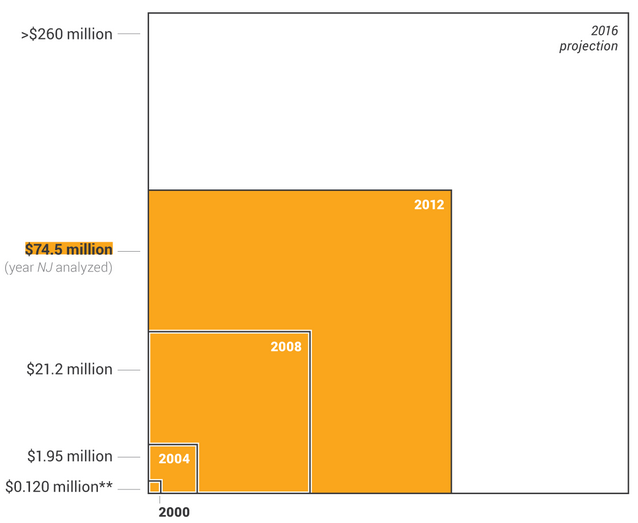 Source: NationalJournal.com; Interesting as a visual as the numbers are based on flat spending and continuation of digital media's growth (not a projection taking into account growth in overall spending and digital media's greater emphasis).
Media Company's (Like Facebook) Do Really Well During Election Cycles
Sinclair Broadcasting (SBGI), a diversified television broadcasting company with 164 stations in 79 markets, in their Q4 2014 conference call, noted that "fourth quarter net broadcast revenues were up 46% versus the fourth quarter of '13, political revenues were $80 million as compared to $7 million in the fourth quarter of '13 . . . we believe that about 75% to 80% of our political revenue was incremental in the fourth quarter and about 60% for the year.
Political advertising increased SBGI's advertising by 17% ($80 political ads / $377 ads ex-political) in the Q4 2014. (Source: Sinclair Broadcasting Q4 conference call.
To put SBGI in perspective, FB's daily active users are 4x higher than SBGI's monthly visitors.

Source: Sinclair Broadcasting
Social Media Will Get a Larger Share of a Growing Pie
And, money being spent on social/digital media is projected to increase. The Huffington Post estimates political spending will grow by over 250% in 2016 from 2014. Michael Palmer, President of i360, a data company backed by the Koch brothers noted, "2012 was really crude, because our side didn't do so well." Lindsay Conwell of i360 added, "Think of how much money is wasted running an ad during a sports program to people who aren't registered to vote." Elizabeth Wilner, SVP of Political at Kantar Media Intelligence, as reported in Media Life Magazine noted that the limits on net political spending on digital are only limited by availability of ad space, "there's only so much you can spend on digital . . . you can't spend the same massive quantities on digital that you can spend on TV."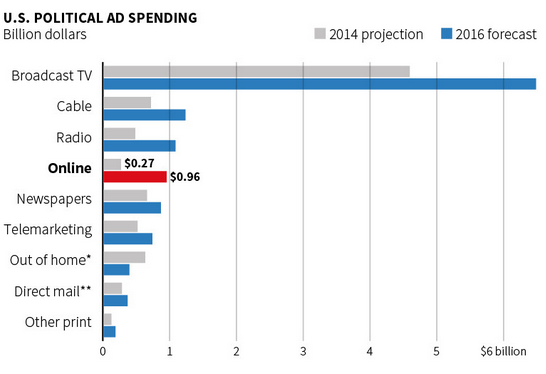 Source: Huffington Post
While the Obama campaign famously outplayed the Romney campaign in the 2012 election, the investment in online media was relatively small. If 2012 was "proof of concept", 2016 will see social media advertising 2.0. The "secret is out" and both sides (and any third parties) will be aggressively utilizing a much higher percentage of a much larger campaign spend.
Facebook Has Unique And Prized Advertising Capabilities
Facebook has the unique (and highly valued) ability to provide micro-targeted. With a database that includes zip code, age, sex, education and interests (and sometimes political leanings), FB can offer candidates at every level of the political spectrum highly targeted advertising to those most likely to be impacted by a message. From local school board elections to highly contested primaries, FB will be a major player in what promises to be a record setting election cycle. Both candidates, their PACs, independent PACs (like National Association of Realtors and National Beer Wholesalers Association), and special interests (like AFSCME and the NRA) promise to make 2016 a record year for political spending.
Facebook can add value to candidates of both parties (and third parties) in all contested elections. Facebook also has the ability to micro-target, test, refine and tweak. Facebook also offers multiple platforms, including Facebook, Instagram, WhatsApp, etc.
John Wanamaker was famously quoted as saying, "half the money I spend on advertising is wasted; the trouble is I don't know which half". Facebook has the ability to provide political (and other) advertisers with detailed feedback with respect to clicks, time spent, etc. directly and in almost real time.
Beyond the United States, Facebook, with 86% of its users outside of North America promises to be a potent force for political advertising throughout the democratic world. In other words, beyond the political opportunity in the United States in 2016, expect the rest of the (democratic) world to catch up to the targeted opportunities in digital media political advertising.
Facebook Opportunity
Borrell Associates, as reported in MediaPost projects digital media will harvest about $1 billion in political spending in 2016. The National Journal in an article titled, "Facebook The Vote", that FB "now offers a far more customized and sophisticated splicing of the American electorate" and that contenders are already investing. Zac Moffatt, Romney's digital director (now working for Rick Perry and a co-founder of Targeted Victory) notes, "I can literally bring my voter file into Facebook and start to buy advertising off of that." Wesley Donehue of the Rubio campaign (and CEO of Push Digital) was quoted as saying, "We use Facebook more than any single tool."
FB's participation in the 2016 election is more than theory. The New York Times notes, "Facebook, already a major player in past cycles, has been working to expand its digital dominance in the political realm" and "has doubled (since 2012) its government and politics team, which includes a political ad sales group"
Google (GOOG) (GOOGL), and GOOG unit YouTube are also expected to receive a good chunk of the political media dollar. Though less targeted than FB, GOOG has an expansive reach. However, as Zac Moffatt noted, "Facebook is the 800-pound gorilla in the room . . . Facebook is going to be the advertising monster of 2016."
In Dollars?
In light of the very strong, positive response FB has received in US advertising and the very visible and vocal ways the existing campaigns are already using digital advertising, I would suggest the $1 billion estimate for 2016 is far too low. $1.5 billion to $2.0 billion (reflecting 15%-20% of total spend of all campaigns, not just the presidential campaigns) may be more accurate. Assuming FB captures 33%-50% of total digital spending, the Company will have $500 million to $1 billion in additional ad revenue in 2016 from politics (excluding "normal", and ex-US growth).
In Q2, FB reported $2.0 billion in advertising revenue from its 213 monthly active users in North America. On a run-rate basis, that is $8 billion per year. Using the mid-point of my estimate ($750 million), political advertising alone has the potential of adding 10% to FB's North American advertising numbers (and by definition, a higher percentage in the US). Assuming a 90% margin on this incremental revenue and a 44% (wow!) tax rate, FB would earn an additional $0.17/share from political advertising. Currently, FB is projected to earn $2.72/share in 2016.
In Conclusion
While I have found extensive discussion regarding the growth of expected political spending, the growth of digital media spending and the expected over-sized role FB will play in the 2016 elections, I have found very little discussion regarding the economic impact of the 2016 election on the Company's earnings. Therefore, I can only assume the incremental revenue (and earnings) FB should garner from the next election cycle is incremental to most projections and represents a legitimate upside. Further, FB continues to impress as a source of advertising due to its unique ability to target and its relative cost-effectiveness (see this AdWeek article, suggesting a further upside. While up 28% for the year, and trading for a very expensive 35x forward earnings, FB appears to have growth opportunities that suggest a higher stock price by the end of 2016.