Asset flows into liquid alternative funds (mutual funds and ETFs combined) continued on their positive streak for the sixth consecutive month, with total flows in June of more than $2.2 billion according to Morningstar's June 2015 U.S. Asset Flows Update report. Investors did turn sour on U.S. Equities and Taxable Bonds during June, pulling more than $16 billion from those two categories. Municipal Bond funds and Commodity funds also saw net outflows, while International Equity turned out to be the biggest winner of the month.

Funds with the highest star rating of 5-stars generating the most significant inflows, while those with no ratings had the second highest level of inflows in June.

Alternative Fund Flows
For the fifth consecutive month, multi-alternative funds have dominated inflows into liquid alternatives as investors look for a one-stop shop for their alternatives allocation. Both long/short equity and market neutral have experienced outflows every month in 2015, while non-traditional bonds has had outflows in 5 of 6 months this year. Quite a change from 2014 when both long/short equity and non-traditional bonds ruled the roost.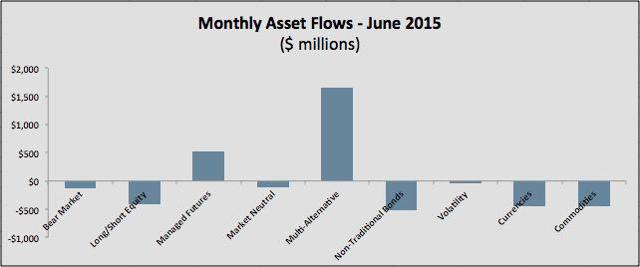 Twelve month flows look fairly consistent with June's flows with multi-alternative and managed futures funds leading the way, and long/short equity, market neutral and non-traditional bonds seeing the largest outflows.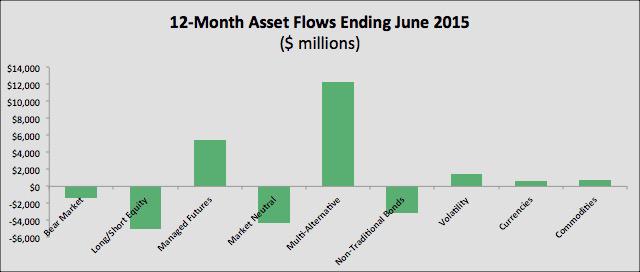 Asset growth rates are a bit different in that volatility based funds lead the pack with a 12-month growth rate of 47%, however managed futures and multi-alternative funds are not too far behind at 42% and 35%, respectively. Given the continued positive trend in the equity markets, bear market funds are leading the negative growth rate trend at -22% in assets versus last year.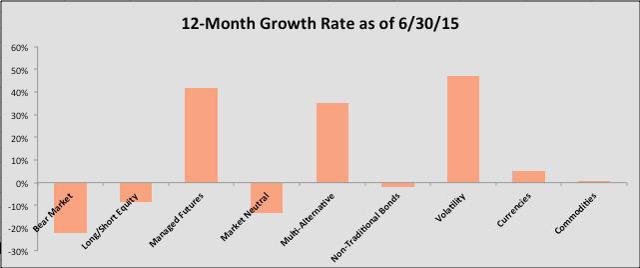 Despite a mixed reception for different categories of alternative funds, the overall 12-month growth rate of the group remains a healthy 6.5% - lower than the 2014 growth rate of 9.8% for the category, but still steady as a whole.