The title of this month's article focuses on my swapping of securities in the portfolio. Specifically, I sold my position in Chambers Street Group (NYSE:CSG) and bought Whitestone REIT (NYSEMKT:WSR), and sold my undersized holding in Wendy's (NYSE:WEN) to acquire Cincinnati Financial Corp (NASDAQ:CINF). I will discuss my thought process behind these moves in the article.
That being said, here's what happened in July.
July 2015
To begin this month's discussion, I have captured the activity for July and for the year-to-date in the standard rollforward summary below. I am sticking to my strategy of buying with the intention to hold, though as you will see, given the circumstances I was okay realizing a loss on Chambers Street and finally doing something with Wendy's. The change in market value continues to be heavily impacted by my overweight MLP holding, which continued its downward spiral during the month.
The portfolio collected $196.10 in dividends and interest during the month, noting that July's income is the lowest amount to be received during the quarter, as the portfolio holds more securities that pay during the second and third months of the quarter.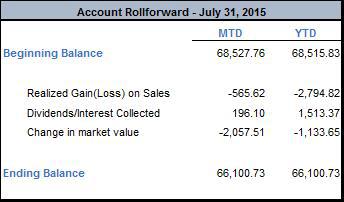 The portfolio was comprised of the following securities as of July 31, 2015: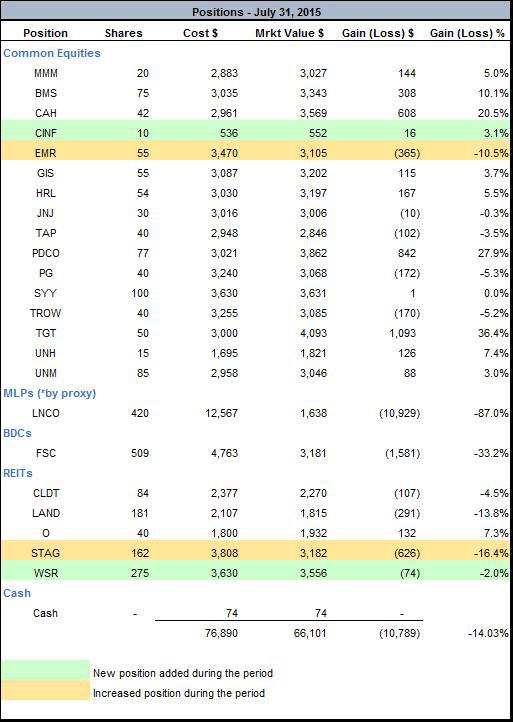 *note that Linn Co, LLC (LNCO) is a common stock, which holds units of Linn Energy, LLC (LINE), a master limited partnership. I consider it to be a proxy for a master limited partnership, that I am able to hold in my IRA. Note that holding LINE in the portfolio would trigger tax consequences via a schedule K-1.
The following sections go into greater detail of the events that have occurred since the end of June.
Sales

As mentioned in the opening I sold my positions in both Chambers Street and Wendy's during the month; however, they were sold for significantly different reasons.
I've held Chambers Street stock for a few months, initiating the bulk of my position back in January as a current income with some growth play. I viewed the company as a solid purchase as I found the price to be depressed on a REIT, which had a good credit rating and a 5-year track record of increasing dividends.
Earlier in 2015 the retirement of the CEO stung the company a bit, along with the overall decline in REITs, leaving me in a loss position. Upon hearing that the company was looking to sell itself, I found myself hoping for an opportunity to make money on the sale. This, however, never came to be as the company announced in July that they were acquiring Gramercy Property Trust (NYSE:GPT) later this year. What felt off about this "acquisition" was that existing Chambers Street shareholders were to be "rewarded" with both a reduced dividend as well as a switch from monthly payments to quarterly.
WHAT??? (Note: insert frown face) I was honestly confounded how a company that has been paying a sustainable dividend needed to engage in such a transaction, pretty much punishing existing shareholders, just to find new management. I won't lie, the track record of Gramercy's management in the past couple of years is solid, but was there really no one who could run the show as it stands now? Are the assets really that bad?
The uncertainty in how much of a cut I was to take in dividend payments, as well as how long it will take to turn around the new company, maybe 3-5 years or longer, before management is able to start growing payments left me with a bad taste in my mouth. I decided to let others deal with the turnaround, cut my losses, and move on. Following my mishaps with Linn, which I discussed in greater detail here, I have decided that going forward I will be selling on any dividend cuts, as a general rule.
Fortunately, from my point of view, there was another compelling REIT to buy that came with a higher yield, no plans for future cuts, and that is executing on all cylinders. I selected Whitestone after reading Brad Thomas' latest article on it and doing some additional research. I fully understand that Whitestone is just as risky as Chambers Street, but I take comfort in the fact that it is much further along in its turnaround and pays a higher, just as sustainable, dividend. I was actually able to give myself a raise while investing less principal. I saw this exchange as a win-win.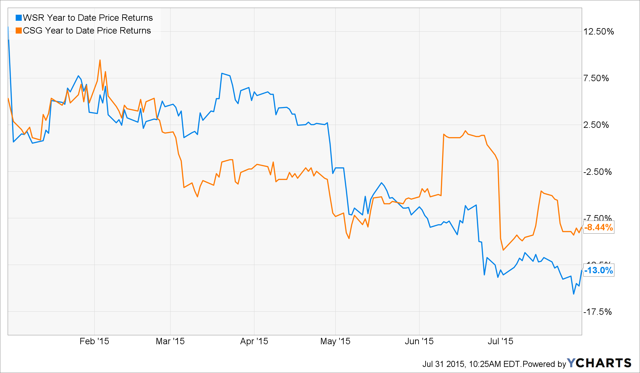 Source: Ycharts
My other sale during the month was of Wendy's. I was attracted to the stock as a potential investment last year, adding a couple of shares each time I had some spare money sitting around, but the stock ran on me and it quickly got too expensive. With a forward p/e ratio of 32, and the stock trading above its 200-day moving average, I just can't justify building the position.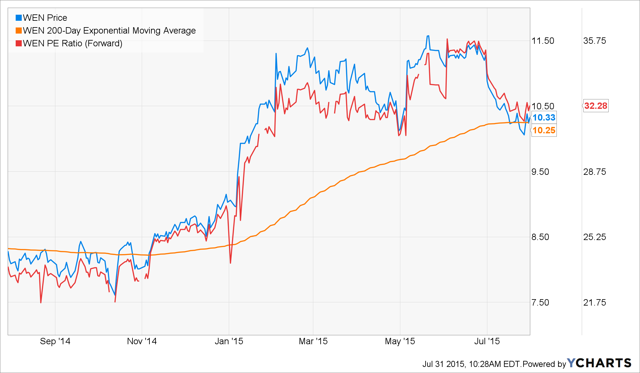 Source: Ycharts
Given all of this, and since the position was so small, I just sold it. I used the proceeds and the excess cash remaining from the Chambers Street sale to purchase shares in Cincinnati Financial as discussed below.
Additions
Looking beyond the swapping of Chambers Street for Whitestone, I decided to begin building a position in Cincinnati Financial. I don't need to go into too many details supporting the purchase, the company is a dividend champion and while it's likely fairly valued, if not a little bit expensive (forward p/e of just over 22 when I bought in), it's part of my larger strategy to bolster my exposure to companies that are doing well and will do even better in a rising rate environment. As I already have positions in health and life insurers in UnitedHealth Group (NYSE:UNH) and Unum (NYSE:UNM), I was looking at the property/casualty space to round out my insurance exposure. Cincinnati somewhat became my de facto choice when Chubb (NYSE:CB) announced it was being acquired and prices rocketed. The position is a sixth of a full position, so should Cincinnati continue to go down in price, I will continue adding shares to build the position.
Lastly, I used additional funds received during the month to purchase more shares of Emerson Electric (NYSE:EMR) and STAG Industrial (NYSE:STAG). Both are current holdings in the portfolio and appear to be in the bargain bin right now. I can't resist a good sale, so I added to these positions.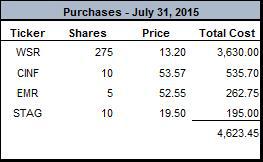 Dividends Collected
As mentioned already, I collected $196.10 in dividends and interest during the month, all of which was recurring. I have updated my forward-looking dividend summary for the acquisitions during the month.
I was hoping that this quarter would be a good starting point for growth, but Linn torched that presumption with the suspension of its distribution. On the plus side, my Q4 forecasted dividends are higher than my Q1 dividends. The allocation of cash and increases from other holdings these last two quarters has more than offset the projected loss of income from Linn.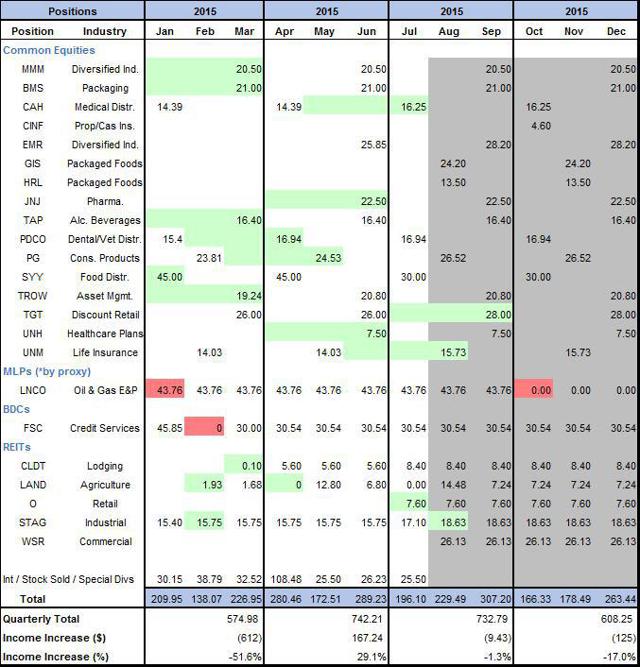 Dividend Increases
None this month, bummer.
While the new purchases in July bumped the overall yield of the portfolio, the loss of Linn resulted in a significant hit, taking the yield on cost from 3.77% to 3.16%, as outlined below.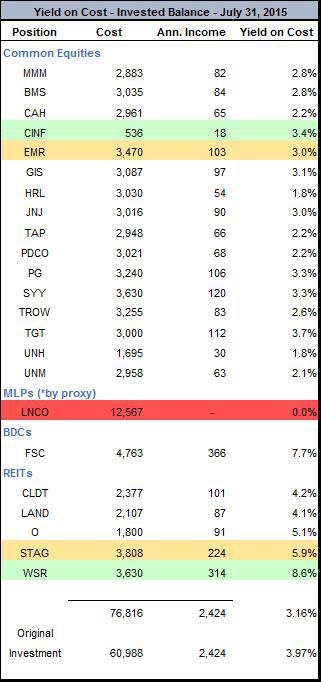 Summary
July was a slightly transformative month for the portfolio. Chambers Street management gave me the incentive to cut the position, and sadly I had to look elsewhere. I am glad that I found Whitestone; which, as speculative as it is, has a clear direction, stable distribution, and hopefully will be raising distributions in the coming years. I take further comfort from the fact that it's as beaten down as Chambers Street is, if not more.
I hope that this is the only time I ever have to face a situation where an investment of mine acquires another company and then uses it as an opportunity to reduce its distribution. Seems ridiculous to me, and to be completely honest, nothing that I want to be a part of.
I finally did something with my Wendy's position, closing it out for the chance to add Cincinnati Financial, a security I feel better about. I understand that Wendy's is in the middle of a transition away from owning their own stores, and moving more towards franchisees owning the stores, but I see them having continued headwinds as the fast food industry faces pressures from labor costs, commodity issues, and competition from, let's face it, better burger chains coming to market (i.e., Shake Shack (NYSE:SHAK)).
I increasingly feel like I want to move away from what I call the "at-risk" holdings of the portfolio, these being REITs, BDCs, and MLPs. Since I got interested in these alternative investments, the monthly distributions they have paid me hardly seem worth the capital losses I've experienced. I was a big winner in this space in 2014, but as I've more than given it all back in losses now, reducing my exposure to securities that are heavily impacted by macroeconomic factors or behave in a cyclical nature (i.e., rate hike fears and the fall in oil), has become a goal of mine. Linn has largely played out now, no more uncertainty there. I am going to wait for a sufficient price to part ways for good.
Looking forward, I hope to build my portfolio income stream to the point where common equities are generating 80%+ of the monthly dividends. Right now I'm been slowly trending up in 2015, but with the help of the Linn distribution suspension, I should see the ratio really increase starting in Q4.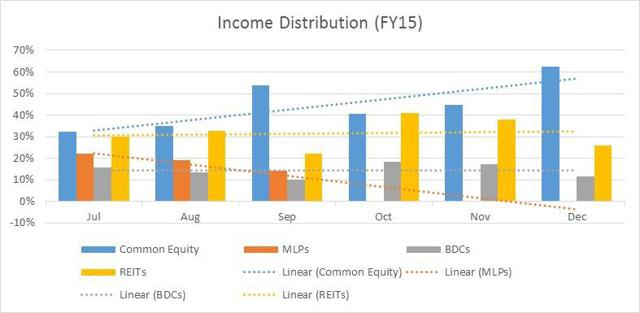 Finally, I'm still watching AT&T (NYSE:T) and might look to add to my stake in 3M (NYSE:MMM) this quarter as well. AT&T looks to be primed for growth as content and content delivery look to continue growing.
Overall, I'm okay with where the portfolio is sitting, the quality and diversification continue to improve, and while there are large paper losses out there, I feel I have learned a lot and am building a stronger "brand" in the portfolio.
Hope you enjoyed, best of luck.
Disclosure: I am/we are long THE SECURITIES LISTED IN THE PORTFOLIO.
I wrote this article myself, and it expresses my own opinions. I am not receiving compensation for it (other than from Seeking Alpha). I have no business relationship with any company whose stock is mentioned in this article.