I believe that Dr. Marc Faber is among the best economists globally and I closely follow his opinion. In June 2015, Faber had opined that recession is likely later in 2015 and his latest newsletter is also titled "Stagnation or Recession."
While I don't see recession coming in 2015, stagnation is a big possibility and this article discusses the indicators that point towards potential stagnation in the coming months. In such a scenario of low growth or no growth, this article will also discuss the portfolio diversification options. I must mention at the onset that the US economy is relatively resilient and I see potential growth stagnation in the eurozone and Japan among advanced economies.
The global purchasing managers' index for the services and manufacturing sector is an excellent indicator of where the global economy is headed. The latest indicator released in July 2015 has concerns and indications of a sharp slowdown in global economic activity as compared to the last few months.
The chart below clearly shows that the global services sector index has declined for the third month in succession with the global manufacturing sector also remaining depressed.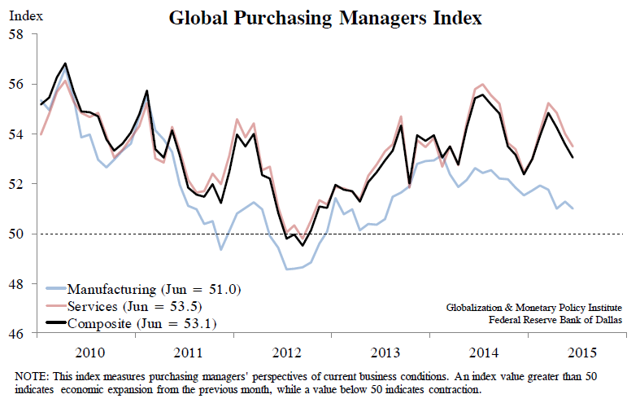 As a result, the global composite PMI has also declined for three consecutive months. It is therefore clear that global economic activity is headed lower and I see the following implications -
There will be continued easing in the eurozone in the coming quarters, as economic activity remains very uncertain.
The fed will refrain from an interest rate hike in September 2015 as a rate hike in a slowing economy can translate into more panic.
Equities might remain sideways or trend higher gradually as the fed delays the rate hike to a later date, but investors need to increase exposure to defensive sectors.
The second indicator of weak global economic activity is the inflation trend. While lower inflation has been largely due to lower energy prices, weakness in global economic activity has also contributed to inflation trending lower.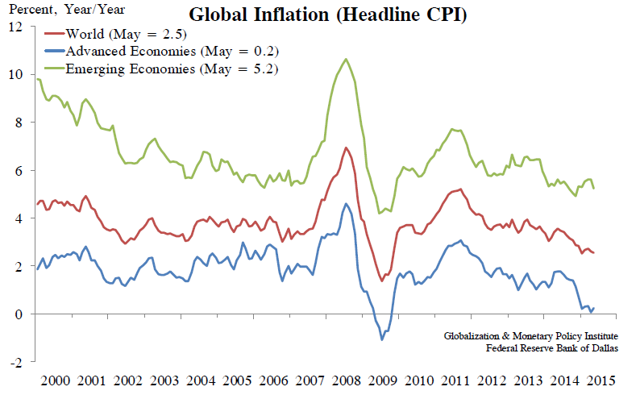 It is clear from the chart above the advanced economies still face the threat of deflation with global inflation continuing to trend lower. This chart also backs my view that an interest rate hike is not coming soon with the global economy still facing prospects of deflation.
I must mention here that among advanced economies, the US does not face a deflation threat while the eurozone has a higher deflation risk due to very sluggish economic growth.
I must also mention here that lower energy prices might be good for energy consumers, but it will have a strong negative impact on energy producers and this impact will also be felt by the consumption sector in energy producing nations. Therefore, the slowdown will impact the energy sector as well as the consumption or services sector.
Considering both these important charts on the global economy, it is certain that economic activity remains sluggish and this will keep central bankers on the edge. While weak economic activity might be negative for markets, continued liquidity to support growth is likely to keep equities firm. Therefore, I don't have a negative view on US equities (NYSEARCA:SPY). However, as mentioned earlier in the article, investors need to increase exposure to relatively defensive sectors of the market.
Employment in the healthcare sector has grown at an average of 34,000 per month in the last 12 months and I believe that the sector will remain firm even if GDP growth remains sluggish. Demographic factors also support continued growth in the healthcare sector and I would consider exposure to the Vanguard Healthcare ETF (NYSEARCA:VHT) in line with this view.
I also believe that the defence sector will continue to perform well with rising geo-political tensions globally. I like Lockheed Martin (NYSE:LMT) in this sector with the stock offering a strong dividend payout of $6 per share. The company's robust order backlog also ensures that revenue visibility is strong for the coming quarters. Further, Lockheed Martin has been increasing its revenue share from outside the United States and that is critical for long-term growth to sustain.
I also see value in the energy sector, but I remain cautiously optimistic for the long term. My recommendation is to gradually accumulate this sector as it currently offers a value buying opportunity. For broad exposure to the sector, the Vanguard Energy ETF (NYSEARCA:VDE) can be considered. However, I must caution here that energy stocks are unlikely to rally anytime soon. Therefore, the accumulation has to be with a 3-5 year perspective.
From a diversification perspective, I also like quality corporate bonds and investors can consider exposure to the Vanguard Long-Term Corporate Bond ETF (NASDAQ:VCLT). The ETF provides 42.5% exposure to "A" rated bonds, 49.3% exposure to "Baa" rated bonds and a SEC yield of 4.78% as of July 31, 2015. I must mention here that I prefer quality corporate bonds over long-term government bonds.
In conclusion, key global economic indicators indicate that there is more pain for the global economy in the coming months. I believe that geo-political factors are also playing a role in the global economic slowdown besides the point that leverage driven growth is likely to remain sluggish.
Disclosure: I/we have no positions in any stocks mentioned, and no plans to initiate any positions within the next 72 hours.
I wrote this article myself, and it expresses my own opinions. I am not receiving compensation for it (other than from Seeking Alpha). I have no business relationship with any company whose stock is mentioned in this article.