I recently noted that global M&A levels are at all-time highs. These levels, I also reminded investors, frequently occur near tops of markets as in 2000 & 2007.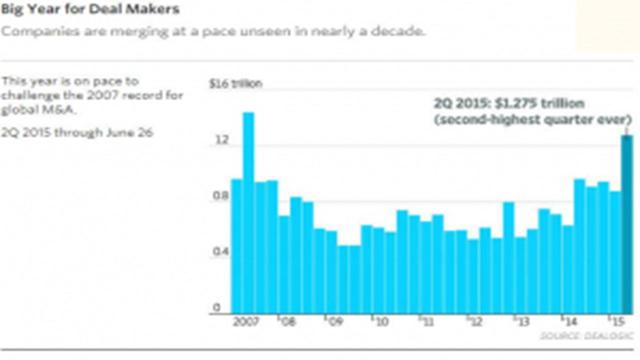 One of the primary drivers of the huge volume is the acquisitions within the pharma and biotech sectors. Last week's sale of Allergan's (NYSE:AGN) generic drug business to generic giant Teva Pharmaceuticals (NYSE:TEVA) for over $40 billion was the icing on the cake of a very robust month for M&A. July was the seventh highest total for M&A deals on record, although amazingly it was down from June.
Pharmaceutical deals so far this year have topped $180 billion and is on pace to pass the historically robust level of $200 billion announced in 2014. There are many reasons to believe these sectors will continue to see a significant amount of M&A activity at least through year end barring a correction in the overall market.
Financing rates remain near historical lows and liquidity is good in the credit markets. Relatively large purchases are easy to fund. I look for the upcoming Celgene's (NASDAQ:CELG) senior notes offering announced today in part to finance its recent purchase of Receptos (RCPT) for $7.2 billion to be oversubscribed.
Drug spending was up domestically 12% year-over-year in 2014. The proportion of overall healthcare spending allocated to drugs has been going up for over a decade and now stands at just over 10% of the overall healthcare pie. With the western world aging at a rapid clip and drug discovery accelerating, I expect this secular trend to continue.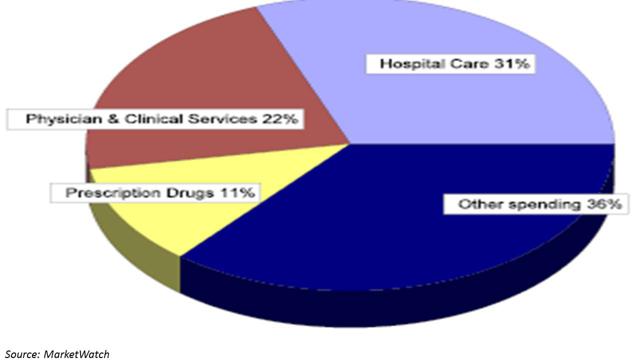 Throughout the past year and a half both the stocks of the target and the acquirer have advanced on the day of the acquisition announcement. This is a positive feedback loop and encourages further purchases. When the stock of the acquirer starts to consistently go down on these announcements, it will be a warning sign that robust M&A activity might be coming to an end. Until then, the party will continue.
Large biotech & pharma firms need to consistently replenish their pipelines. The fact is that it is very hard to develop that second blockbuster drug. Gilead Sciences (NASDAQ:GILD) is a poster child for this. It rode its discovery and dominance in the HIV space to become a large concern. However, it was the purchase of Pharmasset for $11 billion in late 2011 that secured its blockbuster hepatitis C franchise duo of Sovaldi & Harvoni that almost did $5 billion in sales in the second quarter of this year alone.
Major Pharma and Biotech concerns are flush with cash. Acquisitive Allergan as mentioned above is about to get an over $40 billion bounty for its generic drug business. Its CEO has already stated it will be on the prowl for additional acquisitions to grow its branded drug business now that it has abandoned its generic business. Biotech juggernauts as big as Amgen (NASDAQ:AMGN) and Biotech Idec (NASDAQ:BIIB) have been speculated as possible buyout targets. A series of smaller acquisitions cannot be ruled out either.
Gilead, the largest position in my portfolio should generate some $40 billion to $50 billion in free cash flow over the next three years and will likely be an active acquirer as well given management's comments recently on conference calls. I recently did a piece on what this member of the "four horsemen" might buy in the near future.
Tomorrow, I will cover a couple of small cap biotech concerns I hold that look promising as standalone entities but could easily make sense as acquisition targets for larger players. Until then, Happy Hunting.
Disclosure: I am/we are long AMGN,BIIB,CELG, GILD.
I wrote this article myself, and it expresses my own opinions. I am not receiving compensation for it (other than from Seeking Alpha). I have no business relationship with any company whose stock is mentioned in this article.