We recently wrote a series of articles highlighting our Defensive Dividend Portfolio picks for 2012. We focused on the following low beta, defensive sectors:
As discussed in the previous articles, the global economy will continued to be weighed down by a debt problem that took over two decades to create. The leverage that has built up in the system will not unwind for years to come and it will continue to provide significant uncertainty and market volatility.
As central banks drive down short-term rates to deal with high debt levels and low growth rates, investors have been flocking to dividend stocks in search of yield. That said, any pullback in the market should be an opportunity to add to your low-beta dividend stock positions.
This next series of articles highlights our "buy zones" for the 2012 Defensive Dividend Portfolio.
Current "Buy Zones" (Part IV: MLPs)
Due to the current market rally (which we believe will be short-lived), investors should consider waiting for a pullback in these stocks to enter a new position or to add to an existing position.
Most of the stocks below are currently in a positive uptrend. As such, investors should be looking for near-term areas of support as potential entry points.
(Click charts to expand)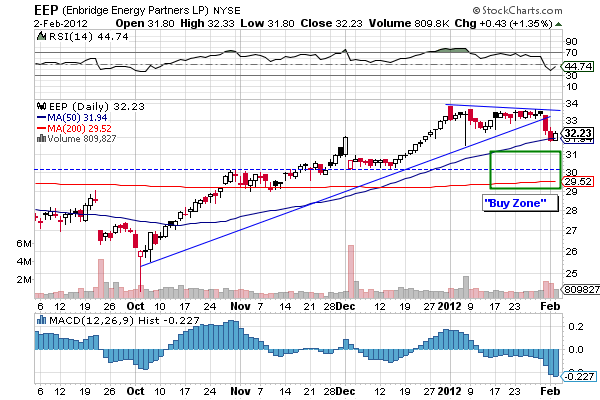 Enbridge Energy Partners (NYSE:EEP) has been on a very strong run since early October. The 50-day moving average crossed over the 200-day moving average in December, which is a long-term bullish signal. We believe that the stock will get some strong support around the 200-day moving average ($29.52) on a pullback, which we think would be a good entry point.
Buy Zone: $29.00-$31.00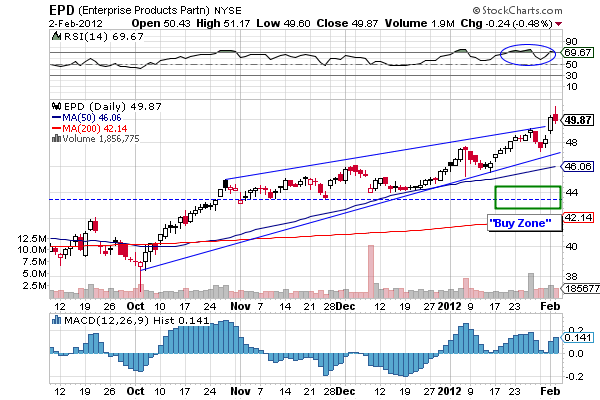 Enterprise Products Partners (NYSE:EPD) continues to hit new highs, but we think that it will definitely have a healthy pullback soon. The stock consolidated in the $44.00-$46.00 range back in November, and December, and we think that this will be a strong area of support.
Buy Zone: $43.00-$45.00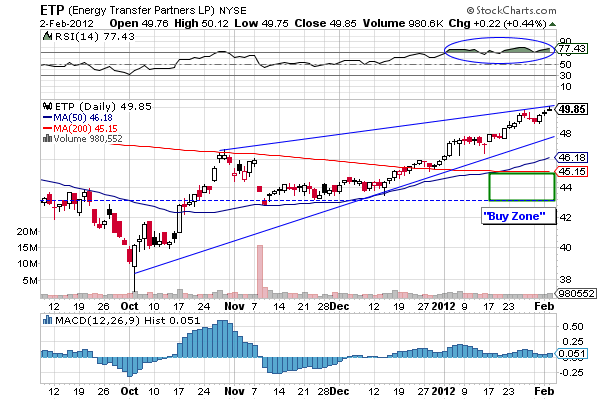 Energy Transfer Partners (NYSE:ETP) recently experienced a bullish crossover, but the stock is technically overbought. A pullback is likely from here, but the long-term positive trend should remain in place. The 200-day moving average ($45.15) should offer near-term support.
Buy Zone: $43.00-$45.00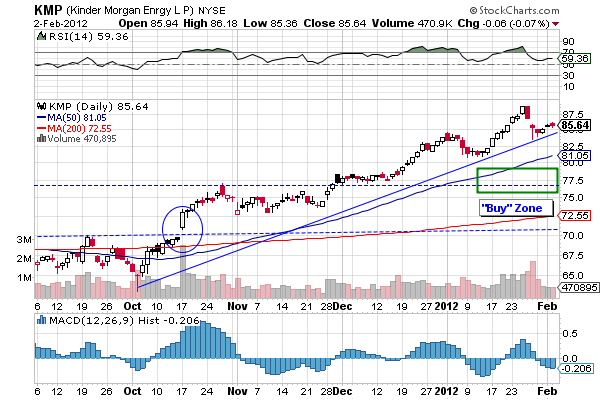 Kinder Morgan Energy Partners (KMP) has been in a very strong uptrend since breaking out in mid-October. While we think that this uptrend will continue, the stock was technically overbought and is in the midst of a healthy pullback right now. That said, we are optimistically waiting for KMP to enter our "buy zone." The 50-day moving average ($80.44) should provide near-term support, and we would be a buyer if the stock dips below this level.
Buy Zone: $77.00-$79.00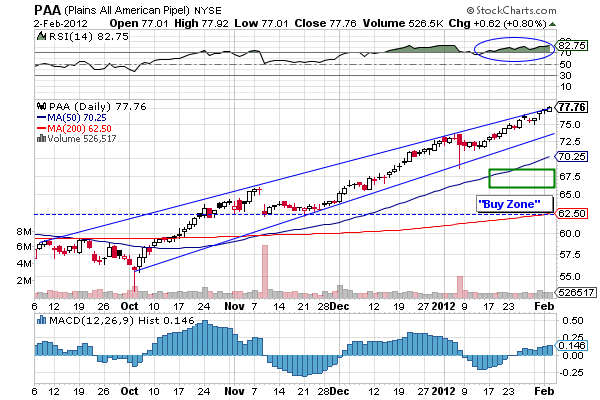 Plains All American Pipeline (NYSE:PAA) may be the most overbought of all the MLPs. The stock is up over 40% since October. That said, the long-term trend is very strong and we believe that it should continue in 2012. We would be a buyer if the stock dipped below the 50-day moving average.
Buy Zone: $66.00-$68.00