The average price of U.S. natural gas touched a high of nearly $5/MMbtu toward the end of 2013 and early 2014. However, the natural gas price has trended lower on ample supply and currently trades at $2.8/MMbtu.
The price of natural gas is unlikely to revisit the 2014 highs anytime soon. This point is backed up by the EIAs outlook for natural gas price for 2015 and 2016. According to the EIA,
EIA expects monthly average spot prices to remain lower than $3/MMBtu in July, and lower than $4/MMBtu through the remainder of the forecast. The projected Henry Hub natural gas price averages $2.97/MMBtu in 2015 and $3.31/MMBtu in 2016.
Amid this gloom, I see value in quality natural gas companies as I am bullish on natural gas with a three- to five-year investment horizon. While there can be several reasons to be bullish on any asset class, I consider the reason represented by the chart below as most important.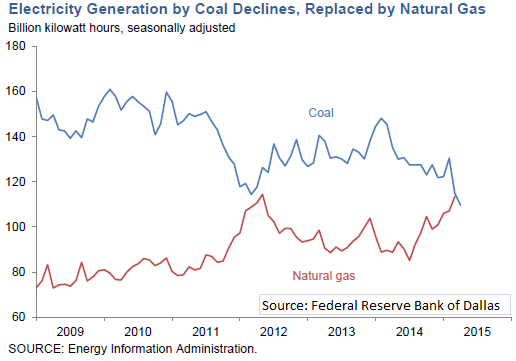 The chart shows that electricity generation by coal has declined and electricity generation by natural gas has picked up in the recent past. While this is clearly due to lower natural gas prices, I expect demand for natural gas to be sustained by electricity generation globally even when prices trend higher. It is by a consensus that governments globally have agreed to reduce CO2 emissions in order to slow the process of global warming, which has already resulted in some irreparable damage to the climate.
This point is relevant in this discussion on natural gas as carbon dioxide production when coal is burned is nearly double the carbon dioxide production when burning natural gas. The table below illustrates my point.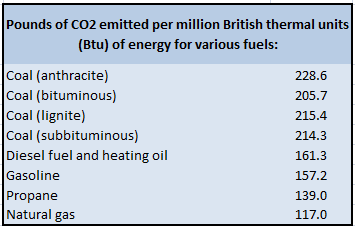 Source: EIA.
I therefore expect natural gas to be a key source of electricity generation globally in the coming years. I believe that natural gas can trend meaningfully higher over the next five to 10 years. In other words, the current correction is an opportunity to gradually accumulate quality natural gas stocks that have strong balance sheets.
Among specific stocks in the sector, I like Range Resources (NYSE:RRC). Investors can read about my rationale for exposure to the stock in this article. Among the main reasons to be bullish on Range Resources, the company has an excellent credit position, a low per-unit cost, and strong hedged positions.
I also like Cabot Oil & Gas (NYSE:COG) as the company has good financial health and attractive IRR on key assets. Investors can read my coverage on Cabot, which I had written about in December 2014. The bottom line is to invest in gas stocks that have a good balance sheet and can sustain themselves in the current downturn. Both of these companies look good from that perspective.
In conclusion, the best time to consider exposure to the stock or sector is when sentiments are depressed and natural gas presents that opportunity. While natural gas prices can remain sideways or marginally higher over the next 12 months, I expect demand from the electricity generation sector globally to take prices higher.
Disclosure: I/we have no positions in any stocks mentioned, and no plans to initiate any positions within the next 72 hours.
I wrote this article myself, and it expresses my own opinions. I am not receiving compensation for it (other than from Seeking Alpha). I have no business relationship with any company whose stock is mentioned in this article.