The country's five largest health insurers are now down to three, or will be, if state and federal regulators allow the deal to go through. Aetna (AET) bought Humana (HUM) for $37 billion of cash and stock, which gives Aetna a larger slice of the growing Medicare Advantage market. Anthem (ANTM) bought Cigna (CI) for $54 billion, which would create the country's largest insurer by individuals covered, as well as Cigna's higher-margin large employer plans and overseas business. Whether regulators will approve the deal is critical to investment strategy, and I honestly have no idea which way regulators will go. Their decision will depend on the fundamental structure of the healthcare market under the Affordable Care Act. Let's look at the industry first, then look at specific investment options.
The Logic Of The ACA
In a traditional market model, consolidation is mostly bad for consumers, doctors, and pharma companies. If the five largest insurers become three, there will be less competition, giving insurers greater price leverage with consumers, care providers, and pill makers. The ACA's insurance mandate would guarantee them plenty of customers, which they could exploit for record profits. In this world, consolidation of the other four companies would benefit the largest health care provider, UnitedHealth Group (NYSE:UNH). A recent report that the ACA has lowered premiums by adding competition supports the traditional market view. If regulators see the effects of consolidation from this perspective, we can expect the deals to come apart.
But what if regulator's vision for healthcare under the ACA is a different one? Consolidation also allows insurers to cut administrative costs, especially important since insurers must spend at least 80% of their revenue on medical costs under the ACA. Integration, both horizontal and vertical, could lead to greater efficiency, while price-gouging is controlled by activist regulators. State regulators could demand some divestments to insure individuals had choice in specific healthcare exchanges, but the feds would allow the mergers. Under this system, the ACA limits insurer margins, but it also greatly expands their customer base.
I have no idea which view regulators will take. David Balto, formerly of the Justice Department and Federal Trade Commission, has done multiple interviews saying he expects the deals to be blocked. Using Stock Rover's charting features, we can see that the markets agree with him. Below, you can see that when Anthem made its $184/share offer public, Cigna spiked into oversold territory according to MFI. The stock has been on a pretty straight decline since, despite the completion of the deal for $187/share on July 23. Anthem's movement has been much less drastic, but has also declined in recent weeks. Since then, MFI has stayed consistently low, mirroring the steady erosion of the stock.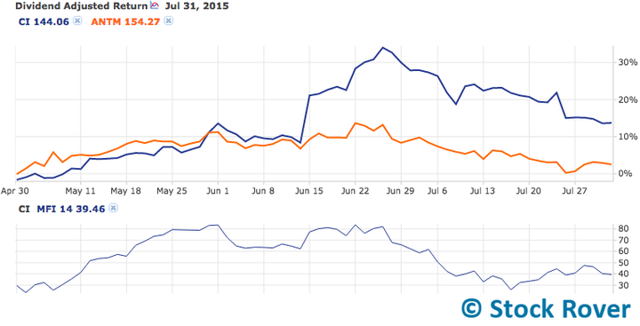 The market reaction to the Aetna/Humana deal has been similarly negative. When news of Aetna's interest broke May 28, Humana shot up into technically oversold territory, but has come down 18% since. Aetna too is down more than 15% from its merger-induced peak. UNH, in contrast, has had a pretty steady organic growth over the past three months.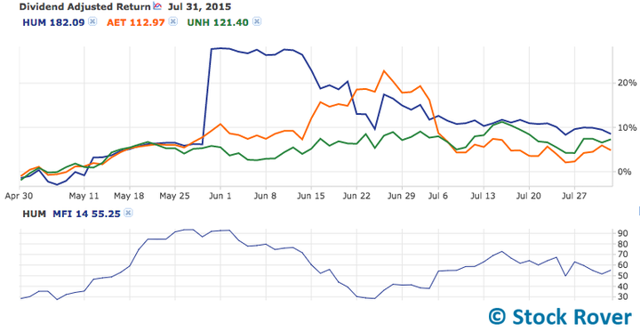 Many of these stocks broke through resistance levels a few months ago, and in the wake of the announced deals have tested those levels as a support. As you can see below, Anthem bounced off its 150-day moving average the day after its acquisition of Cigna was confirmed. Aetna triple-topped at $110/share, and has tested that level recently. Humana similarly double-topped at $182/share, and also tested that level last week. I'm not surprised these stocks broke through resistance and have stayed above it as I think health insurers are generally undervalued.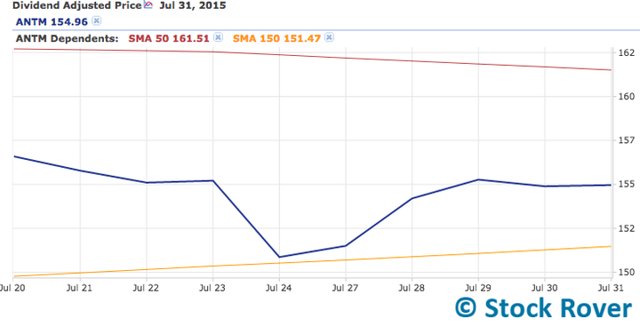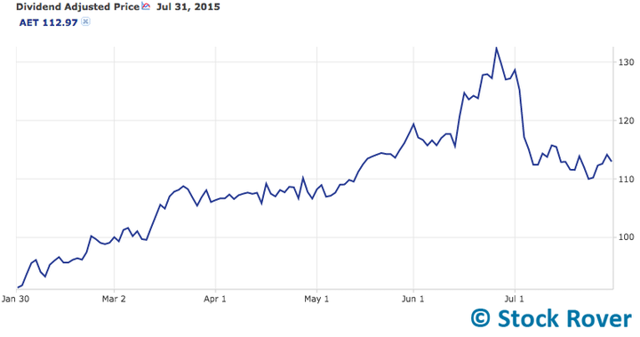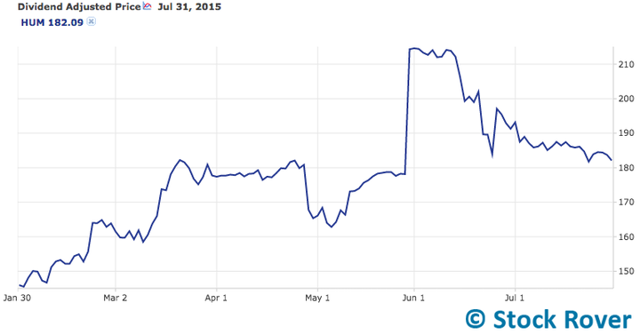 My guess is that the recent decline stems from a combination of belief that these deals will be blocked and pessimism about the deals themselves. Both acquirees are trading well below the prices offered from them, and even at their peak were well below the offer price. Theoretically, when the acquirer's stock declines, the acquiree's should too, since the deal is partially stock. The fact that that hasn't happened suggests the market is skeptical of the deal's completion. I think the acquirers' share prices may be reverting to a benchmark after irrational acquisition excitement. Or, investors simply don't like the deals.
Are Any Of These Companies Worth Buying?
I suspect that until regulators make their position clear, the stocks will float in limbo. Unfortunately, that regulatory review will take several months, and both deals aren't expected to close until the second half of next year. This builds considerable amounts of uncertainty into share prices for deal participants in a way that isn't the case for UNH. First, let's take a more detailed look at the deals, then the investment options.
If the deal goes through, Humana shareholders will receive $125 cash and 0.8375 Aetna shares. When the deal was announced, that combination was worth $230, but has since dropped closer to $220 as Aetna's stock price has declined. To make the deal work, Aetna will issue about $16 billion of new debt, though divestments forced by state-level regulators could provide cash to offset that. After the deal, current Aetna shareholders will hold 74% of the company, with Humana shareholders getting the rest. If the deal falls through, Aetna owes Humana $1 billion.
Cigna shareholders will end up with $103.40 in cash and 0.5152 Anthem shares, collectively good for 33% ownership of the combined company. This will leave Anthem with a debt/capital ratio above 50%, which the company plans on reducing over the next two years. UnitedHealth owns a debt/capital ratio of 48%, and also plans on reducing that over the next two years. Anthem anticipates $2 billion in synergies from the deal, and 10% earnings accretion in the first year after closing, and 20% the year after.
I've decided to hold off on Aetna and Anthem until after regulators have their say. If both deals go through, my equity as a shareholder would be significantly reduced, and both companies will be laden with billions of new debt. Since Anthem is in the worst financial shape of the big five, this is an especially large problem for them. I'm sure both companies will eventually be able to make their balance sheets manageable, but I'd feel more comfortable letting the deals play out so I know exactly what I'm buying. I've written before that I like Aetna as an individual company, and I'd give it another look if the deal falls through.
Of the acquirees, I've decided not to buy Humana and I'm undecided about Cigna. Humana is simply too expensive compared to the other options. Cigna is currently trading at 79% of its acquisition value, which theoretically leaves plenty of room for arbitrage profit. However, I'm concerned about the state of the combined company's balance sheet, and the new equity issue could severely diminish the value of the Anthem shares I would get in the deal. Anthem is currently trading at $154/share, and the new Anthem with 1.5x as many shares would have to stay above $80/share for me to make any arbitrage profit. I'm not sure I want to take that risk.
That leaves us with UNH, which I think is a buy. While the company's debt/capital ratio isn't great, their debt to cash flow of 2 is actually the best of the big five. UNH's $9 billion TTm cash flow, 18% revenue growth this year and 16% growth next year certainly give the company a lot of flexibility. The company projects EPS growth of 9% this year and 16% next year. Its PEG growth of 1.5 is pretty good for the current market.
UNH is also the nation's largest insurer and owns vertical integration in pharmaceutical distribution, which both help increase efficiency. While the company is slightly more expensive than Aetna or Cigna, its 2015 P/E of 20 and 2016 P/E of 16.5 are both below the S&P 500 average. Another compelling factor is that UNH has a strong history of rewarding shareholders with buybacks and dividend growth, as we can see below.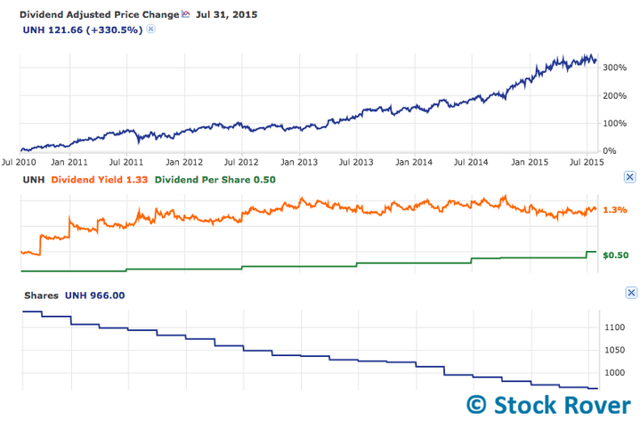 Overall, I'd be willing to take a strong look at Aetna and Cigna if regulators say no, and I'm curious to see what the combined companies look like if regulators say yes. Until then, UnitedHealth looks to me like a strong company in a strong sector, and a valuable investment option independent of acquisition uncertainty.