Investors will do a lot of research. Dividend growth investors will do a lot of research on the companies they want to buy, and then on the companies they want to sell. But the Dividend Aristocrat Index (BATS:NOBL) suggests that the work is already done by the dividend growth history. For the Dividend Aristocrats, of course, it is a list of companies from the S&P 500 that have increased their dividends for 25 years or more. The NASDAQ Dividend Achievers Index is a list of companies that have increased their dividends for 10 years or more. The Achievers Index also applies a proprietary dividend health screen that was developed in concert with Vanguard. In that, it is a rules-based index.
As you may know, the passive Dividend Aristocrat Index has a wonderful history of beating the broad market index (NYSEARCA:SPY), but with lower volatility. It offers wonderful risk-adjusted returns. Dividend growth companies (indices) will typically outperform moving through market corrections, but will not necessarily outperform through extended bull market runs. Investors should have a look at the Sure Dividend site and this article here "10 Critical Tips For Dividend Growth Investors." On Sure Dividend, you will find extensive tracking of the returns of the Aristocrat Index. Seeking Alpha author Ploutos has also penned some wonderful articles on the Aristocrats. Here's a wonderful article from Ploutos. It compares the Aristocrats vs. the equal weighted S&P 500 (NYSEARCA:RSP) and the S&P 500 - from 2000 through 2014.
As you may know, equal weighting the S&P 500 has delivered a significant total return outperformance vs. the cap weighted version of the S&P 500. The S&P 500 might be a wonderful selection criterion, but the cap weighting creates an anchor for total return.
Here's RSP from the ETF inception date of May 1, 2003, to June 22, 2015. The x axis represents duration in months, the y axis represents returns: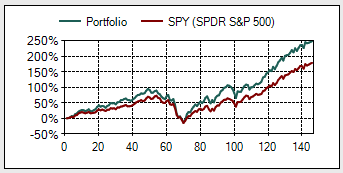 RSP's total return was 248.2%, outperforming the SPDR S&P 500 ETF's total return of 178.6%. The total return includes stock price appreciation and dividends.
Given the outperformance of the Dividend Aristocrats and RSP, we can see that the appropriate benchmark of a stock picker might be a considerable beat of the broader market SPY.
As for stock selection, we can see that in the large- and mid-cap space, the work is done by Standard & Poor's as it relates to the Aristocrats and S&P 500 constituents. It is my opinion that most investors on Seeking Alpha (and investors most everywhere) are essentially index skimmers. Their success will come down to their ability to buy and hold. It will come down to their ability to get out of their own way, and that will determine if they are able to get the (historically generous) returns offered by an index such as the Aristocrats or RSP.
For my US holdings, I recently moved away from the cap weighted Vanguard Dividend Appreciation ETF (NYSEARCA:VIG) and began skimming from the top 25 holdings. I have tracked the top ten (and top 20) from VIG and its wonderful return history; you can see that exercise beginning with this article.
In that original article of November 2012, I threatened to become an index skimmer. This was a comment on the 7 companies that had been the bedrock of VIG and the top ten:
If we run those seven companies from May 2006 we get a Portfolio Total Return of 91.9%, outperforming the S&P 500's return of 6%.

It's enough to make Cranky, the mostly ETF guy, become a stock picker, or perhaps ETF 'skimmer'.
In March of this year, I pulled the trigger and sold my VIG, and purchased 15 individual holdings from the top 20-25 of the index. I did no evaluation other than reading that list. The 15 companies that I added are 3M (NYSE:MMM), Pepsi (NYSE:PEP), CVS Health Corporation (NYSE:CVS), Wal-Mart (NYSE:WMT), Johnson & Johnson (NYSE:JNJ), Qualcomm (NASDAQ:QCOM), United Technologies (NYSE:UTX), Lowe's (NYSE:LOW), Walgreens Boots Alliance (NASDAQ:WBA), Medtronic (NYSE:MDT), Nike (NYSE:NKE), Abbott Labs (NYSE:ABT), Colgate-Palmolive (NYSE:CL), Texas Instruments (NYSE:TXN) and Microsoft (NASDAQ:MSFT).
I also hold Berkshire (NYSE:BRK.B) in one account; for that reason I overlooked top VIG holdings Coke (NYSE:KO), IBM (NYSE:IBM) and Procter & Gamble (NYSE:PG) as they are represented in the BRK holdings. I would certainly prefer to get to 20 holdings or more over time in the name of diversification. That said, I am not uncomfortable at all with these 15 holdings.
In their book Investment Analysis and Portfolio Management, Frank Reilly and Keith Brown reported that in one set of studies for randomly selected stocks, "…about 90% of the maximum benefit of diversification was derived from portfolios of 12 to 18 stocks." In other words, if you own about 12 to 18 stocks, you have obtained more than 90% of the benefits of diversification, assuming you own an equally weighted portfolio.
I did not know much about the companies that I now hold. I can't say I could even regurgitate the list if asked. I know that they have increased their dividends for 10 years or more. Nine of the companies are Dividend Aristocrats. I am comfortable with the earnings potential and financial strength and the stability of dividend growers.
From here, my success will come down to my ability to buy and hold and add. Period. Success will come down to more of that not looking, not thinking, not evaluating, not guessing. It is ironic that not thinking typically beats thinking when it comes to investing.
I know that dividend growth history is a divining rod for finding earnings power and financial stability. It can be all the research required in the dividend growth space as the Dividend Aristocrat Index clearly demonstrates. I also believe that the markets are largely efficient. Much more information than you and I could ever collectively accumulate is priced in by professional investors who have much more time and expertise and tools than you and me. I will take the price that they have set for purchasing earnings power in this market. And yes, many write that the overall market is somewhat expensive. That stock market valuation is out of my control. I will stick to what I can control. I can buy and hold and add.
It may turn out to be true that the markets will soon correct. That's fine by me, I am still about 50% bonds. A la Mr. Graham, I would have no problem shifting my stock to bond allocation to 75% equities to 25% bonds if the stock market goes through another period of emotional instability. If the market puts earnings power "on sale" I will be there.
Risks
Moving beyond the broad based index, I have certainly reduced (greatly) my diversification and sector diversification. That said, that diversification is compensated for, somewhat, by my Canadian holdings that offer a lot of exposure to the financial and energy sectors. I also hold Apple (NASDAQ:AAPL) and that Berkshire as "picks". As I wrote in the past, Canadians might be able to shore up the underweighting of consumer-centric companies, technology and manufacturing within the Canadian index with some wonderful US dividend growth stocks or index holdings. The international diversification is just as important.
But in any market correction, I would hope that dividend growth companies would offer their traditional ability to hold up in price to a greater degree than the broader market. That was certainly the case when I looked at the VIG's top ten and how they performed through the Great Recession. My current grouping of 15 companies also held up quite well. But there is no guarantee of a repeat performance.
All said, I will be buying more of these companies over the next several years. I can't control what the markets will do. I will stick to what I can control and that will be practicing consistent and robotic investing - buying and holding and dollar cost averaging. By rule of thumb, I will invest in the companies that have less current value at the time of repurchase opportunity. But I would imagine that my repurchase plan or schedule will have very little effect on my long-term success. I plan to add to each company once a year or more. Mostly, the monies available originate from the reinvestment of bond and dividend income. I will let the winners run.
Most of my new monies will continue to go into a classic broad-based market index balanced portfolio. That portfolio offers wonderful diversification with exposure to Canadian, US and international markets in equal amounts. The bond index represents 40% of the Portfolio.
Final Thoughts
Remember, articles provide general information and are not suggestions or recommendations on how you invest. Every investor is different; you should perform your own research and then invest in what suits your specific risk tolerance, time horizon and goals.
I wholeheartedly trust the divining rod of dividend growth. You may not.
I truly love the Seeking Alpha mantra ...
Read. Decide. Invest.
Happy investing, be careful out there and always know your risk tolerance level.
Dale
Disclosure: I am/we are long SPY, EFA, EWC, BRK.B, AAPL, MMM, PEP, CVS, WMT, JNJ, QCOM, UTX, LOW, WBA, MDT, NKE, ABT, CL, TXN, MSFT, BCE, TU, ENB, TRP. I wrote this article myself, and it expresses my own opinions. I am not receiving compensation for it (other than from Seeking Alpha). I have no business relationship with any company whose stock is mentioned in this article.
Additional disclosure: Dale Roberts is an Investment Funds Associate at Tangerine Investment Funds Limited a subsidiary of Tangerine Bank, wholly owned by Scotia Bank. The opinions expressed are Dale Roberts' personal opinions and are not necessarily those of Tangerine Bank or its subsidiaries. This article is for information purposes only and does not constitute investment advice or an offer or the solicitation of an offer to buy or sell any securities. Past performance is not guaranteed. Investment strategies are not suitable for everyone and you should always conduct your own research or speak to a financial advisor.