Mike Nadel's recent article about whether to sell Kinder Morgan (NYSE:KMI) brought into focus a concern that overlaps between my oil patch stocks and my DGI stocks (overlaps such as Exxon Mobil (NYSE:XOM), ConocoPhillips (NYSE:COP), Phillips 66 (NYSE:PSX)). Production continues to outpace usage and the extra oil goes into storage. There's a lot of hype about storage variations on the short term, and as a DGI investor that's just a lot of noise for me to ignore. I do worry when I see a long-term trend emerging, however.
The chart below (from the EIA) shows the current state of oil stocks. The equivalent charts for downstream products (gasoline, distillates, etc.) are all in the middle of their five-year averages. Only oil storage is anomalous.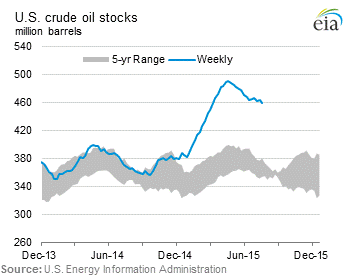 This year's drawdown is fairly normal, and last winter's build was very unusual. A normal build is perhaps 50 MMbbl (million barrels) and last year's was 100 MMbbl. Still, with all that, the end of the summer driving season will likely leave us around 440-450 MMbbl. So why should we as DGI investors care?
Effective storage capacity is the U.S. is actually unknown, but most experts agree that it's around 510-520 MMbbl. There is somewhat more storage than that, but a certain amount of tank volume is needed to be able to handle normal movements of oil, so volumes above about 520 MMbbl will stress the system.
So the concern is fairly simple: if we have another unprecedented build of 100 MMbbl on top of a starting point of about 440 MMbbl, we are in unknown and dangerous territory. The first reaction in the oil patch would be lower spot prices to try to get rid of the glut before the tanks top out. If that doesn't work, then the supply side spigot has to be turned down. That kind of action could hit oil producers and pipelines in a mechanical way, not just with lower prices. The whole system depends on smooth operation. Constrained operation is not a place that we have been. If this happens, we will have warnings well before, but the storage situation should be watched for early warning signs. Remember that the export safety valve is still closed. We can't export crude even if it makes sense to do so.
Other bits of data to consider: U.S. domestic production may have peaked, but it is still 300,000 bbl per day higher than it was last fall when the unprecedented storage build began. There was also an unusually large drop last week that may be an aberration. Two weeks ago, we were running almost 600,000 bbl per day higher than last fall. Refinery utilization rates have been running significantly above normal. At some point, this will catch up with the industry and usage will fall. Exxon Mobil's Torrance refinery is still down (see here for the latest status), and the Southern California Air Quality Management District has told Exxon that they have to replace all of the particulate panels in the scrubbers (likely to take until the end of the year, according to the story). This has caused gasoline prices in southern California to rise dramatically, which will suppress demand. Prices throughout what the Energy Information Agency calls PADD V (the West Coast, Petroleum Administration for Defense District V) have also increased although not as steeply. The worst of the sudden rise may be over, but the damage to the demand side continues.
If this possibility comes to fruition, who wins and who loses? Refiners and the refining side of the majors should do reasonably well if crack spreads increase, although refiners that hold significant oil stocks are subject to a drop in price of their retained crude. Crack spreads will likely be good, at least at first, because the oil price drop will likely lead any gasoline price drop. Minor players in the oil patch will be in more trouble. It's all very well for Whiting (NYSE:WLL) to say that they are adapting to $40-$50 oil, but below $40? Majors like XOM and COP have momentum on their side, but will be hurt further. PSX may suffer another downward spike before recovering, but should hold up well. Pipeline companies may suffer some minor hurt, unless the entire system gets disrupted, in which case all bets are off. There are a lot of contracts out there that were negotiated in better times. If the pipelines can't move the product, someone is going to get hurt.
The sharp drop in oil prices during July (from roughly $59 per barrel to $45 per barrel), the good earnings report by Phillips 66 and Valero, and the poor earnings reported by Exxon and Chevron offer some insight into potential market moves if oil prices collapse further.
The refiners, such as Phillips 66 and Valero (NYSE:VLO) will hold up well as long as the crack spread does, and they have held up well during the recent drop in oil price. The crack spread is basically the profit per barrel from the lower price of crude relative to the higher price of gasoline. Howard Weil produces a weekly refining report, which often appears online as a pdf and is available as a subscription service. When gasoline prices are higher or stable, and oil prices drop, the crack spread rises. This often happens when oil drops dramatically, as it would if responding to a storage overflow event. There is the countervailing psychological impact of lower oil price, so I expect the refiners to more likely be flat than rise in price. Still, they should hold up better and their dividends will likely be more secure.
Oil majors such as Exxon and Chevron, while making more from their refinery operations during an oil price drop, are overwhelmingly driven by the drop in cash flow from their crude production and sale business. This leads to bad quarterly data, as we have just seen, and a further price drop. The price drop is a lagging indicator, with oil prices a leading indicator, and storage a potentially even further-leading indicator. Timing is always an issue with the majors. Although Exxon reported results for the April-June quarter, that quarter actually featured prices rising a bit, which does not explain their large reduction in earnings. I suspect that most of their financials have a significant lag and that they are still suffering from the major decline in pricing from last winter. This lag may result in a further delay in reporting earnings drops, particularly since next quarter may look better. These delays may add to the value of the storage report as a leading indicator (but only if it approaches the storage limit).
Over the last three months, the performance for a number of players in the oil patch looks like this:
| | |
| --- | --- |
| Company (sorted larger to smaller production) | Price Change (%) |
| Exxon Mobil | -12.4 |
| Chevron | -21.0 |
| Conoco Phillips | -25.9 |
| Anadarko | -22.0 |
| Devon | -30.0 |
| Chesapeake | -50.0 |
| Linn | -78.0 |
| Continental | -38.0 |
| Whiting | -50.0 |
| Phillips 66 (refiner) | -2.7 |
| Valero (refiner) | +11.0 |
| KMI (pipeline) | -22.8 |
| Enterprise Products (pipeline) | -20.2 |
| Magellan Mid-America (pipeline) | -17.9 |
Many of these do not meet the criteria for DGI stocks, but the ones that do would suffer similarly in a downturn. Note that, logically or not, the pipeline companies trend in a manner very similar to the major oil companies. I would expect that a further decline in oil prices would have similar effects to those shown in the chart above.
It's important to recognize that oil income is a function of the cost of production, and more importantly, that the cost of production is relatively inelastic. Although companies slowly try to reduce costs, some simply cannot reduce costs below some fixed level. If oil drops below that price, their profit goes to zero or even negative. Many wells can not simply be turned off, both for physical reasons and for contractual ones. Pressure on the pipeline companies grows if the cost of moving the oil is high relative to the profit margin per barrel.
What does this mean for DGI investors? If you buy and hold for the long term (at least 5-10 years), you may be okay, but remember that oil has spent much more time in the 20s than it has above 50. At the very least, the ride will be rocky. If you are looking to get into the oil patch, it might be prudent to wait. If you are overweight, you may want to cull some of the herd, build cash, and wait for a better buying opportunity.
If we stabilize at a new, much lower, level for oil, we could be a long time waiting for a rebound. It's important to recognize that the marginal cost per barrel of producing new oil has been steadily rising. One source has estimated that the cost of "new oil" will rise from $44 dollars per barrel in 2011 to $63 per barrel in 2018.
Another potential reason for a long-term slump in oil that's more certain than a storage glut is the cost of financing. One reason for the rise in production costs is the increased capital needed. If rates rise, the capital gets more expensive. Another little-known issue is that available reserves are calculated based on the expected price of oil. The amount that a company can borrow is tied to their proven reserves, and these reserves go down with the price of oil, a double hit to many companies.
The storage glut is a bit of a doomsday scenario, but if it occurs, it's a slow motion train wreck. Watch the storage build this fall for warning signs. Watch oil prices in the weeks preceding earnings announcements for keys to individual company prices. Don't plan on a rebound, and don't get married to your oil stocks.
Disclosure: I am/we are long XOM, COP, PSX.
I wrote this article myself, and it expresses my own opinions. I am not receiving compensation for it (other than from Seeking Alpha). I have no business relationship with any company whose stock is mentioned in this article.