I have a vague recollection of an article in the financial press, which suggested that portfolio returns can be attributed 70% to the market in general, 20% to sector selection and 10% to individual stock selection.
Keeping this in mind, I track two general market indicators. One compares the relative returns of stocks and bonds and the other the degree of both volatility and correlations in the market (market turmoil). Stocks started to outperform bonds around December 2011, and market turmoil has been in steady decline from its August 2011 highs, and is now at acceptable lows. My conclusion from these two indicators is that the environment for stock market investing is favourable at the moment, but for which sectors and stocks?
While the market has been tough in recent months, I note that stocks such as McDonald's (NYSE:MCD) and many dividend stocks, have hardly been affected by the market turmoil of 2011. Therefore there is no catalyst for out performance of these stocks on the basis that market turmoil has declined. Others, such Caterpillar (NYSE:CAT) have been adversely affected by market turmoil, but have rebounded strongly. If the stock market has turned positive on the basis of the indicators mentioned above, then that may be one catalyst for some sectors and stocks to rebound. My aim here is to look for rebounding little gems lurking in unforseen sectors. Fortunately, The ETF industry is a ready source of data, and in reviewing year to date performance, I find that Financial Select Sector SPDR ETF (NYSEARCA:XLF) is one that had poor performance in 2011, but has performed well enough in 2012 to date.
The following portfolio of financial stocks have generally outperformed XLF in the past three months, and have accelerated this out performance in the past few weeks. In forming this portfolio, I have left out Credit Suisse (NYSE:CS), UBS AG (NYSE:UBS) and National Bank of Greece (NBG) on the basis that they may be adversely affected by the EU crisis. But it should be noted that they nevertheless would have been positive contributors to alpha in the period.
If I wanted to limit exposure to Banks, then I would have been inclined to add Stifel Financial Corp (NYSE:SF) to the list. All I am getting at here is that there are more alternatives in this sector than just the 10 listed below, but contributions to alpha are only marginally different.
For those who are nevertheless distrustful of the market, and who might prefer a market neutral strategy...long 27 Jan/short XLF may be of interest.
The portfolio comprises:
| | | |
| --- | --- | --- |
| | BB&T Corp | Banks |
| | M&T Bank Corp | Banks |
| | Webster Financial Corp | Banks |
| | Regional Financial Corp | Banks |
| | HDFC Bank | Banks |
| | Visa Inc | Consumer Finance |
| | SLM Corp | Consumer Finance |
| | Broadridge Fin Services | Financial Administration |
| | Alliance Data Systems | Financial Administration |
| | Greenhill | Investment Services |
And the active return is: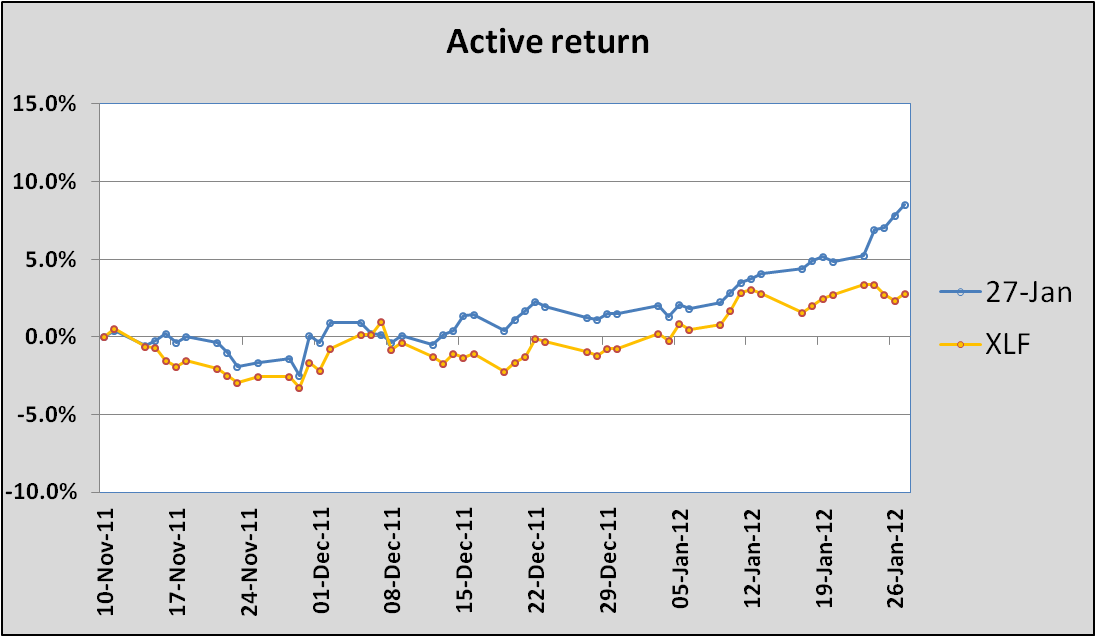 Disclosure: I have no positions in any stocks mentioned, and no plans to initiate any positions within the next 72 hours.
Disclaimer: The content in this document is provided as general information only and should not be taken as investment advice. The contents in this explanatory paper shall not be construed as a recommendation to buy or sell any security or financial product, or to participate in any particular trading or investment strategy. The ideas expressed on this site are solely the opinions of the author. The author may or may not have a position in any security referenced herein. Any action that you take as a result of information or analysis on this site is ultimately your responsibility.