Oil prices tumbled to a four-month low to start the week, pressured by fresh evidence of a sputtering Chinese economy.
China is the world's second largest oil consumer, so its purchasing power clearly matters for the energy industry, whose production, earnings, and share prices have been hobbled by the plunge in prices. As for the rest of the world? Oil consumers could benefit if cheaper pump prices leave more dough to lay down for other goods and services. That means falling energy prices can have a mixed impact on stocks, potentially hurting oil producers but boosting other consumer-sensitive listings.
China's Manufacturing Contracts Again
China's Caixin/Markit purchasing managers' index (PMI) - a gauge of nationwide manufacturing activity - fell to 47.8 in July, down from 49.4 in June and marking a fifth straight month of declines. The "50" line divides contraction from expansion.
"Crude oil is getting hit hard on signs of global economic weakness. The Chinese report feeds into increasing worries about the world's largest economy running into economic trouble. The thinking is with the economic slowdown taking place in China, there will be less demand for oil there," said Patrick J. O'Hare, chief market analyst at Briefing.com.
U.S.-traded crude oil futures plunged to their lowest level since March on Monday, below $46 per barrel.
"Over the year the U.S. has produced more oil and Iran is going to come back on line. A lot of this is an anticipatory sell-off," said JJ Kinahan, chief strategist at TD Ameritrade. "Once we broke the 50-day and 200-day moving averages a while ago, it has been straight down." (See figure 1.)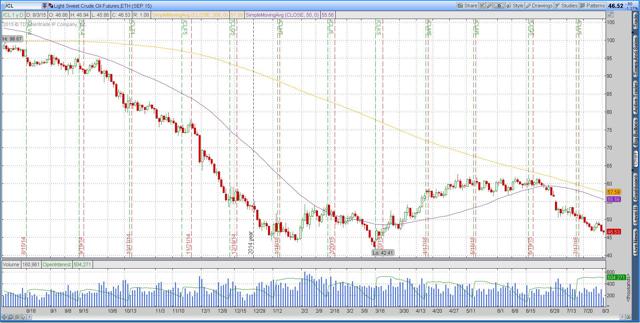 FIGURE 1: READ BETWEEN THE LINES. A daily chart of crude oil futures, including a 50-day moving average for prices (purple) and a 200-day moving average (yellow). Chart source: TD Ameritrade's thinkorswim® platform. For illustrative purposes only. Past performance does not guarantee future results.
Consumer Help? Still Waiting
The weakness in crude oil has translated into significant declines at the gasoline pump.
"Prices in 47 out of 50 states declined for both gasoline and diesel in the last week, bringing the national average for a gallon of gasoline to its lowest summer price since 2009, while diesel fuel sees its lowest outright price since October 2010," said Patrick DeHaan, senior petroleum analyst at GasBuddy. "While 84% of stations in the U.S. were selling gasoline at over $2.50 per gallon a month ago, today that number has dropped to 54%."
GasBuddy forecasts that before Christmas as many as 20 states could have average gas prices below $2 per gallon, as the national average for December slips to a projected monthly U.S. average at $1.98 per gallon.
"The drop in energy prices creates more discretionary spending for the consumer," said Briefing's O'Hare.
That's the theory, at least. Although lower pump prices should theoretically provide a lift to consumer spending, they haven't yet registered a significant impact for many retailers.
"It is a little bit of a conundrum. Last winter, right before the holiday season, gasoline prices were falling and everyone expected blowout holiday sales, but it didn't happen," Kinahan noted.
If consumers spend less on gasoline going forward, the "real test will be the impact on retail sales and consumer discretionary stocks," Kinahan said. "Investors could monitor stocks in retail sales, consumer discretionary, consumer staples, and the auto sectors, which could see a benefit."
Negative Market Tug, Too
Oil impacts the broader stock market in other ways. Weaker crude oil prices hit earnings prospects for major integrated oil companies and have been cited as a primary headwind for extending the broader bull market in U.S. equities. The S&P 500 (SPX) energy sector is one of the most heavily weighted sectors in the index at 7.1%.
"We saw that on Friday with Exxon Mobil (NYSE:XOM) and Chevron's (NYSE:CVX) earnings results. Their upstream operations are being negatively impacted by the price of oil," said O'Hare. "The weakness in the energy sector becomes a pressure point for the broader market index and makes upside movements more challenging. The negative energy influence is helping to keep a lid on the broad market."
Disclaimer:
Inclusion of specific security names in this commentary does not constitute a recommendation from TD Ameritrade to buy, sell, or hold.
Market volatility, volume, and system availability may delay account access and trade executions.
Past performance of a security or strategy does not guarantee future results or success.
Options are not suitable for all investors as the special risks inherent to options trading may expose investors to potentially rapid and substantial losses. Options trading subject to TD Ameritrade review and approval. Please read Characteristics and Risks of Standardized Options before investing in options.
Supporting documentation for any claims, comparisons, statistics, or other technical data will be supplied upon request.
The information is not intended to be investment advice or construed as a recommendation or endorsement of any particular investment or investment strategy, and is for illustrative purposes only. Be sure to understand all risks involved with each strategy, including commission costs, before attempting to place any trade. Clients must consider all relevant risk factors, including their own personal financial situations, before trading.
TD Ameritrade, Inc., member FINRA/SIPC. TD Ameritrade is a trademark jointly owned by TD Ameritrade IP Company, Inc. and The Toronto-Dominion Bank. © 2015 TD Ameritrade IP Company, Inc. All rights reserved. Used with permission.