It appears that the Federal Reserve really does not know what it wants to do come September, as Atlanta Fed President Dennis Lockhart said yesterday it would take a strong downturn in the economic data to convince him that a rate hike at the next meeting was not appropriate, and this morning Federal Reserve Governor Jerome Powell indicated he is still unsure whether raising rates in September is the correct move. Both men are voting members of the FOMC and have a say in what the Fed's decision is, but at this point it seems that even the Federal Reserve's FOMC voting members do not know what the correct answer is.
Bond prices plummeted yesterday when the Wall Street Journal reported the comments from Mr. Lockhart, and this morning we would expect the selloff to at least slow as traders digest the latest news and do their latest straw polls on where each member of the Fed stands regarding a rate hike at the next meeting.
Chart of the Day:
So why all of this talk about bonds, interest rates and the Fed? Simple, it is because they are having a real impact on the US dollar and the US Dollar Index, both of which continue higher. The US Dollar Index is trying to break through the 98 area and possibly test the 100 level once again, which to this point has proven to be a resistance level that the dollar bulls cannot overcome.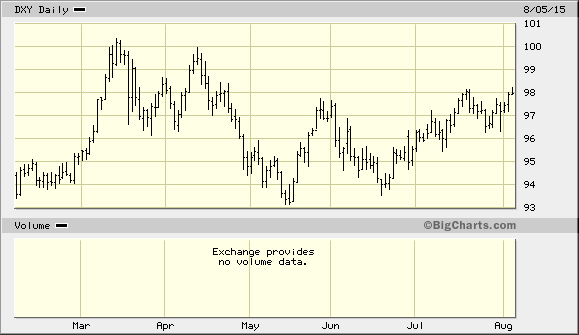 Source: BigCharts
Commodity prices are as follows (at time of submission):
Gold: $1,086.10/ounce, down by $4.60/ounce
Silver: $14.52/ounce, down by $0.037/ounce
Oil: $45.96/barrel, up by $0.22/barrel
RBOB Gas: $1.7038/gallon, up by $0.0186/gallon
Natural Gas: $2.824/MMbtu, up by $0.012/MMbtu
Copper: $2.3385/pound, down by $0.0235/pound
Platinum: $951.50/ounce, down by $7.00/ounce
Merger News, Then Again Maybe Not...
It is not often that financial news outlets report stories which directly conflict with one another, especially when sources are involved and high profile reports, but that is exactly what has happened in the last 24 hours as CNBC and Reuters report the latest on the Monsanto (NYSE:MON) and Syngenta (NYSE:SYT) merger story. According to CNBC's Kate Kelly, the two companies are close to an agreement on price, which would be one of the last hurdles that the deal faces from Syngenta's board of directors. While Ms. Kelly does not name her source, she does name hedge fund manager John Paulson, whose hedge fund took a stake in Syngenta last month and is seen as someone who would push for a deal. Ms. Kelly's source stated that Paulson believes the two companies are still in talks and not far from price; however, Reuters is reporting that their sources are telling them that the two companies are not close to a price and are not even involved in discussions at this time.
Looking at the landscape right now, we have to put more weight behind the Reuters reports because Syngenta's board seems about as uninterested as one could be about a potential takeover. It could be gamesmanship, but with Europe uninterested in trans-Atlantic deals we doubt that this is posturing. Potash (POT) put together a strong deal for K+S and was rebuffed and that deal would have seen Germany benefit with new jobs created as Potash proposed moving their European HQs to the country. That $8 billion offer was turned down quickly even though it was a situation which lacked the hostilities that are present between Monsanto and Syngenta and the regulatory hurdles that the $50 billion deal would face, so with the facts which are before us we have to think that Reuters is correct in this case and that CNBC should have had more concrete evidence before running with their report.
Devon Posts Strong Quarter
Devon Energy (NYSE:DVN), long considered the safer alternative to industry peers such as Chesapeake Energy (NYSE:CHK) and SandRidge Energy (NYSE:SD), reported quarterly results which were quite strong. The company beat EPS estimates by $0.35 or $0.36 per share, depending on which consensus numbers you use. Revenues, no matter which consensus numbers you use came in below expectations, but in the current environment that is no surprise and actually highlights, in our mind, the steps which Devon's management team has taken to focus on the company's most profitable areas as the industry deals with falling oil prices.
Although Devon took a large charge related to the value of its reserves, we still think that the company is in a good position and will come out of this downturn with the potential to join the likes of Exxon Mobil (NYSE:XOM) and EOG Resources (NYSE:EOG) as consolidators, either through full blown acquisitions or via asset purchases. The charge for the quarter is confusing to some and masks the strength at Devon, but we liked the quarter and think that analysts will catch on. The company's stock traded within a penny of its 52-week low yesterday, but it is important to remember that even in bad industries there are select companies which can not only outperform but actually succeed.
Disclosure: I/we have no positions in any stocks mentioned, and no plans to initiate any positions within the next 72 hours.
I wrote this article myself, and it expresses my own opinions. I am not receiving compensation for it (other than from Seeking Alpha). I have no business relationship with any company whose stock is mentioned in this article.
Editor's Note: This article covers one or more stocks trading at less than $1 per share and/or with less than a $100 million market cap. Please be aware of the risks associated with these stocks.