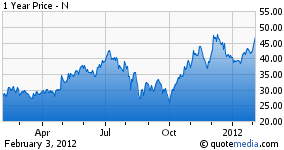 NetSuite (NYSE:N) is on a roll, not just because it beat the Street on its latest earnings release. The stock is up 19% for the year, up 36% from its early 2009 low.
NetSuite sells Software as a Service (SaaS). Its accounting and database application software is designed to be delivered online.
Where a few years ago the SaaS acronym itself was the thing, today that's called cloud.
But it's important that, before you go investing in this space, you understand cloud frameworks and where NetSuite fits in. Because NetSuite is not cloud. Never has been. NetSuite is what happens when cloud works.
Most "cloud" players, like VMware (NYSE:VMW), Rackspace (NYSE:RAX) and RedHat (NYSE:RHT), are pushing Infrastructure as a Service (IaaS) and/or Platform as a Service (NASDAQ:PAAS) solutions. The first combines a collection of services into a single system that can be addressed as one thing. The second includes tools for building programs to use the infrastructure.
In the old client-server world, think of IaaS as being akin to the operating system, PaaS as the operating system plus computer languages.
Before any of this becomes useful to an ordinary person, you have to build applications that run on it. Like Salesforce.com (NYSE:CRM), Netsuite offers such applications.
I dimly recall going to a meeting in the last decade, at an Atlanta hotel, where a bunch of experts in selling software were telling software company executives that they needed to make their products SaaS, that the market was moving strongly to SaaS, and that if they offered a SaaS version of their software they could make a lot of money.
They were right, but those companies that addressed the opportunity as a simple client-server tweak, who talked about running on either Linux or Windows on a server rack, made a big mistake. They needed to go back to the beginning, virtualizing their software, running it through a hypervisor so it could run on either OS, and so it could run on this new infrastructure, the cloud.
So the last few years have been a sort of detour for many businesses. They have had to re-engineer their offerings, re-architect them to run inside this new operating environment, where virtualization and distributed computing changed the nature of the space.
Now that the bottom of the "cloud" stack is starting to settle down, with a small number of hypervisors dominating, with a small number of cloud architectures proliferating, and with more companies turning server farms into cloud installations, the golden age of SaaS is at hand.
So this news is not only good for NetSuite, but for any software company whose offering is architected to deliver SaaS on a cloud architecture. Good for CRM. But also good for Intuit (NASDAQ:INTU) and good for everyone in the SaaS Index.
Ultimately this will be good for the entire software space, which gets to re-architect itself and profit while customers lower their costs. That's going to be one of the big stories of 2012.
Disclosure: I have no positions in any stocks mentioned, and no plans to initiate any positions within the next 72 hours.