For a better understanding, I highly recommend reviewing the potential narrative and charts laid out in Part 1, Part 2, Part 3 and Part 4 of this missive.
Who or What Could Fill The Eurodollar Gap?
Salmo Trutta: "If the E-D system is not to repeat the tragic record of all previous prudential reserve banking systems two things are necessary: (1) the U.S. dollar must remain acceptable as the world's transactions currency (this requires that the chronic deficits in the U.S. balance of payments cease), and (2) the E-D system must be subjected to the restraints of controllable legal reserves and reserve ratios.
If history is a guide it is obvious these requisite conditions (1 and 2 above) will not be achieved. But the alternative is, at some point in time, a flight from the U.S. dollar and, therefore, the Euro-dollar. This will generate hyperinflation in terms of U.S. and Euro-dollars, and an international financial crisis of unprecedented proportions."
Again, who or what fills the ED market gap? Unless somebody refills the trough with debauched dollars, or in an attempt to snag ED marketshare (hegemony), starts debauching their own currency? The ECB and China may take this opportunity to debase the euro and RMB in an effort to gain a larger portion of the ED funding market and potential carry trade. Can the Reichsmark troika and Chinese pull a Mr. Big (outlined here, here, here and here) on the masters?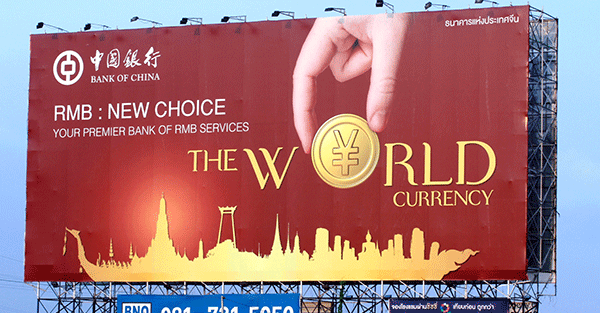 More from Jeffrey P. Snider in regard to central bank policies: "To undercut the asset bubbles should have meant taking full account of the eurodollar standard and developing new ways to actually regulate it (which would have meant real responsibility rather than banks upon their pedestal); rather than just pretend that these economists had it all under control through the same tools developed in the early 1900s."
Mr. Snider: Taking full account of ED and developing new ways to actually regulate it. Mr. Trutta: ED must be subjected to the restraints of controllable legal reserves and ratios. Mr. Snider and Mr. Trutta are of the same mind and for very good reason.
Jeffery P. Snider: "The eurodollar standard, supporting the global "dollar" short - which, in turn, supports asset prices and even national currencies (and national abilities to connect and conduct according to global trade as it exists now) - exists only somewhere between being dismantled and falling apart."
The subtlety above is the eurodollar or "dollar short" supports asset prices and even national currencies. Those being hyperinflated assets and the "strong" dollar. It would appear that in addition to falling apart, the Eurodollar standard, whose effects on wholesale markets the experts at the central banks have for some unknown reason not accounted for, has additionally supported artificial asset inflation and a "strong" dollar through "unintended" consequences of QE and ZIRP.
The world may want a global currency alternative. Achieving this would require wholesale transfusions of the new "plasma". As pointed out in Part 2... Hubba, hubba, who do you trust? The Greenback.... the US dollar now commands:
Almost 100% of global oil and energy transactions
90% of global FOREX transactions
80% of international trade finance transactions
63% of commodities contracts
60% of foreign currency reserves of the world's central banks
60% of banks' cross-border liabilities
52% of governments' and corporations' foreign currency debt
Concomitantly, the PBOC, ECB, EM's and BRIC's may want and actively seek an alternative to the dollar. But, not so fast Joe, you might finish outside... If there is a flight from the dollar, any holdings of USTs would hyperinflate, but so would all other dollar denominated instruments, as in assets and liabilities. So globally, all dollar denominated loans would be much harder to service in local currency and this would wreak havoc in markets and foreign economies. So, not so much and not anytime soon, unless of course, someone's new international bank (AAIB) was offering funding to slowly roll existing dollar debt into the new fiat currency du jour. TBD.
Confirming Salmo Trutta's previous assertion, that a major flight from the dollar would "generate hyperinflation in terms of U.S. and Euro-dollars, and an international financial crisis of unprecedented proportions." Again, who or what fills that gap?
The Elephant prints of QE
From Jeffrey P. Snider: "The complexity of especially eurodollar operations is far beyond the grasp of an entire discipline dedicated to simplifying everything so that covariance matrices don't exceed the limited computing power of whatever is available at the university. In short, QE is not a straightforward intrusion into "markets" nor should it ever be expected to be so."
Above note the bolded and whole statement. Many of my readers have noted, this is not simple stuff. Spot on.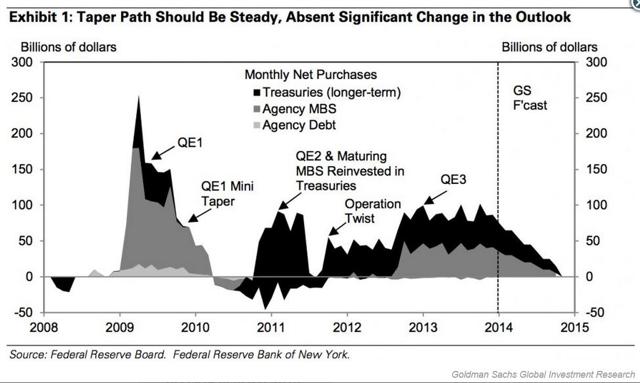 Above note net monthly purchases, following are start/end dates and total purchases.
QE1 = $1.65T
November 2008 - March 2009 $0.6T MBS, Agency
March 2009 - March 2010 $0.750 MBS, Agency; $0.3T UST's
QE2 = $0.6T
November 2010 - June 2011 $0.6T long dated UST's;
Operation Twist = $0.667T
September 2011 $0.4T 6-30yr UST's while selling short dated paper, extending the avg. maturity date of the portfolio.
June 2012 $0.267T UST's
QE3 = $1.830T
September 2012 $40B agency per month = $0.640T
December 2012 +$45B long dated UST's = $0.540T
The Fed could no longer sell short-dated Treasury securities to buy longer-dated ones since they had insufficient holdings of short-dated Treasuries. A hint at liquidity?
December 2013 above agency and UST's, tapering $10B per meeting, ending October 2014 = $0.650T
QE Total $4.750T in debt from government bond sales. Note: only the US citizenry is on the hook for this debt.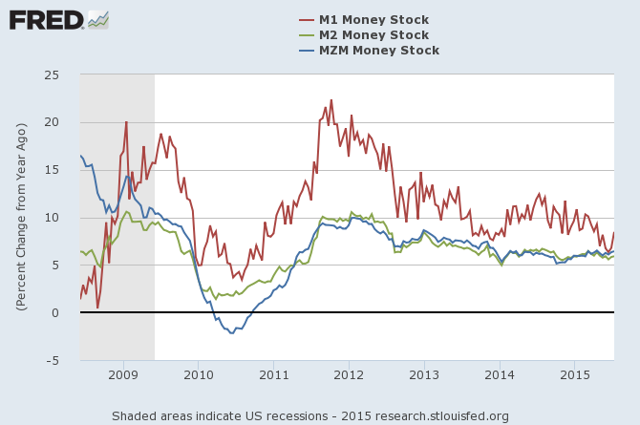 Above note M1, M2 and MZM monetary aggregates undulating synchronously from the QE effects. From its inception in October 2012, note the muted effect of QE3 as opposed to QE2 and QE1.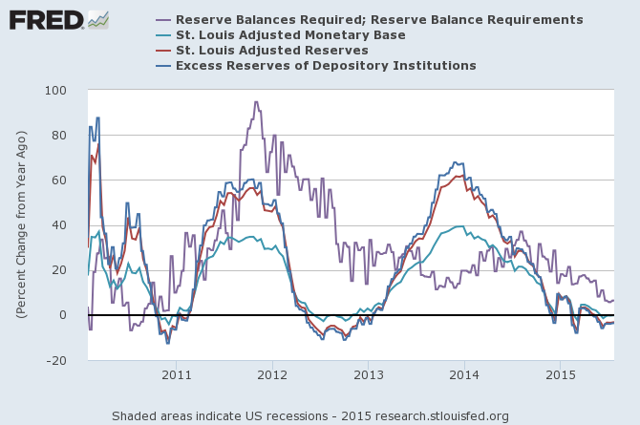 Above note the correlation between Adjusted Monetary Base; Adjusted Reserves and Excess Reserves and the overlay of Required Reserves in purple. Note the start dates of QE above correlate with the undulations, now look at the previous two charts. Again note the muted effect of QE3 on only one of the four variables - required reserves, which have continued to decline. Now let's look at the....
The Elephant prints of The Eurodollar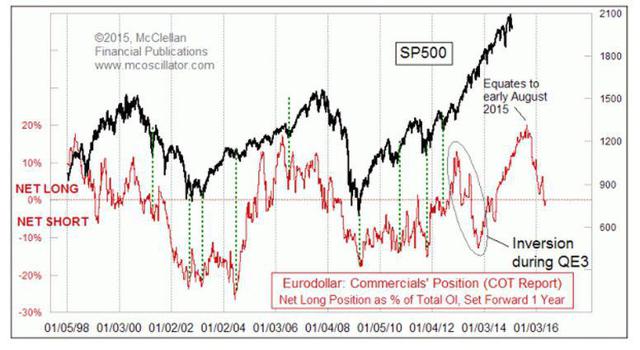 Nobody has a crystal ball, but some might catch a glimpse of the "early edition" as witnessed through the Yoy percentage delta contraction in required reserves in Part 1. Flipping the pages of another potential "early edition"... Above note 1998 to 2016, Eurodollar positions set forward one year, accurately predicting the SP500 oscillations, with the exception of the inversion during QE3. Following which, the apparent SP500 presaging continues on track right into April 2016, nine months into the future.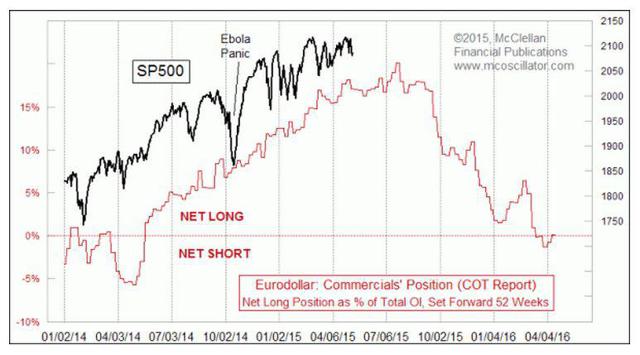 Above note, a magnified view of 2014 through April 2016. Note these charts reflect net futures positioning by big money firms in dollar denominated time deposits that are held in European banks. As noted above during the Fed's $85B per month QE3, which was mostly UST purchases, this relationship inverted. A caveat, as of today, the ECB's 60B euro per month QE has not had an effect on the above relationship, this needs to be closely monitored. Both charts courtesy of McClellan Financial Publications, more information can be found here.
Again, who or what fills the widening ED market gap? and What do I think the Fed might try to do? Stay tuned for Part 6, A hypothetical in gravitational and dark forces, no flippin.
For the ostrich's out there who will parrot apoplectic "chicken little, yelling doomsday again", we are not. Just pointing out additional subtleties, so carry on as you were. For those in tune on the wavelength, opportunities could abound.
Recommended reading for inquiring minds. Warning: Reading not only those listed below, but every installment of these multi-part missives could lead to a better understanding of the market forces in play and how to profit from them.
For a complete missive series listing click here.
These global economic developments could affect numerous markets, sectors, indexes, commodities, forex, bonds, mutual funds, ETFs and stocks.
A List of Market Plays
Disclosure: I/we have no positions in any stocks mentioned, and no plans to initiate any positions within the next 72 hours.
I wrote this article myself, and it expresses my own opinions. I am not receiving compensation for it (other than from Seeking Alpha). I have no business relationship with any company whose stock is mentioned in this article.