Introduction
At the end of May, I wrote an article explaining why you can't ignore Antofagasta (OTC:ANFGF) when you're looking for copper exposure, but as the company's Q2 production results came in lighter than expected and as it announced a $1B acquisition of half of an existing mine, I think an update is already warranted as both developments are impacting my original investment thesis.
As I explained in the original article, Antofagasta has its main listing on the London Stock Exchange so I'd strongly recommend you to trade in Antofagasta's shares there. The ticker symbol is ANTO, and the average daily dollar volume is $26M!
The Q2 Production report
Even though the production improved compared to the first quarter of this year (where the production at the Pelambres and Centinela mines was severely disrupted by respectively an industrial action and heavy rainfall), the total copper production still fell a bit short of my expectations.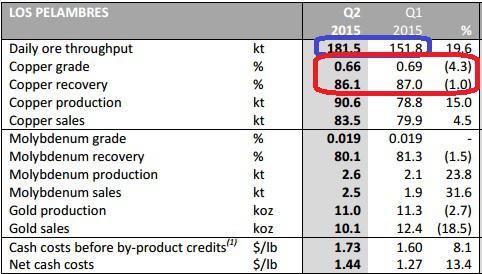 Source: press release
After producing just 146,000 tonnes of copper in the first quarter, the total production increased by approximately 7% in the second quarter to 157,000 tonnes. That's a nice improvement, but less than the 165,000 tonnes I was hoping for, and definitely less than the analyst consensus estimate of 170,000 tonnes. The main culprits for this shortfall are the Pelambres mine which produced 90,600 tonnes of copper which was lower than I expected, due to the lower head grade (0.66% copper vs. 0.69% copper) and a 0.9% drop in the average recovery rate of the copper. Not only was the production increase lower than I expected, the production cost also increased from $1.27/lbs in Q1 2015 to $1.44 per pound in the second quarter due to a lower gold production rate and a much lower molybdenum price.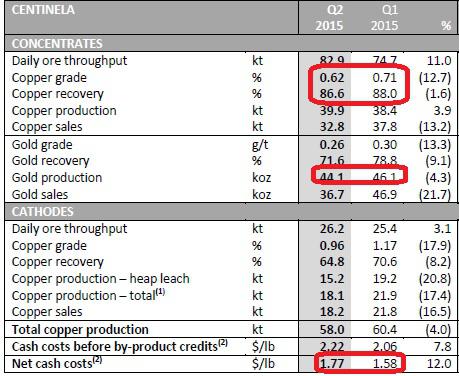 Source: press release
The second culprit is the Centinela mine where the copper production was even lower than in the first quarter of this year. Even though the daily throughput increased to 82,900 tonnes per day, the 13% drop in the average grade has really hurt the company as the recovery rate also fell from 88% to 86.6%. And yes, just like at the Pelambres asset, Antofagasta saw its net cash cost per produced pound of copper increase by 12% to $1.77.
The combination of the weak performance at those two mines and a delayed commissioning at the Antucoya mine has resulted in Antofagasta slashing its production guidance from 695,000 tonnes copper to 665,000 tonnes.
Antofagasta is putting its cash at work: acquiring 50% of the Zaldivar mine
In the previous article, I also discussed Antofagasta's balance sheet which contained a working capital position of $3.5B. It now looks like Antofagasta's board is now spending the cash as the company acquired a 50% stake in the Zaldivar copper mine in Chile from Barrick Gold (ABX), as part of Barrick's plan to divest of non-core assets.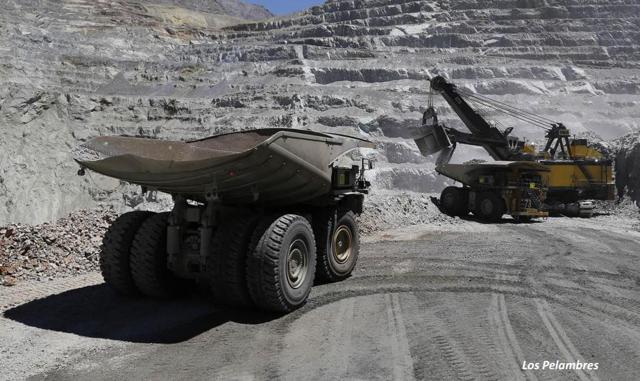 Source: company presentation
So what does Antofagasta receive for its billion dollar?
Zaldivar is an open pit mine and recovers the copper through a heap leach process. Its total production in 2014 was 220 million pounds of copper at a net cash cost of $1.79 per pound and has a remaining mine life of 14 years based on the 5.5 billion pounds of copper in the ground.
I'm actually a little bit disappointed to see Antofagasta acquiring another relatively high-cost asset (the current operating margin is just $0.55 per pound of copper, and that's pre-tax and pre-sustaining capex). At an attributable production rate of 110 million pounds of copper per year, it doesn't look like Barrick sold its asset at a fire-sale price. So based on the current copper price I'm not really impressed with the acquisition, but if the copper price goes back up to $3 per pound, the Antofagasta management will look like geniuses as the payback period will be much shorter.
Investment thesis
I have to be less excited about Antofagasta as this is the second time the company is reducing its production guidance. Even worse than a lower production rate are the corresponding increases in cash cost at the Pelambres and Centinela mine.
I'm looking forward to see Antofagasta's financial results in the first half of this year, and maybe to already see a preliminary production and cost guidance for 2016 which should include its 50% share of the Zaldivar mine it bought from Barrick Gold.
Disclosure: I/we have no positions in any stocks mentioned, and no plans to initiate any positions within the next 72 hours. I wrote this article myself, and it expresses my own opinions. I am not receiving compensation for it (other than from Seeking Alpha). I have no business relationship with any company whose stock is mentioned in this article.
Editor's Note: This article discusses one or more securities that do not trade on a major U.S. exchange. Please be aware of the risks associated with these stocks.