Each week, I like to cull my own scanners and several excellent options activity resources, highlight a few trades the big money puts on (presumably) and break them down. I hope this process helps retail investors, such as myself, from getting in over their heads with options going forward.
Frontier Communications (NYSE:FTR). I wrote about these guys last week. I still cannot get over the amount of attention this stock receives.
With the 17.7% dividend yield staring the income-hungry masses in the face, I guess I should not be surprised. I've got to wonder, however, if a bunch of retirees don't just own massive amounts of this dog, live off of the income it generates, realize a loss on the lot equal to $3,000 each December and live with it.
Frontier reports on February 16th after the close. February options expire on the 18th, but the last day you can trade them is Friday, the 17th. As of 1:40 p.m. Eastern Time Friday (the 3rd), 16,724 FTR February $4 calls traded hands against open interest of 9,111, while the FTR February $5 calls saw volume of 1,777 against open interest of 9,358.
This action has got to be (and better be) one of two things - short-term momentum traders going long or the somewhat big money selling calls. It's probably the latter, as generating profits from these long calls ahead of an earnings report you can barely trade past makes little sense, at least for the risk-conscious investor.
If FTR tanks on earnings and you're long the $4 calls, all you're left with is its intrinsic value. If you hold the $5 calls, you're left with nothing. If you sold them, however, you might have just sold a sucker looking for a lotto ticket-like victory some volatility.
If you're bullish FTR, that's your business. Just don't follow that conviction with these absurd February puts. Sure, you can make a lot of money if things go incredibly well come earnings. Believe me, though, for every winner using that "strategy," you'll likely have several losers to offset any gains or flat wipe you out.
Cheniere Energy (NYSEMKT:LNG). Recent activity in and good and not-so-good reporting on LNG stock options teaches us all to not take the things we read and see at the surface-scratch level.
I love Briefing.com so much that I pay them $50 a month for their InPlay service. It's excellent. However, whoever writes their options blurbs could be a bit more thorough. Today, Briefing highlighted the continuation of what it calls "unusual LNG volatility selling." Certainly, somebody is selling volatility there, but that's only part of the story.
In a piece from Thursday, the always-reliable optionMONSTER provided the complete picture of what's likely happening in LNG:
Our tracking systems detected the sale of about 15,000 February 13 calls for $0.65 against open interest of 11,674 contracts. The trade accounted for most of the option volume in the liquefied natural-gas stock so far today.

The investor is obligated to sell shares for $13 but, including the credit earned, the exit price would be $13.60. LNG hasn't traded that high in more than three years.

He or she is probably long the equity and is using the options as part of a covered call strategy.
In other words, an investor rode LNG stock for this run and they're ready to take profits. This is a great strategy - writing calls on options with high implied volatility. It's not without risk, however. On the next few Tuesdays, I get into detail about generating income from the strategy alongside specific trade ideas in my long-term options investing newsletter.
Netflix (NASDAQ:NFLX). Interesting to note the following activity in NFLX options today:
Volume of 1808 in Feb $125 calls against OI of 2807.
Volume of 1188 in Feb $130 calls against OI of 6306.
Volume of 1300 in Feb $120 puts against OI of 2723.
Volume of 1302 in Feb $125 puts against OI of 1478.
That's as of around 2:00 p.m. eastern Friday.
I was unable to obtain fine-grain information on whether those calls and puts were bought or sold in time for publication, but that doesn't detract from the lesson here.
Often, when we see relatively heavy option activity in calls, we think the market is bullish. In puts, we think it's bearish. Sometimes, this is true. However, you have to be careful before going with that assumption. In this case, my best guess, given NFLX's momentum and irrational tendency to move on air, is that traders are buying the calls and selling the puts, both bullish moves.
Apple (NASDAQ:AAPL). Of course, the big money loves Apple stock options. Apple conspiracy theorists, including some who work in the financial media, think traders "manipulate" AAPL via the options market. Yawn.
Nevertheless, there's hefty call activity in AAPL options today. I want to point something out pursuant to the long AAPL January 2014 $600 call I have on in the $100,000 portfolio I wrote about Thursday. I bought that contract last year for $32.80. While it's up today, it still trades for lower than what I bought it for at around $28.70, despite the fact that AAPL is somewhere around $50-$60 higher today than it was when I bought the call.
Take a look at deep OTM AAPL LEAPS for January 2014. They're all over the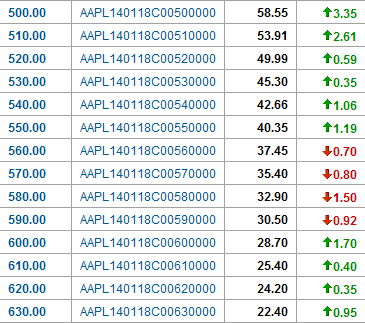 board, even with the stock up 1%.
You benefit from buying LEAPS options because you've got lots of time to expiration. Time decay - the thing that kills so many stock options investors - does not really become a factor until much closer into expiration. You also pay a premium for that time, simply because, in theory, the further out into the future expiration, the better chance of your contract ending up in-the-money.
The problem, however, with deep OTM LEAPS (as with any trade, but especially OTM options) is that you have to be right. Obvious, I know. But the point is that when you buy a January 2014 LEAP at the end of 2011, entry price should be of very little concern. If you're right about the stock's massive ascent to $600 or thereabouts over the period of 18-22 months, you'll be sitting pretty, regardless of your entry price. It's called a home run. I don't necessarily advocate these types of plays, but it's nice to know how they function and maybe take a crack if you're fortunate enough to have the free cash to comfortably speculate with.
Disclosure: I am long AAPL.
Additional disclosure: I am long NFLX June $40 put options.