While the general consensus is that gold is likely to fall significantly from current levels before any kind of a rebound should be expected, this broad consensus is often a good reason to consider a contrarian perspective. The SPDR Gold Trust ETF (NYSEARCA:GLD) recently fell below $105 per share, driven by more news from the Federal Open Market Committee (FOMC) on an impending rate hike and over strength in the U.S. dollar. The major miners, including Barrick (NYSE:ABX) and Newmont Mining (NYSE:NEM) - both major components of the Market Vectors Gold Miners ETF (NYSEARCA:GDX) - have taken a similar beating. Ultimately while gold is now in the realm where paying attention is warranted, the downside risk continues to outweigh the potential rewards, meaning GLD should remain on the short list.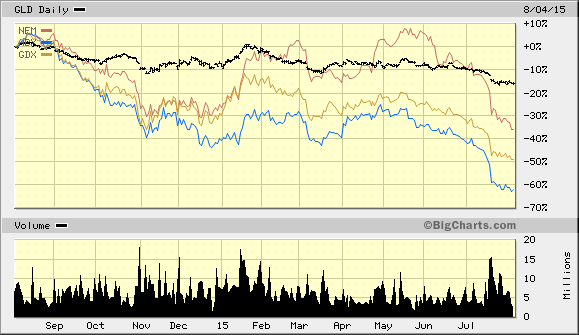 The Macroeconomic Storm
While the July 29 FOMC meeting highlighted that inflation concerns are a meaningful factor in the Committee's focus - a fact that is often bullish for gold - the strength of the U.S. dollar remains the driving force. The dollar is up around 8% year-to-date, and has shown signs of continuing strength recently, and dollar strength is typically bearish for gold. The price action of the yellow metal confirms the somewhat obvious conclusion that inflation concerns are muted on a relative basis relative to the dollar's strength, and these competing forces are tilted towards more downward pressure for gold.
Adding to the downturn in gold prices is exceptionally weak demand for physical gold - the usually counterbalancing force that prevents the type of slide that has been seen for multiple years. Demand for physical gold from both China and India has been relatively low, and has not been sufficient to counteract the decreased demand seen from the major ETFs like GLD. The combination of weak demand and soft global macroeconomic factors has set the stage for gold to test, and break, the five-year lows that are currently in play.
Word On The Street
In a recent piece that relies on the research of former TCW Group commodities managers Claude Erb, Mark Hulbert presents a compelling case for a drop in gold prices all the way to $350. Hulbert explains that Erb, and his research partner, Campbell Harvey, place the fair value of gold at $825 based on various long-term factors. As gold begins to drop to that fair value, it is likely to overshoot it by a meaningful amount on its way to $825: "He calculates that, if gold drops below fair value to the same extent it did in the mid-1970s and the late 1990s, bullion would trade around $350 an ounce." Whether the extent of such an overshoot would be this extreme or not, it is hard to overlook such a reasonable bear case for gold, particularly as commodities as a whole are abused lately.
No Contrarian Trade?
Buying in the face of such uniform evidence against a reversal in gold would require a belief that major shifts in global macroeconomic factors are imminent. Given the continuing positive news out of the U.S. economy, and the apparent divergence between U.S. policies and those for the rest of the world, GLD and the major miners should remain on your sell or short list. With the majors facing potential mine viability concerns, there is an argument for looking at development and exploration companies, but even here, viability concerns should not be overlooked.
Despite the above, there is a gold position that warrants consideration: a pair trade of long GDX and short GLD. As demonstrated by the chart below, the divergence between the miners and the metal has been significant and has persisted for an extended period. While a definite risk factor for this pair is further divergence driven by the operating realities faced by the miners, there is a trading opportunity here. The YTD chart shows that there has been sufficient fluctuation between these names to capture sufficient upside to justify the risk. A relatively tight stop should be used and a specific profit objective that will trigger exiting the trade is needed as well. Under these conditions, this pair has good potential on a risk-adjusted basis.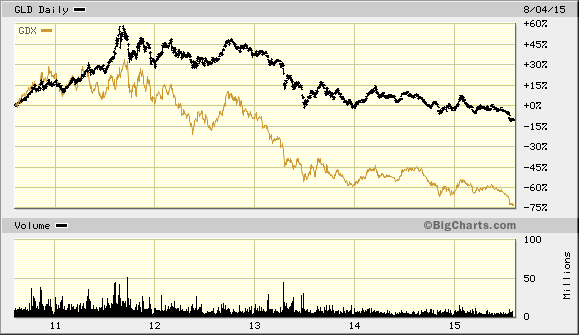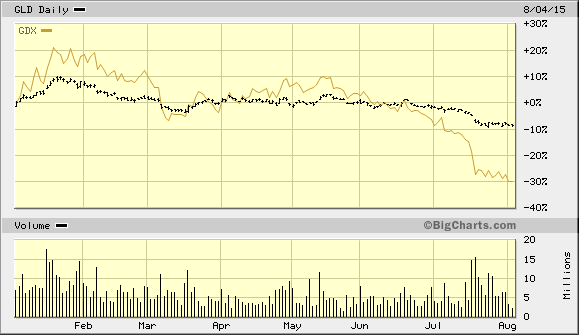 While a pair trade is not a purely contrarian position, using the pair might also be a hedge to a short position in the gold space. The proverbial deck seems stacked against gold right now to such an extent that a thoughtful investor ought to be considering options here.
Disclosure: I/we have no positions in any stocks mentioned, and no plans to initiate any positions within the next 72 hours.
I wrote this article myself, and it expresses my own opinions. I am not receiving compensation for it (other than from Seeking Alpha). I have no business relationship with any company whose stock is mentioned in this article.