What's Up?
Though relations are still tense, recent deals in nuclear talks with Iran have become a catalyst for lessening sanctions on the Middle Eastern nation. I get the sense that the U.S. isn't super happy with some things, but it is a start nonetheless.
As a consequence of easing tensions with Iran, there are the economic factors to consider that will be tiding through the markets. Speculation over Iranian oil is already causing rifts in pricing. Banks are going to be looking at the merits and risks of providing financing to Iranian projects. America is not nearly as interested in easing the strong-arm as Europe is. Nonetheless, investors are looking at the American exception to sanctions on Iran for "civilian aircraft".
Mohammad Khodakarami, caretaker director of Iran's Civil Aviation Organization, has been quoted saying that Iran plans to purchase 80-90 planes from Boeing (NYSE:BA) and Airbus (OTCPK:EADSY) over the next few years. He further said that the total planes purchased in five years would be somewhere around 300. For an air fleet whose average age of a plane is 23 years, this seems long overdue. Aviation shareholders should be ecstatic about this, considering the purchases could mean billions per year.
The Catch
While this sounds awesome, there is the incredibly precarious state of the Middle East to consider. I mean, these guys can never just chill and enjoy the good life. Granted they have terror and civil unrest every other day, so how can they? Political ideology aside, Iran represents a useable market, and a huge risk at the same time. It's great that it wants these planes, but with the state-controlled government that is still somewhat in the crosshairs of the western world, is it going to be able to find a way to buy them?
For one, both Boeing and Airbus have huge backorders right now. I mean jeez; back in May, Boeing already had net orders of 134 planes in 2015. Both companies currently have backorders that will cover production for the next 8-10 years. The average age of an airline plane in Iran will be 33 years before it even gets an order in production assuming it tries to buy from Boeing and Airbus.
On top of that, while there may not be much standing in the way of it acquiring civilian aircraft, Iran may have a very tough time finding the financing to purchase them. When Senator John Kerry is still giving speeches in Egypt about Iran's designated spot as the world's number one state sponsor of terrorists, you can ascertain pretty quickly that tensions are not over with the country. Who is going to provide financing to its Civil Aviation Organization (which Khodakarami has stated it would need) while the United States is still ready to step right back on its throat if it makes any unexpected moves towards producing (at least attempting to produce)/supplying undesirable weapons? It's no laughing matter when the U.S. government wants to put a stranglehold on a nation's economy. For venture capitalists, banks and any other financial group, it is very risky to provide money to a nation that has had its economy wrecked the way Iran has.
Consider the fact that while we have a nuclear deal with Iran, most Arab states are still in competition with Iran to control the region. Saudi Arabia is not backing down from the struggle for supremacy. Just last week, the Saudis say they linked a bombing in Bahrain to Iran. True or fabricated, it shows the distrust and competition between the two states. The fears I see in placing any faith in business with Iran is linked to this uncertain conflict.
Conclusion
While I do believe that Iran would "like" to obtain new aircraft from the American aeronautics firms, I say take this news with the quiet but analytical view of a skeptic. Though this story is going to run through the news a lot, as it pertains to opening business with Iran and the U.S., it may not amount much for Boeing and Airbus in the end. They have huge backorders, we can't be sure of Iran's financing yet (which I would imagine it would have to obtain and pay at least a portion of before Boeing would begin production), and there is still great distrust with the country. That being said, Boeing and Airbus are good companies. I say stick with American. Boeing has increased its revenues annually for several years along with solid net income. Furthermore, the company has a great track record for earnings beats. FedEx (NYSE:FDX) has made it clear that Boeing is its new favorite for cargo planes. The firm recently ordered 50 more 767s, with an additional 50 in options. With so much business, it has a 10-year backorder, Boeing's performance has translated into its stock price.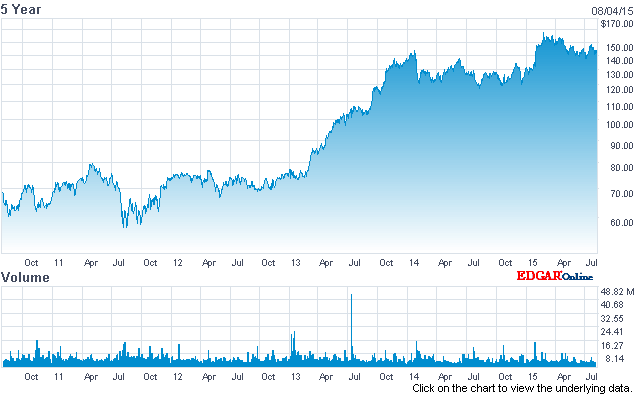 If Iran's plan to buy planes doesn't come through, Boeing and Airbus will be just fine. I favor Boeing since it is the American choice. It is a great company to own long term. Just don't buy the stock expecting some giant gain over Iran's news. The future is still not certain for the country.
Disclosure: I/we have no positions in any stocks mentioned, and no plans to initiate any positions within the next 72 hours.
I wrote this article myself, and it expresses my own opinions. I am not receiving compensation for it (other than from Seeking Alpha). I have no business relationship with any company whose stock is mentioned in this article.
Editor's Note: This article discusses one or more securities that do not trade on a major U.S. exchange. Please be aware of the risks associated with these stocks.