Sometimes, there is news that isn't what it seems. Today, we got one of those: Deutsche Bank (NYSE:DB) saying that it didn't take advantage of the LTRO due to its wish to keep its reputation.
But is that a good explanation for Deutsche Bank's attitude?
I reckon it isn't. There's a much better explanation, and as such, much more likely to be the true reason.
The LTRO finances banks for up to three years, thus removing refinancing risk on what the banks choose to buy and deliver as collateral. So, buy they do, with abandon, as I've shown previously.
But there is a problem, precisely for German banks. What they can deliver as collateral and buy on a moment's notice is government debt. And the LTRO finances these assets at a 1% rate. It so happens that to make money with little risk on this scheme, you need to buy government debt that's less than three years in maturity and yields more than 1%.
And Germany doesn't yield more than 1%. Here are two-year yields on German debt (source: Bloomberg):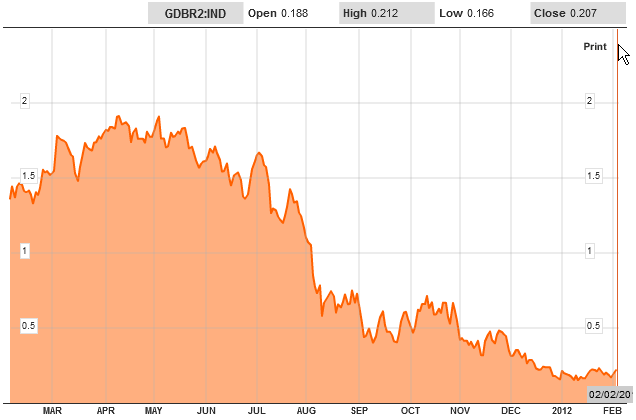 So German public debt yields 0.2%, Deutsche Bank would be losing money on it if it decided to buy and deliver such debt at the LTRO. This means that for Deutsche Bank to make money on the LTRO, they would need to buy debt from the troubled countries, which at this point obviously no bank official wants to increase exposure to.
So the LTRO is a way for banks to make money, but one that works mostly only for the periphery, troubled, countries and their banks. And Deutsche Bank isn't avoiding it because of its reputation; it is avoiding it because it doesn't want more exposure to the sovereign troubles, and there is no money in it otherwise.
Lastly, don't be surprised if other German banks such as Commerzbank (OTCPK:CRZBY) come and say the same, or even French banks like Societé Generale (OTCPK:SCGLY) or BNP (OTCQX:BNPQY), after all France's two-year yields are below 1% as well.
Disclosure: I have no positions in any stocks mentioned, and no plans to initiate any positions within the next 72 hours.