Laid-back dividend investing means that I don't want to spend too much time researching dividend-paying companies. This is my attitude with regard to high-yield dividend investing. If a company is too difficult to understand, then I leave it alone.
In this post-Enron/Arthur Andersen world, dividend companies already are inherently more safe than their non-dividend paying counterparts. They pay cash, they have real earnings.
While looking for safe, high yields, I selected three companies. Criteria for selection are:
high dividend yield
companies operating in different sectors
sustainability of dividends
American Capital Agency Corp. (NASDAQ:AGNC) operates as a real estate investment trust (REIT). It gets money from banks through short-term borrowings, which have low interest rates, and invests it in long-term obligations, which have higher interest rates. It then pockets the difference. AGNC is a low-risk company because those long-term obligations it invests in are guaranteed by a U.S. Government agency or U.S. Government-sponsored entity. AGNC currently yields 19.10%.
Yield is so high because AGNC borrows money many times its own capital (it has a high leverage). It is then able to multiply the difference it pockets between short term borrowings and long term investments.
It's not free money, however. There's a downside risk. If interest rates are to go up, then AGNC would face losses on its long-term obligations portfolio. In fact, when interests rate go up, obligations prices go down (to compensate for the lower yield they pay). But, since the Federal Reserve said it will take interest rates very low for an extended period of time, it appears the downside risk is mitigated.
Another risk is prepayments. If AGNC buys a security above par and then it gets repaid at par, AGNC loses the difference. Since it has a high leverage, losses can be meaningful to the bottom line.
Luckily, since AGNC is paying so high a dividend, it is also trading at a price above its book value (which is the current market value of all of its investments). AGNC is then able to offer common stock. And since the common stock is priced above book value, AGNC is able to raise capital which is accretive to its shareholders. It is then able to keep buying obligations and it is able to minimize prepayments impact on its balance sheet.
Fifth Street Finance Corp. (NYSE:FSC) provides financing solutions to sponsor-led, middle market acquisitions. It is a so-called Business Development Company. It's another financial, so it is also sensible to interest rates going up (like AGNC). Its business is different, though.
FSC is a company that lends to and invests in small and mid-sized companies, primarily in connection with investments by private equity sponsors. Fifth Street Finance Corp.'s investment objective is to maximize its portfolio's total return by generating current income from its debt investments and capital appreciation from its equity investments.
It pays a monthly dividend, which currently is $0.0958 per share. At current stock market price, its annualized yield is 11.35%. Even if FSC financials are hard to understand, its up- and downsides are easy to grasp. To do well, FSC has to carefully choose the companies they lend money to. A good overall view of Fifth Street Finance Corp. is its newsletter for January 2012.
Vector Group Ltd. (NYSE:VGR), through its subsidiaries, engages in the manufacture and sale of cigarettes in the United States. The company offers cigarettes in approximately 135 combinations of length, style and packaging under the Pyramid, Grand Prix, Liggett Select, Eve and USA brands, as well as under various partner and private label brands.
It's quite some time I have this company on my watch list, though I never bought it. So I'm witness that, due to increased regulation, VGR is under a constant threat (see the two spikes down in the chart below, which coincide with news about tighter tobacco regulations in the USA). With tobacco companies - not only in the United States but globally - health issues are just not going to fade away. But, even in a difficult environment, Vector Group has been able to keep paying high (relative to stock price) dividends.
Chart below (courtesy BigCharts) shows VGR's 5-year performance, rolling dividends and dividend yield. You can see volatility is low, while dividends and dividend yields are steady.
Click to enlarge: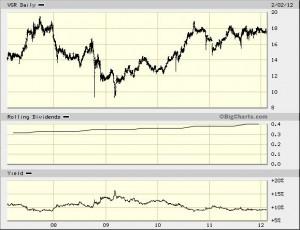 Current dividend yield, annualized, is 9.08%.
Disclosure: I have no positions in any stocks mentioned, and no plans to initiate any positions within the next 72 hours.