I have been a professional investor for nearly a decade and have researched over 1,000 stocks, and I believe that Cellceutix is far and away the worst public company I have ever seen. The company is rife with unethical conflicts of interest from insiders who appear to be recycling a historically effective playbook that has resulted in self-enrichment at the expense of minority shareholders. This team of insiders has been involved in numerous stock market wipeouts that have cost shareholders untold fortunes.
The "company" is run out of a shell office that was leased to CTIX by the company's president. Numerous calls to management went unanswered.
There is a strong probability that (CTIX) is manipulated by stock promoters and overseas boiler rooms, which is explained below.
Additionally, after hiring an independent scientist with a Doctorate in Biochemistry to review Cellceutix's "science," I have concluded that the company's drug pipeline is without merit and is likely entirely without value, as detailed below.
I value shares of Cellceutix at $0.09 in a best-case scenario, which is 96% lower than the current price, and recommend that investors avoid this company entirely. It's clear to me that Cellceutix is very likely to end up as a complete wipeout for shareholders over time, and stands to continue declining significantly if we experience more near-term market volatility. I am appalled that this company is even allowed to remain public, and recommend that the SEC immediately begin an investigation into all related parties and trading activity in CTIX stock.
Until then, there is plentiful CTIX borrow available at a low rebate, and I recommend investors short CTIX stock, as it is clearly without value and will almost certainly meet the same fate as predecessor companies SSUR and NNVC.
Cellceutix is run out of what appears to be an empty office building
CTIX claims to operate out of the following address:
100 Cummings Ctr Ste 151b
BEVERLY, MA 01915-6117
This is the company's official address listed in SEC filings.
I obtained photos from this office in early August 2015 during business hours, and it appears empty to me. Two of several of the photos are shown below. The other photos show a similar lack of any movement inside the office, with no inhabitants visible over a period of time. The front desk was not staffed.
I made multiple phone calls to CTIX to verify that this office is empty using the main phone number listed in the 10-K: (978)-633-3623. This number has been disconnected. A second number, 978-236-8717, is listed on CapitalIQ. Calls to this number go to straight to voicemail, and the answering machine indicates that the caller cannot leave a message.
These facts combined lead me to believe there is no meaningful scientific work conducted at this office, and that CTIX is simply a shell corporation. If you own CTIX stock and are supporting the current ~$300 million market capitalization, you apparently own shares in a vacant office building that was leased from KARD Scientific, a corporation controlled by Krishna Menon, the president of CTIX.
For anyone doubting the authenticity of these pictures, you can see the name of the company and suite number below, which matches the company's address listed in the 10-K.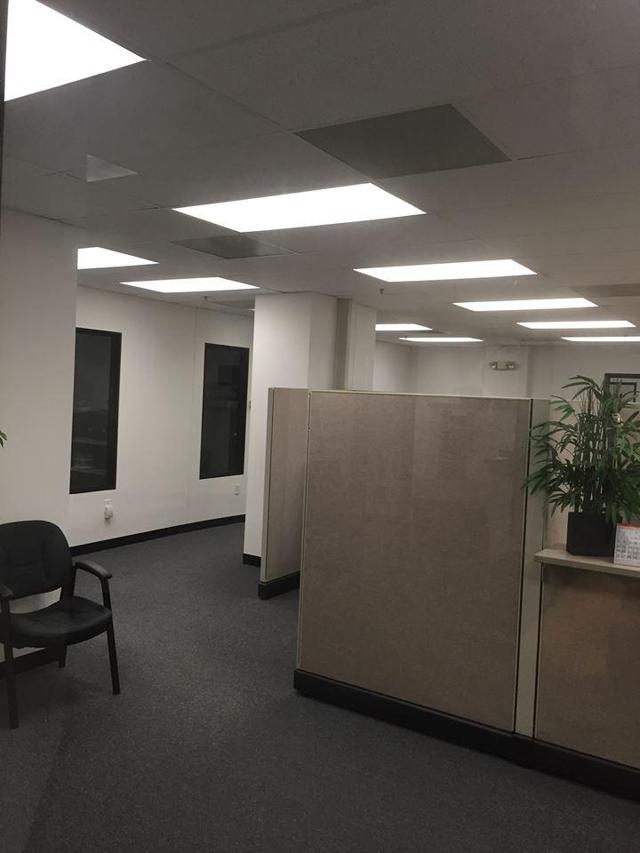 Cellceutix's Science is Unviable and not worth $300 million
Much of the confusion among those who believe CTIX is a viable investment centers around the hype surrounding the company's drugs. As my research below demonstrates, the entire pipeline of drugs that the company boasts about continuously in its press releases is likely to be entirely without value. My conclusion is based on due diligence conducted by an independent Doctor of Biochemistry, who spent weeks researching CTIX's claims. This person is a published medical researcher who has extensive clinical trial research experience.
What follows is a relatively brief (but still long) summary of the "science" at CTIX. If necessary, I have literally dozens of pages amounting to a short novel that I can publish as to why this science is without value.
CTIX has three main drug candidates, none of which are viable, as is evident after an in-depth scientific review.
Brilacidin - Without novelty or efficacy, without value assets of bankrupt company
Brilacidin is an ineffective antibiotic candidate that causes material side effects in patients. This drug was acquired from a bankrupt company named Polymedix. As we have repeatedly seen in the current biotech bubble, it is not uncommon for shell companies to acquire without value assets on the cheap and then try to "dump" these assets on the public markets for personal gain. One such company in recent market memory is the busted IPO of Axovant Sciences (NASDAQ:AXON), which has been covered extensively by other authors.
It seems that the investment community is not familiar with the story of Polymedix, or CTIX would not be trading at its current valuation. Back in March of 2013, Polymedix was on the verge of insolvency, and filed to raise equity using bottom-rung investment bankers Aegis Capital and Emerging Growth Equities. Despite operating in a white-hot biotech market, less than one month after an attempted equity offering (which was unsuccessful), Polymedix declared bankruptcy and entered Chapter 7 (liquidation) after defaulting on its debt.
That any biotech with a supposedly viable drug would enter bankruptcy in the most favorable capital markets environment for publicly traded biotechs in a generation speaks volumes about the supposed quality of the drug pipeline at Polymedix (now Cellceutix). Where were the biotech PIPE investors who usually keep these companies afloat? Even perennial zombie stocks, such as XOMA Inc. (NASDAQ:XOMA), were able to raise equity in this market. Why not Polymedix?
The implications are large and clear - the biotech community looked at Polymedix's assets and deemed them without value. This is particularly notable in light of the fact that company management owned nearly 15% of the equity, and had every incentive in the world to get a deal done and/or maximize the value of the pipeline.
In fact, these incentives may have been a little too strong, according to a lawsuit filed against Polymedix (the lawsuit can be purchased on LexisNexis for a nominal fee, Case 2:12-cv-03721-MAM):
23. "Defendants did not disclose the truth about PMX-60056 because PolyMedix needed to raise money for the continued development of PMX-30063 [Brilacidin], the Company's only remaining chance at redemption. To date, the Company had not generated any product sales revenues or achieved profitable operations and, thus, had financed its operating and investing activities primarily through the sale of equity securities and issuance of debt."
To me this seems remarkably consistent with Cellceutix, which was essentially nothing more than a shell company until it acquired the Polymedix assets (arguably, CTIX is still nothing more than a shell company). To understand how CTIX was nothing more than a shell, see the SG&A and R&D chart elsewhere in this report - the company had basically no operating expenses except excessive insider compensation until very recently, consistent with a shell. As you will see below when I explain the science, it seems clear that Cellceutix is using the Polymedix "assets" to raise equity, even though they are in all probability completely without value.
The former CEO of Polymedix, who was intimately familiar with these assets, immediately sold all of his CTIX stock (1.4 million shares) as trustee in the deal at the earliest possible opportunity.
Was the high bid really only $2 million in cash and 1.4 million of CTIX stock, in which the seller sold these shares as soon as possible? Where was Pfizer (NYSE:PFE)? Merck (NYSE:MRK)? Glaxo (NYSE:GSK)? Right, no one else wanted this asset even at rock-bottom prices in a liquidation bankruptcy.
Summary of key points
Brilacidin would be extremely difficult to commercialize.
In a phase 2 trial, Brilacidin did not work in 7/8 types of bacterial infection, including the most common types of infection.
In the remaining 1/8, there is meaningful evidence that Brilacidin will fail.
Brilacidin causes adverse side effects and will likely not be approved.
Commercial development of antimicrobial peptides (AMP) is really an uphill battle due to high production costs, high susceptibility to intestinal chemicals-induced degradation, and limited treatment effects in recommended dosage that leads to risk of drug overdosage. There are also a host of related side effects, including risk of allergic events, relatively short-duration activity, limited binding with target molecule(s) and a higher rate of elimination from the body.
When we look into the past, Brilacidin was originally developed by Polymedix (PMX-30063) and later acquired by Cellceutix. According to Cellceutix, this drug is a cationic human defensin peptidomimetic (HDP) of naturally occurring immune system protein that fights bacterial infection.
In recent years, antimicrobial peptide resistance has been emerging as a global public health problem, and remains a serious threat. Cellceutix has attempted to exploit this problem and reap the benefits. Brilacidin is being hyped as a miracle drug that can overcome antimicrobial peptide resistance, and is reported to be effective against S. aureus and other gram-negative bacteria, including Escherichia coli. In reality, these claims are spurious.
As stated by the company, disruption of the bacterial cell membrane (outer wall) is the prime mechanism of action of Brilacidin to kill harmful bacteria, including gram-negative bacteria (more on why this is wrong below).
In the Phase II study conducted by Polymedix, the antimicrobial efficacy of Brilacidin (PMX-30063) was compared with daptomycin for treatment of ABSSSI (acute bacterial skin and skin structure infection) due to methicillin-susceptible S. aureus.
When we look into the ABSSSI trial results, out of eight bacterial variants/strains, Brilacidin has no activity against seven strains, including Pseudomonas aeruginosa, certain species of Enterobacteriaceae, Acinetobacter species, including Acinetobacter baumannii - which are the common infectious organisms that cause serious and life-threatening ABSSSI infections. The results clearly showed Brilacidin's inefficacy against several bacterial strains except for one - EBSL Enterobacteriaceae.
Inefficacy is not the only problem of Brilacidin. Incidence of sensory nerve symptoms, such as numbness and tingling of the extremities and elevated blood pressure due to unknown problems were reported as adverse events in 65-87% of Brilacidin-treated patients. This alone means that the drug is unlikely to get approved, in my view.
Our scientific review has shown that Brilacidin is not effective even against EBSL Enterobacteriaceae, unlike what Cellceutix claims. This means that Brilacidin is not effective against any of the eight bacteria strains targeted in the Phase II clinical trial, will almost certainly not be approved, and is essentially without value. In my view, this is why CTIX was able to acquire the failed Polymedix assets at a low price - because real biotechnology companies knew this drug was likely without value. This is how the drug ended up in an OTC shell run by stock promoters.
EBSL Enterobacteriaceae is a gram-negative bacterium, which can acquire AMP (antimicrobial peptitde) resistance by several mechanisms, including by modulating the net negative charge of cell surface membrane and losing electrostatic affinity towards cationic AMP that leads to repulsion of Brilacidin away from the bacteria. This means that the bacteria adapt to, and rejects, the antiobiotic. This is why it is so difficult to treat.
Similar AMP resistance is common in Staphylococcal species and Candida, which also possess certain structural features to avoid AMP interaction with the bacterial outer membrane and by reducing the net energy release to lower net negative charge in the cell wall.
Don't get bogged down in the science, this basically means certain types of gram-negative bacteria can develop resistance to antibiotics, including Brilacidin, which is why gram-negative bacterial infections are so difficult to treat. It is clear from the Phase II trial that Brilacidin is no better than other, failed attempts to address this problem.
Really effective against antibiotic resistant organisms? No.
Polymedix has reported anti-microbial efficacy of two Brilacidin-like compounds against Candida albicans and other fungal species. However, the results were based on controlled laboratory conditions which cannot be replicated in the human clinical trials due to drug resistance mechanisms of Candida.
As pointed out by the research studies, these fungal organisms can remain unscathed due to its ability to increase the drug efflux pumps - which is something like the bacteria spitting out the ingested drug particles based on charge repulsion mechanisms induced by certain genes. Efflux pump-based resistance is also reported in gram-negative bacteria such as Neisseria gonorrhea and Yersinia.
If oral fungus and bacteria can resist Brilacidin via these mechanisms, we can presume Brilacidin as well as Brilacidin oral rinse are not useful for patients. Why? Real-world conditions are a lot messier than clinical lab conditions, and the drug already doesn't work in the most ideal conditions possible!
Disease-causing fungus possesses the ability to increase the level of protein-degrading chemical substances (enzymes) to inactivate any harmful foreign substances, including Brilacidin. Over decades, biopharmaceutical companies have been trying to reduce the proteolytic degradation by adding non-standard amino acids or by restricting the use of peptides. Despite these attempts by some of the biggest pharma companies in the world, who have real scientists working there and not people who fake their credentials, a viable antibiotic has remained elusive. While it is has been hoped that bacteria would not develop resistance against AMP, research studies have been reporting acquired resistance mechanisms of several bacterial strains and Candida spps, particularly against cationic AMP.
Contrary to Cellceutix's claim that development of resistance against AMP is unlikely, it has been suggested that microbial resistance against AMP is still possible, according to a research study published by Peschel A & Sahl HG (2006).
As nature's gift, pathogenic microbes resist AMP by employing a variety of mechanisms for survival in the host. These include passive (constitutive mechanisms) and acquired (adaptive) resistance mechanisms in response to a stress or AMP.
A study by Manniello et al has suggested that disruption of the outer membrane layer was not itself sufficient to render the pathogen susceptible to antimicrobial peptides. Here, you should note that the prime mechanism of action of Brilacidin is by disruption of the bacterial outer membrane layer.
Some gram-negative bacteria, including Pseudomonas and S. aureus, can effectively use certain chemicals to reduce the net (negative) charge of cell membrane to escape from AMP action. On the other hand, they can manage to create more positive charge in the outer cell wall, by which they can repel the positively-charged Brilacidin.
Simple physics - Same charges repel and opposite charges attract! These superbug bacteria are often adaptive.
Apart from these AMP resistance mechanisms, gram-negative bacteria, including S. aureus, evade AMP attack by limiting the body functions, as well as the net energy (positive charge) release, which is the end-product of energy synthesis. S. aureus can elicit drug resistance by hiding deep inside the complex body (cell) structures, such as interior environment of blood vessel cells, where AMPs cannot reach. Pseudomonas aeruginosa escapes AMP action by hiding inside certain body cells, such as kidney, heart and spleen cells, which possess abnormally high positive charges. Certain bacteria, like Hemophilus influenza (flu-causing bacteria), can produce chemically varied cell wall chemicals that are deterrent to AMP attack. Pseudomonas fluorescens can replace the positive charge bacterial cell wall chemicals with negatively-charged cell wall chemicals to elicit drug resistance.
Unlike humans, environmental stress (exposure to AMP) can help the bacteria to evolve and adapt to extreme situations by activation of certain genes (PhoP/PhoQ regulon gene) which can aid the bacterial survival by altering/changing the chemical nature of the bacterial cell wall and cause AMP resistance. These genes are also involved in the release of protein-degrading chemicals that can even digest Brilacidin. These genes are commonly present in S. aureus and E. coli. The notable point is that Cellceutix has tested and reported that Brilacidin was effective against these two bacteria.
Is Brilacidin effective against A. baumannii bacteria? No.
One of the key tenets of the bull case on CTIX is that Brilacidin is supposedly effective against A. baumannii bacteria. It is not.
Out of four organisms that make up the so-called superbugs that resist antibiotic treatment, A. baumannii is a pleomorphic and gram-variable organism - meaning, it can change itself into either a gram-positive or gram-negative organism. Treating A. baumannii infection is a challenging task, and hence, focusing on prevention rather than treatment is a wise option.
It is not viable to expect Brilacidin's efficacy against A. baumannii, as the AMP failed to prove its efficacy against all bacteria. A. baumannii is a common causative of hospital-borne infections. Even Cellceutix has accepted that Brilacidin is ineffective against A. baumannii. The treatment inefficacy is generally due to release of a proteolytic mechanism, over-expression of drug efflux pumps, and changing the structure and function of certain molecules to which the antibiotic binds and acts.
Brilacidin is simply not effective
All these disease-causing bacteria, including S. aureus, Pseudomonas, and E. coli, have been tested by Cellceutix to prove Brilacidin's efficacy. It is now clear for us that the drug is not effective any of the infectious bacteria that cause serious, life-threatening problems in a clinical care setting.
According to research studies, like gram-negative bacteria, gram-positive bacteria, including Pseudomonas aeruginosa, Enterococcus fecalis and Mycobacterium tuberculosis (TB bacteria), possess drug resistance mechanism by reducing net negative charge in the outer membrane to repel all positive charged molecules that comes into contact, including Brilacidin. According to the same study, Cellceutix has claimed that Brilacidin, a cationic AMP, is highly effective against these three microbial pathogens - which seem to be a blatant false, as per our above review.
Despite this scientific rationale, the company has been maintaining that Brilacidin is effective against gram-negative bacteria, and incidence of resistance is "unlikely" - which seems to be joke.
Brilacidin: Also not effective for oral mucositis
Cellceutix is currently evaluating the safety and potential of Brilacidin in a Phase II trial against oral mucositits in cancer (head and neck) patients. Oral mucositis usually gets worse if it gets infected. The aim of Brilacidin treatment is to prevent infection, by which it may reduce/improve mouth and throat soreness and improve the quality of life.
Based on the above review, it is clear that oral pathogens, including Candida albicans and opportunistic gram-negative bacteria, can evade the anti-microbial activity of Brilacidin and likely infect the wound.
If a patient gets treated with Brilacidin or Brilacidin oral rinse, he/she cannot see treatment benefits, and instead, is likely to only suffer from the drug's side effects.
Our review on the "science" of Brilacidicin has contradicted the claimed benefits, especially the antimicrobial activity. Hence, the efficacy and safety of Brilacidin oral rinse are now questionable.
Kevetrin: A drug created by the guy who didn't really go to Harvard, even more of a long shot
Kevetrin (thioureidobutyronitrile) is a drug candidate that has been touted by Cellceutix as the Holy Grail of cancer treatment. It was created by a self-proclaimed pharmacologist who has made dubious claims about his educational background and experience in drug research and discovery.
The company has cleverly pitched the safety and efficacy data of Kevetrin to investors without publishing the results in medical journals. Is this designed to keep investors and the public in the dark, without disclosing the "real" efficacy and safety of the drug? If we take a closer look into the reported mechanism of action, we've got several doubts about the possible inefficacy and rationality of Kevetrin use as a cancer treatment, as it acts by targeting only one molecule: p53.
Summary of key points
Kevetrin has no direct action on cancer cells.
It may target cancer cells, but not cancer stem cells, which is very important for anti-cancer treatment.
Keventrin's reported benefits were based on an invalid endpoint, p21, as a biomarker.
Cellceutix has made misleading claims about cancer regression from patients who discontinued the trial.
Kevetrin's untold story: It does not stop cancer stem cells
Cellceutix has claimed that Kevetrin treatment can activate the wild-type p53 (normal, without mutational changes), as well as mutated p53, which seems to be a tall claim.
If we look into the molecular basis of cancer, it is impossible to activate the wild-type p53 without inhibiting the release of MDMX and MDM2 proteins, which are the natural inhibitors of p53. Meaning, these two molecules naturally inhibit p53 expression in the cells. Kevetrin just acts on p53, but not on MDMX and MDM2, which can lead to persistent inhibition and unavailability of wild-type p53. So, it is important to target MDMX and MDM2 proteins prior to Kevetrin treatment to achieve complete treatment benefits.
When we look into the clinical trial protocols, Cellceutix has not considered any of these issues; still, management reports "remarkable" treatment benefits in ovarian cancer patients. It seems that Krishna Menon and Cellceutix have not considered the basic molecular biology of cancer before developing the Kevetrin molecule. The "science" here appears very sloppy. Is this intentionally so?
If Kevetrin can prevent cancer development by curbing abnormal cell multiplication and by maintaining a normal cell cycle, what will the effect be on already developed cancer cells? Maybe Cellceutix's answer is - induction of "cell-suicide" in cancer cells. In reality, cancer cells can evade almost all the anti-cancer mechanisms, including programmed cell death (apoptosis), and remain immortal.
Kevetrin's ineffective clinical trial design
You may wonder why cancer treatments often fail, despite much advancement in science and technology. It is because almost all anti-cancer drugs either target the cancer cells or the cancer-causing genes, like p53. In a tumor, the cancer cells are unlimitedly supplied by cancer stem cells, which is the root cause of the problem. Cancer stem cells are present inside the tumor itself. Any anti-cancer treatment will fail if these cancer stem cells remain untouched. Clearly, Keventrin is not a panacea for cancer treatment and is no superior than other anti-cancer drug, because it cannot eliminate cancer stem cells effectively.
If Kevetrin can degrade mutant p53, what is the mechanism of action? The activation of p53 is via a different pathway. It doesn't make sense. Mutant p53 degradation involves several chemical (enzymatic) and genetic (molecular biological) reaction/mechanisms, such as caspase-induced mechanisms and both transcriptional-dependent and transcriptional-independent pathways. The company has not disclosed Kevetrin's exact mechanism of action on mutant p53. To overcome these clinical problems, Kevetrin should be tested alongside other medications, including conventional anti-cancer drugs, to see the potential drug interactions. But in the clinical trials, Cellceutix has not co-administered any other drugs.
Certain cancer patients have tumors without wild-type p53 and with defective genetic makeup in p53 with the presence of only one functional allele (variant of the gene) instead of two. In addition, some patients can lack certain regions of the gene or have other p53 gene variants, such as p.S106R. The binding mechanism of Kevetrin with p53 cannot work with these defective variants, due to structural variations. Cellceutix has not considered these limitations, as most of the reported benefits were based on animal studies, not in humans.
Even avoiding an ineffective clinical design, the commercial potential of Kevetrin is niche, at best
Research studies have suggested that just 60% of ovarian cancer patients have p53 mutation, and the rest accounts for BRCA1 and BRCA2 mutations. So, from a commercial point of view, Kevetrin is indicated for just 50% of ovarian cancer patients, and the commercial potential is definitely narrow.
In Phase I* clinical trials, Cellceutix has claimed that the tumors were eliminated (regressed) in Kevetrin-treated ovarian cancer patients. But the study has not followed up with the patient to report whether the regression was complete or partial or had appeared again (relapse). Cleverly, the company has evaded these questions by announcing that the patient has discontinued the trial. It doesn't make sense - if the treatment is really effective, what made the patient discontinue the treatment? Why would you announce positive results if the patient discontinued? Is this just part of the stock promotion?
p21: An invalid biomarker - Why did Cellceutix choose this?
Cancer is a multi-factorial disease, and p53 is not the only molecule involved in the onset of the disease. Survivin is an independent and important protein (biomarker) involved in key pathways of p53 regulation (release and inhibition). Why has Cellceutix not considered Survivin as a potential biomarker to evaluate the prognosis and treatment benefits of Kevetrin? Seems questionable!
According to Cellceutix, in the stage-4 ovarian cancer patient who was clinically stabilized, increased level of CA-125 count was observed in the third month. An elevated level of CA-125 suggests the ongoing risk of cancer development, ineffective treatment and worse survival chances.
Cellceutix has cleverly employed an invalid biomarker instead of a reliable one for cancer. Recent research results have discarded p21 in cancer studies, citing that p21 is a NOT a valid biomarker for ovarian cancer prognosis or to assess the treatment benefits. However, p53 is still reliable - which Cellceutix has not examined in the trial subjects, as the company didn't consider p53 as a biomarker of ovarian cancer assessment. This is dubious. p53 analysis can be done overnight in any laboratory, and may cost about a few hundred dollars. This is a basic test. Why did Cellceutix not pursue this?
An independent Swedish study has reported that about 19% of ovarian cancer patients with p21 NEGATIVITY and positive p53 had a poor survival outlook. In the same study, about 9% of ovarian cancer patients (with non-serous type tumors) with CONCOMITANT p21 and p27 positivity had EXCELLENT SURVIVAL OUTLOOK.
Based on the review of these research studies, it is now clear that p21 is not a valid or reliable biomarker to predict ovarian cancer treatment benefits. What baffled us was, despite this irrefutable research support, why has Cellceutix not considered this invalid biomarker as a secondary endpoint?
Prurisol - Old wine in a new bottle
Cellceutix's anti-psoriatic pipeline candidate, Prurisol, is a chemically modified version (esterified) of already approved anti-HIV drug Abacavir. Once again, the company has not disclosed the exact nature of modification (peptide or amino acid modification). Abacavir has more side effects and fewer benefits: the antiviral drug causes serious allergic reactions, and increases the risk of heart diseases in treated patients. The structure of Prurisol mimics three drugs, such as Methotrexate, Abacavir and Cladiribine.
Summary of key points for prurisol
Prurisol treatment can cause very serious side effects.
All reported benefits were based on animal studies conducted by KARD Scientific, which is a research institute owned by Menon.
The availability of proven anti-psoriatic drugs can boot out Prurisol from the market.
As reported by Cellceutix, Prurisol is an inactive form (prodrug) of Abacavir with undisclosed structural modifications to act against certain immune proteins (Interleukin-20; IL-20) that cause worsening of psoriasis symptoms. The company has modified Abacavir to bypass intestinal secretion-induced loss of drug. In animal studies, Prurisol has reduced the presence of certain genes (PRISM) and immune proteins that are associated with inflammation (IL-20, CD-4 and CD-8).
In early studies, Cellceutix has validated the similarities (chemical and mechanism) of Prurisol and Abacavir in healthy subjects. The company just initiated a Phase II, trial and patient enrollment is still on. Prurisol has a long way to go to prove the safety and efficacy. Even if it passes through the clinical trials, the availability of already proven anti-psoriatic drugs (TNF alpha inhibitor drugs) can threaten the commercial success of Prurisol.
Potential competitors of Prurisol
Even if Prurisol gets approved, the drug will likely fail to achieve commercial success because of the presence of proven, effective anti-psoriatic drugs like Humira (Adalimumab) and Enbrel (Etanercept). These medications act by preventing the action of certain inflammation-causing immune molecules that shoot up psoriasis symptoms. These two drugs are already approved and are in the market successfully. Even if Prurisol gets approved, it needs to demonstrate breakthrough results to capture these drugs' market, which is unlikely to happen.
Conclusion: The pipeline is dubious, at best, avoid CTIX
The evidence that this science is without value is very strong. CTIX's scientific "assets" were acquired from bankrupt biotechs that the capital markets declined to fund and/or were developed by Menon - someone who has repeatedly exaggerated his scientific prowess. Researching CTIX's claims about these assets has yielded serious doubt about both the potential approval of these products and their commercial potential, if approved.
Krishna Menon's Reality Distortion Field and History of Self-Enrichment
Krishna Menon is Cellceutix's president and chief scientific officer. His personal history is very troubling. A few highlights before delving into detail:
According to an article from INDIA New England that I was able to find using the Way Back Machine (see Appendix A at the end of this report for the full article), Krishna has apparently blatantly overstated his resume, in what seems to be a transparent attempt to gain undeserved credibility with the investment community.
Menon's prior biography in official SEC materials claims he attended Harvard for his PhD on multiple occasions. After reviewing this in detail, it appears he never received a PhD from Harvard. I spoke with a representative at Harvard, and also checked Menon's PhD claim at studentclearinghouse.org, a website that verifies degrees. It is illegal to provide false educational information in SEC documents.
Menon appears to be the founder or co-founder of a for-profit medical school in India that apparently misled students for personal gain, suggesting a history of repeated deception for financial gain. This school promised jobs at Cellceutix. Evidence in this report suggests Cellecutix is merely a shell company.
Menon was the chief regulatory officer of Nanoviricides (NYSEMKT:NNVC), which has destroyed substantial amounts of shareholder capital and accomplished little or nothing of tangible worth in its nearly decade-long history as a public company.
Through his connections at NNVC, Menon is part of a well-tenured team of executives that have overlapping connections between NNVC, CTIX and SSUR, all of which appear to be shell companies designed to enrich insiders. SSUR went to zero, and NNVC has recently lost roughly 2/3rds of its value since a troubling lawsuit was filed revealing abusive practices by insiders.
These claims will be investigated one by one below with incontrovertible supporting evidence.
Krishna Menon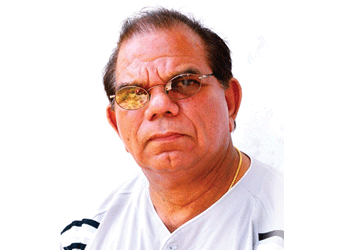 (Source)
New INDIA New England Exposes False Claims by Krishna Menon
Appendix A at the end of this report shows the full article exposing Menon's misstatements about his background. These claims appear to me as intentionally misleading. I will let you decide. Here are a few quick bullet points from the article:
Menon claimed that two famous doctors were advisors to the company, but both said they had never even heard of Cellceutix.
He apparently overstated his scientific research background at prior companies he worked at in minor roles.
In fact, Menon's role was as an animal lab technician, not as an incredible clinical drug developer as claimed.
People who actually developed the drugs Menon claims to have been involved with have never even heard of him.
Menon's supposed wonder drug, Kevetrin, has no apparent scientific basis. While not said in the article, this drug is unviable and likely completely without value. I will elaborate on that point later in this report.
Krishna Menon Did Not Receive a PhD from Harvard
In what may be the saddest part of the Cellceutix story, Krishna Menon has misled investors about earning his PhD at Harvard. This was verified by Student Clearing House. The response is below:
"We are unable to verify a degree for this individual based on the information you provided."
The search criterion was Krishna Menon, PhD Pharmacology, Harvard, 1984, which is what Krishna claims to have achieved. Menon simply did not graduate from Harvard, and to claim otherwise is wrong. Unfortunately, he has made these claims many times.
In the most recent CTIX 10-K, Menon claims he earned his PhD from Kerala University in India. He no longer mentions Harvard at all. I confirmed with Kerala University that Menon did actually receive a PhD there, so this is true.
However, if we go back to CTIX's 2009 10-K, we can see that Menon claimed to have received his PhD from Harvard:
"Two years later, he earned his PhD in Pharmacology from Harvard University."
There is a very remote chance that this was somehow a grand mix-up and the CTIX 10-K is a mistake. Let's check NNVC's materials (where Menon previously worked) to see if the mistake was repeated.
In fact, on a historical copy of Nanoviricides' own website, Menon was listed as having earned his PhD at Harvard. This cannot possibly be a mistake, and is clearly designed to inspire false confidence in Menon. Web.archive.org is a real bummer for people who try to lie in the digital age. Tellingly, CTIX materials no longer list Menon as having attended Harvard.
Others have commented on this subject repeatedly.
Did Menon Mislead Students at the For-Profit Indian School, IFCR?
Krishna Menon was also recently involved in starting a for-profit medical school in India that apparently tricked students and lacked accreditation. This is shocking. The article names Krishna Menon and references both Kard and Cellceutix, so we know it is the same person and not a coincidence of name in a country with over one billion people.
The article claiming fraud includes a picture of Menon's school, IFCR, so we know it's the same school: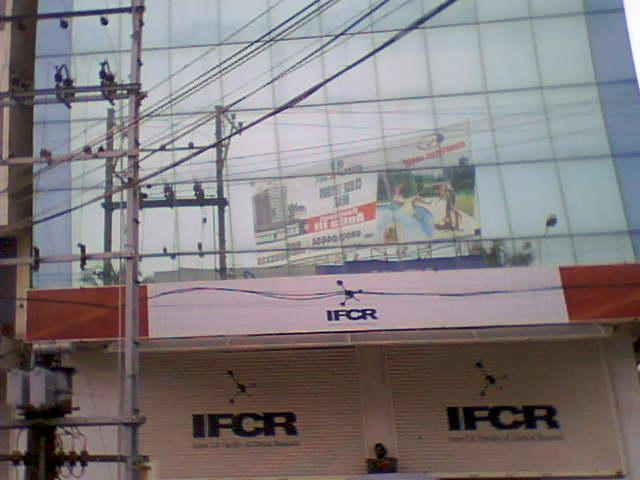 (Source)
Fake medical schools and hospitals are apparently a rampant problem in India, not isolated to Menon's school, but this is an alarming revelation for anyone long CTIX shares, as it shows a repeated pattern of bad behavior for the purpose of self-enrichment. In a different article, we see that at one time, Menon was interested (and perhaps did, I'm not sure) in beginning operating hospitals, which, given everything else he has apparently been involved with (detailed throughout this report), could be another layer of self-enrichment. I have no proof of that, but it is a common problem in India.
Menon Has Helped Destroy Substantial Shareholder Value at NNVC
Menon is part of the Leo Ehrlich and Eugene Seymour triad of value destruction that has created substantial shareholder losses at Nanoviricides. Ehrlich and Seymour were previously responsible for the public company wipeout at StatSure Diagnostic Systems, a hyped-up company in the 1990s that ultimately went to zero after stringing investors along for years.
NNVC is subject to a host of obscure related party transactions. These relationships have already been written about extensively, so I won't rehash them. Based on their histories, these are not people you should trust with your capital.
Leo Ehrlich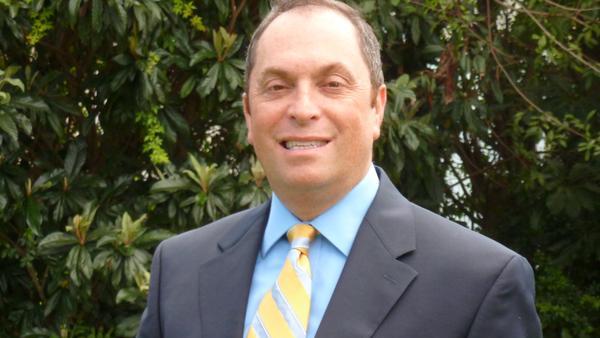 (Source)
Eugene Seymour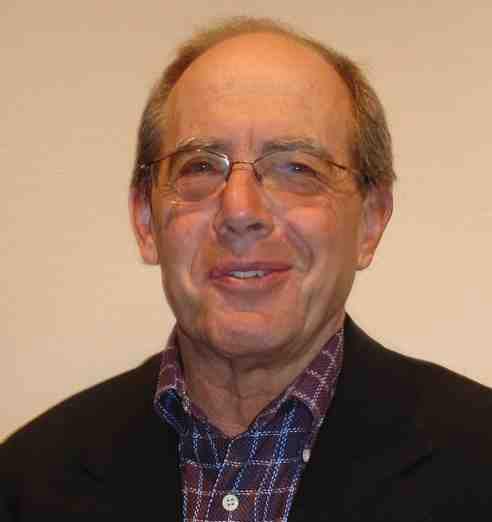 (Source)
StatSure Diagnostics: Ehrlich and Seymour Wipeout

(Source: CapitalIQ)
NanoViricides: Ehrlich, Seymour, and Menon Wipeout in Progress

(Source: CapitalIQ)
The Ehrlich-Menon Value Destruction Machine
This is at least the third company these two have been involved with (Ehrlich with CTIX and SSUR, and both at NNVC). The other two companies have gotten crushed, with NNVC falling amid serious allegations of personal enrichment. Menon and Ehrlich are both personally named in a nearly 400-page lawsuit against NNVC that details abusive related party transactions and the obfuscation and denial of shareholder rights. It's not worth rehashing the entire lawsuit here, just a few points:
NNVC has used related party transactions to funnel shareholder capital away from the public shell. It seems that the company is likely only a public shell and little or nothing more. As seen above, there is a high probability that CTIX also fits this description.
This includes Menon's KARD Scientific, which also has enriching related party transactions with CTIX and NNVC.
The company's insiders are excessively compensated. Not mentioned in the lawsuit, CTIX insiders are also excessively compensated (see below).
NNVC has obscure message board touts that seem to post inside information about the company and/or have direct access to executives. As discussed below, CTIX seems to have pursued offshore boiler rooms.
Menon and Ehrlich's relationships with both companies are rife with conflicts of interest and self-dealing.
These insiders have repeatedly shown disregard for minority shareholders.
Abusive Self-Enrichment Continues at CTIX
Insiders at CTIX have lost $38 million of shareholder capital, more than a quarter of which has gone to paying themselves. This is outrageous.
The majority of the rest of the staggering loss CTIX has produced for shareholders is from SG&A and the company's paltry R&D budget. As we will see below, CTIX is a black hole of shady consulting agreements. Further, this is simply not enough R&D to generate a respectable, clinical-grade product. The company has accomplished nothing of note during its entire public history as far as I can tell, and for much of its history, it has seemed to exist only to compensate insiders without any material effort being made towards getting a viable product to market. If the company had been pursuing a viable product, it seems obvious that SG&A and R&D would have been much higher than a cumulative ~$5mm reported during 2007-2010, much of which was compensation for insiders (who had no problem paying themselves over $2mm during these years).
TOTAL CTIX OPERATING EXPENSES

Oct '07

Jun '08

Jun '09

Jun '10

Jun '11

Jun '12

Jun '13

Jun '14

Total

SG&A

0

1

1

1

4

4

1

2

14

R&D

0

0

0

2

2

1

2

6

13

Total

0

1

1

3

6

4

3

8

27
Based on these numbers, it seems clear that CTIX is a shell company specifically designed to enrich insiders and little more. Further supporting evidence is provided below.
However, Erlich and Menon are not even the most questionable people involved in the CTIX black hole.
CTIX: Tied up with Ponzi Scheme Financiers
Cellceutix was born through a financing agreement with the Nordlicht family, a huge red flag. Let's investigate further, from an old CTIX 8-K:
"On September 9, 2011, we issued 471,518 common shares of our company stock to White Star LLC upon conversion of $222,791 of the principal Note and $12,964.79 for interest; and we issued 235,759 common shares to Dahlia Nordlicht upon conversion of $113,397 of the principal Note and $6,482 for interest. Each of the Notes was converted at the price of $.50 per share."
As you can clearly see in this filing, CTIX promised to pay $111,294.81 to Dahlia Kalter Nordlicht and Mark A. Nordlicht. In later filings, Mark Nordlicht's name is removed, which I assume was to conceal his highly relevant history in a web of transactions that would leave any investor sick to their stomach.
Dahlia Nordlicht is the wife of Meir "Mark" Nordlicht, whose father, Jules Nordlicht, pleaded guilty on a federal charge of conspiracy to create $27 million in fraudulent tax losses through the manipulation of financial instruments. Not to be outdone by his old man, Mark Nordlicht embarked on a similar legacy of shareholder value destruction. To my knowledge, Mark has not been convicted of conspiracy charges. He was the co-founder of Optionable, a publicly traded company, along with Kevin Cassidy, who was convicted of fraud and served 30 months in prison. Nordlicht and Cassidy failed to disclose this fraudulent behavior to Optionable shareholders. Eventually, Optionable shareholders found out about Cassidy's fraudulent conviction, and the stock collapsed. I believe that CTIX could be next.

Conveniently, Mark Nordlicht was able to cash out of the alleged fraudulent scheme before Optionable investors had a chance to find out the truth.

Shortly after this debacle was uncovered by the media, an article found connections between Sleepy Hollow Coffee Roasters and Optionable Inc., not the least of which was that they happened to share the same corporate address. As seen throughout this report, Krishna Menon also has a history of issuing misleading statements to the market, and both KARD Scientific and Cellceutix share office space. The parallels between these two companies are chilling. More concerning was that Optionable's senior employees owned the coffee roaster and had been involved in a dizzying amount of related party transactions, including payments for the shared addresses and what appears to be self-dealing for the benefit of insiders. Let's pause for a minute...
If you're an investor in CTIX, you've likely come to the following two conclusions, only one of which is true:
"Wow, this sounds strangely familiar to what is currently going on at CTIX!" (Correct Answer)

"Thank goodness CTIX has surrounded itself with respectable and honest people that have impeccable business track records!" (Very Wrong Answer)
There is simply no reason I can see for any legitimate public company to do business with the Nordlichts. The fact that the CTIX insiders also have a history of unethical behavior just underscores how bad this connection really is. The rabbit hole only goes deeper from there.
According to the SEC filing detailing several transactions between CTIX and White Star LLC, White Star LLC's address is 15 Manor Lane, Lawrence, New York, NY 11559, which happens to be an address registered to Murray Huberfeld.

(Source: Manta)
Murray Huberfeld is an investor and financier who appears to operate, own, control or be very closely associated with an extensive list of investments that, in my opinion, remove any doubt as to what is actually happening at CTIX. Huberfeld has a reputation for having a "knack for finding shady deals."
Having a "knack" might be an understatement, it appears Murray Huberfeld is the epicenter of a series of financial deals that have had himself, the firms he controls, or people he is strongly associated with named in a flurry of lawsuits. Complaints about Huberfeld's questionable behavior go all the way back to 1993, when he was charged and named as a defendant in an NASD complaint involving "conspiracy to commit securities fraud by filing false documents."
Just a few years later, the SEC directly named Huberfeld in litigation involving "a fraudulent scheme to distribute unregistered securities." Huberfeld received a cease and desist order from the SEC, and had to disgorge over $300,000 in illegal profits that were obtained in just a few short weeks. Here is an excerpt from the lawsuit:
"Broad Capital and Huberfeld are liable under Section 5 as statutory underwriters for the distribution of unregistered Wye stock in the United States. Between November 12 and December 9, 1994, Broad Capital and Huberfeld purchased for value at least 15 percent of all Wye shares then outstanding. Further, Broad Capital and Huberfeld acted with the intent to immediately resell the shares and did, in fact, resell those shares within weeks of the initial purchases. They thereby formed the first link in a chain of transactions that permitted Wye to distribute its unregistered securities in the United States."
The last sentence is particularly important, as it relates directly to CTIX and Murray Huberfeld. White Star, LLC has also had a chain of transactions with CTIX. Is Huberfeld aligned with other CTIX shareholders, or is he simply obtaining low-cost shares through questionable financing arrangements in order to offload them onto naive retail shareholders?

(Source: Exhibit 10-33)
Huberfeld has a problem - it appears he just can't seem to turn down a deal to make a quick buck. Just two years later, in 1998, the SEC had named him in another legal proceeding involving a "series of fraudulent schemes in violation of the federal securities laws."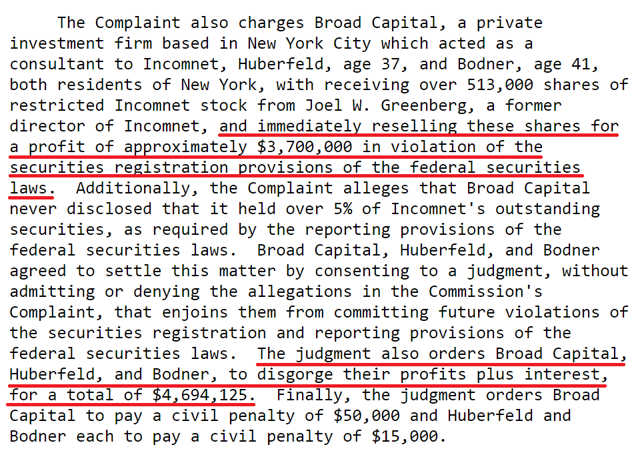 (Source: SEC Litigation Documents)
I honestly wish that's all there was to say about Murray Huberfeld, but a significant portion of his entire career since his early 30s has included run-ins with the law and financial regulators, and highly questionable investments that, I think, are far from coincidental. In fact, it seems like destiny to me that he ended up being involved with the crew from CTIX.
Outside of these blunders, the Huberfeld family has been involved in a series of penny stock wipeouts that resulted in shareholders losing a substantially large amount of money. Let's review the Huberfeld family track record as an investor:
Laura Huberfeld filed a 13D in 1997.

Laura Huberfeld filed a 13D in 1996.

Laura Huberfeld filed a 13D in 1996.

Laura Huberfeld filed a 13D in 1999.

Laura Huberfeld filed a 13D in 2000.

Laura Huberfeld filed a 13D in 2000.

Laura Huberfeld filed a 13G in 2000.

Is Laura Huberfeld the world's most incompetent investor, or is Murray Huberfeld using his wife as a front for lucrative penny stock schemes? Either way, it's obvious that investors should exercise extreme caution when the Huberfelds are involved. Unfortunately, just when you think it can't get any more awkward than this, things actually get much, much worse.
In 2011, Murray Huberfeld AND Mark Nordlicht, as well as both of their wives, Laura Huberfeld and Dahlia Kalter Nordlicht, were named in a lawsuit that made serious allegations about their involvement in Scott Rothstein's $1.2 billion Ponzi scheme. For these crimes, Scott Rothstein is currently serving a 50-year sentence in federal prison.

(Source: Public Access to Court Electronic Records)
The lawsuit goes on to provide a detailed timeline of what had occurred including Mark Nordlicht's personal internal emails that appear to provide solid evidence that Huberfeld and Nordlicht knew they were involved in a Ponzi scheme, and according to the document, "knowingly and willingly assisted, encouraged, took steps to conceal and perpetuated the Ponzi in order to take for themselves new money invested by innocent victims."
Common sense would tell you that there's no reason for someone to be made "whole" on a secured loan backed by funds in an escrow account, unless, of course, you knew they were completely fake, and that you were invested in one of the biggest Ponzi schemes in world history. Email correspondence showed that at the very least, Nordlicht was aware of the Ponzi scheme: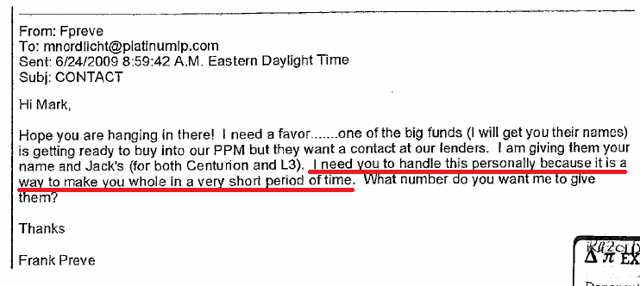 (Source: Public Access to Court Electronic Records)
Mark Nordlicht's response to that email shows his willingness to act as a reference to new investors being tricked into the Ponzi scheme.

(Source: Public Access to Court Electronic Records)
Knowingly being involved in a Ponzi scheme and "aiding and abetting" the fraud is clearly a bonehead move by Mark Nordlicht. Why would CTIX ever want to receive financing from these people? Was it desperation or part of the plan from the beginning? How is it that Krishna Menon, a supposedly amazing scientist, must have been turned down by every major biotech financier and credible life sciences VC fund, ultimately apparently accepting capital from the lender of last resort, a Ponzi scheme financier? There's really nothing else to say about that: If CTIX were a great investment, smart biotech funds and VCs would have stepped up. They didn't.
CTIX is obviously a complete disaster, but the Huberfeld and Nordlicht families have been tied to several more fiascos through a group of entities called Platinum Partners - a firm for which Huberfeld is listed as an owner Platinum Partners and Nordlicht is listed as a managing partner. In 2013, several Singaporean penny stocks that Platinum Partners was invested in witnessed their share prices collapse, resulting in $6.4 billion worth of losses in just a few days.
Attilan Group Limited (SGX:5ET)

Blumont Group Ltd. (SGX:A33)

LionGold Corp. Ltd. (Catalist:A78)

These charts are strangely reminiscent of the current CTIX chart.
What's even more bizarre is that apparently, Platinum Partners was planning to invest up to $560 million in the 3 companies; that amount apparently represents more than half of their assets, and in my opinion, that is the definition of reckless investing. The Edge provided a breakdown of the events that triggered the collapse...
"Firstly, the build-up in short-selling activity preceding the collapse not only capped the share price but also absorbed most of the market's buying interest in the three companies, especially after the huge gains seen in September.

Secondly, savvy investors might have noticed this and decided to either cash out or stay out of the game. It dawned on the market that the fundamentals of the three companies cannot back up the astronomical gains." [Emphasis mine.]
This is similar to CTIX, where there is absolutely no fundamental case to justify the current market cap. I would like to bring special attention to how strong the trends look in the charts right before they lose substantially all of their value. In my opinion, that is by design, in order to fool unsophisticated retail investors into thinking that these stocks are safe, when in reality, they are not.
Nordlicht and Huberfeld were also directly named in this lawsuit that alleges that they were involved in a scheme that profited from people that were expected to die within a few months. The investment strategy was described as "short-term gains with little risk at the demise of the annuitant." It was also admitted by those involved that targeting "terminally ill annuitants was a key component of the strategy."
To further prove how incestuous and ridiculous these penny stock involvements are, Mark Nordlicht filed a 13G/A for Infinity Augmented Reality, Inc. (OTCQB:ALSO). As you can clearly see, several Platinum entities are used to obscure the true ownership of the shares.

(Source: SEC Filings)
Infinity's registered address appears to be a cement building sporting the latest in state-of-the-art security to protect all of its very important technological discoveries. Again, does anyone believe real work is getting done here, or is this just another shell company to bilk retail investors into investing into the "next big thing"?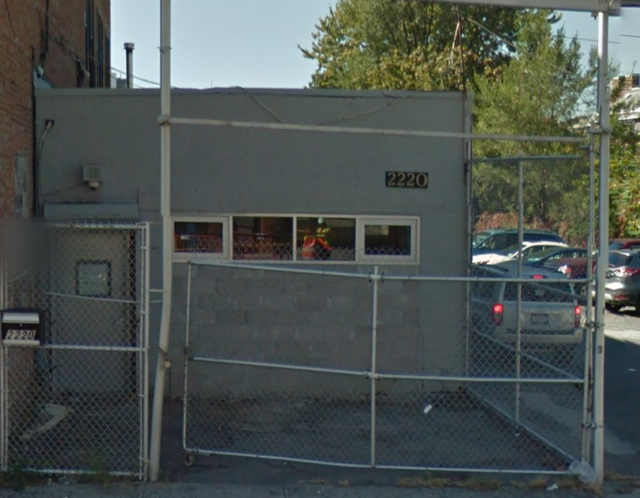 (Source: Google Maps)
It gets even stranger, Infinity Augmented Reality signed a consulting agreement with a person I assume is Leo Ehrlich's son, Barrett Ehrlich, who appears to be following in his old man's legacy of building a career in penny stocks. I'm not sure why Leo Ehrlich is registering to sell securities in a company called "Rescue Vultures, Inc.," but it's definitely not a good sign. One last point, which I believe really says it all, the person who filled out this form made some terrible spelling mistakes. If I had to guess, it's probably Leo Ehrlich. Don't worry, though, this person is at the forefront of scientific development.

(Source: SEC Filings)
To truly get an understanding of the magnitude of the value destruction these individuals have made a career of would take up too much space, but one thing is blatantly obvious: In my opinion, investing alongside penny stocks that these individuals are involved with will surely deliver negative alpha (and most likely, complete losses) to any portfolio.
Anatomy of a Shell Company: How CTIX Stays Afloat Financially
CTIX has entered into several stock purchase agreements with Aspire Capital, LLC. Based on actual stock returns, it appears that Aspire is a harbinger of financial demise among biotech penny stocks. Of course, I would assume that Aspire itself makes money through preferential financing terms, and that unsophisticated retail investors are left holding the bag.
It's worth noting that none of the major smart biotech funds own CTIX stock (probably because they looked and passed on the investment and/or are already short). In fact, the company is majority owned by retail. This is never a good sign for a company with bizarre financing relationships.

Back to Aspire, which did a deal with CTIX in 2012 and continues to finance this black hole:
"On December 6, 2012, the Company entered into a common stock transaction with Aspire Capital where by it sold to Aspire $10,000,000 worth of the Company's common stock. In addition, on October 25, 2013, the Company entered into a second common stock transaction with Aspire Capital where by it sold to Aspire $20,000,000 worth of the Company's common stock."
And again in 2015...
"On March 30, 2015, Cellceutix Corporation (the "Company"), entered into a common stock purchase agreement (the "Purchase Agreement") with Aspire Capital Fund, LLC, an Illinois limited liability company ("Aspire Capital") which provides that, upon the terms and subject to the conditions and limitations set forth therein, Aspire Capital is committed to purchase up to an aggregate of $30.0 million of the Company's common stock over the 36-month term of the Purchase Agreement."
Aspire Capital has a long history of inking what appear to be questionable financing agreements with companies that have run out of options. Unfortunately, it's retail investors who shoulder the majority of these losses through dilution and heavy selling pressure that continues for months and sometimes years, all while management teams continue to receive their obscene salaries for what is likely to result in continued shareholder value destruction. Below is a list of Aspire Capital's past involvement with other biotech companies. I believe the track record speaks for itself, and that investors should, at all costs, avoid being shareholders of companies that Aspire Capital is involved with.
NEOSTEM, INC. August 23, 2012

Aspire Capital registers to sell its shares in a prospectus filed October 20, 2014.

ATHERSYS, INC. November 11, 2011
Aspire Capital registers to sell stock via a prospectus dated April 5, 2013.

Aspire Capital enters into a purchase agreement on August 12, 2014.

DYNAVAX TECHNOLOGIES CORPORATION September 20, 2010
Dynavax receives $26.7 million in funding from Aspire Capital in 2011; the stock finished down ~40% by October of 2011.

NANOSPHERE, INC. March 18, 2014

BG MEDICINE, INC. January 24, 2013

ATOSSA GENETICS, INC. November 8, 2013

SOPHIRIS BIO INC. May 16, 2014

My guess is the long-term history of companies Aspire invests in is among the worst track records in the entire biotech market, though most likely, Aspire makes out like bandits.
There appears to be a clear pattern to the way Aspire Capital involves itself with these floundering companies. Many have occurred in the strongest biotech market in a generation, and I don't believe it's a coincidence that the price of their stock has been straight down, even though virtually everything else in the biotech world has gone up. The typical playbook seems to be: (1) enter into a stock purchase agreement; (2) receive a hefty commission upfront for their "commitment;" (3) blow out of their stock thereby crushing the price. It seems that the few times that Aspire Capital has continued to be a longer-term shareholder is only because they effectively get trapped in an illiquid, money-losing business that others are unwilling to bail them out of. I think the technical industry term is getting cemented in a "busted PIPE," which is the financial equivalent of getting trapped in a burning building. Either way, in my opinion, an investment by Aspire could hardly be considered a "commitment," and one should be aware that investing in companies while Aspire Capital is involved is likely to deliver substantial losses to retail investors' portfolios.
Aspire is Not the Only Bad Actor Among CTIX's Service Providers
I would also like to point out that K&L Gates LLP serves as a transaction advisor to CTIX. After looking at other public companies K&L Gates has been involved with in the past, further review of this firm's activities is warranted.
K&L Gates has a history of associations with companies that seem to find their way entangled in the court system. Let's review some of these highly questionable companies and the allegations made against them which make K&L Gates appear as an enabler.
According to this court document, a board of directors sought the legal advice and assistance of K&L Gates LLP to help investigate allegations of fraud at Le-Nature's Inc. K&L Gates presented their findings to the board, essentially declaring they did not find fraudulent behavior.
Within several days, a firm appointed to be a custodian of Le-Nature's uncovered massive fraud.
The document claims that K&L Gates LLP's professional negligence...
"caused Le-Nature's to suffer actual damages totaling more than $500 million, which the insiders looted from the Company or wasted on avoidable transactions."

"Le-Nature's would have avoided Podlucky's massive looting of the Company and the several financings and leasing obligations misused by Podlucky and the other Insiders."
Another section of the document claims that fraud and looting were occurring during K&L Gates LLP's investigation!
"fraud and looting were occurring during the investigation, and continued unimpeded as a result of K & L Gates's deficient investigation."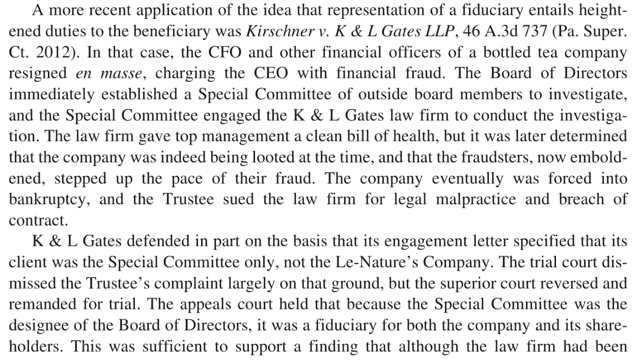 (Source: Law of Lawyering)
K&L Gates was also the legal advisor for Fuqi International, Inc. (OTCPK:FUQI). The SEC alleged that Fuqi International and insiders:
"failed to disclose cash transfers of approximately $134 million to three purportedly unknown entities."

This, of course, ended terribly for investors, who lost nearly all the money they had invested in Fuqi International.

According to this article, a former K&L Gates Hong Kong partner was sentenced to 12-year imprisonment for fraud and money laundering. It also says that "K&L Gates has paid $83 million to clients as compensation and is facing legal claims from other investors."
According to Capital IQ, K&L Gates LLP served as a transaction advisor to China-Biotics, Inc., which was completely debunked as a fraud by Citron.

According to Capital IQ, K&L Gates LLP served as a transaction advisor to NIVS IntelliMedia Technology Group, Inc. (OTCPK:NIVS). In 2008, IntelliMedia's auditor resigned, citing that it found accounting fraud and irregularities in forging accounting records and bank statements during the 2010 audit.

I could continue going through all of the questionable companies K&L Gates has been involved, with but there are plenty of other things that need to be discussed. In my opinion, it's very obvious that K&L Gates LLP has a history of failing to detect fraud, and given the characters involved in CTIX, I don't believe they'd be willing or capable of detecting it at CTIX either.
It Continues...: CTIX's Transfer Agent, A History of Securities Violations
CTIX's stock transfer agent is West Coast Stock Transfer Inc., whose president, Frank Brickell, has been fined and suspended for sales of unregistered securities in the past.
"World Trade Financial and its executives were fined for not implementing and enforcing a supervisory system for a penny stock operation that generated more than $61 million between March 2009 and August 2011."
Why does CTIX continue to surround itself with individuals that continue to violate securities laws that are clearly set up to protect non-professional shareholders?
Firms and Individuals Accused of Promoting CTIX Stock
The Swedish Financial Supervisory Authority warned investors that an unauthorized firm doing business as Dyman Associates was cold-calling individuals and telling them to buy shares in Cellceutix. Several reports were filed, claiming that Dyman Associates was a boiler room using blocked numbers, British accents and an aggressive sales pitch to tell them about a "stock tip." If someone you don't know cold-calls you to tell you about an amazing investment opportunity, hang up immediately.
The Yidam lawsuit, which can be pulled from PACER.gov for a nominal fee, alleges that users on public forums have inside information about NNVC and may actually be insiders of the company. The lawsuit alleges the following:
Consulting Agreements - The Other CTIX Compensation Black Hole
Given the egregious amount of cash compensation paid to executives, it's worth looking into the fact that CTIX has entered into several consulting, compensation and financing agreements with highly questionable characters. To me, these agreements seem vague, open-ended and appear designed to systematically destroy shareholder for the benefit of insiders.
CTIX entered into a consulting agreement with Sylvia A. Holden, an individual residing at One Poplar Street, Woburn, MA, 01801. According to the European Patent Register, Sylvia Holden is an inventor of this patent. The agreement states that she shall receive $4,000 per month for her services as a consultant. Below is a picture of the address listed in the filing. Honestly, does anyone believe there's any value-added consulting getting done here?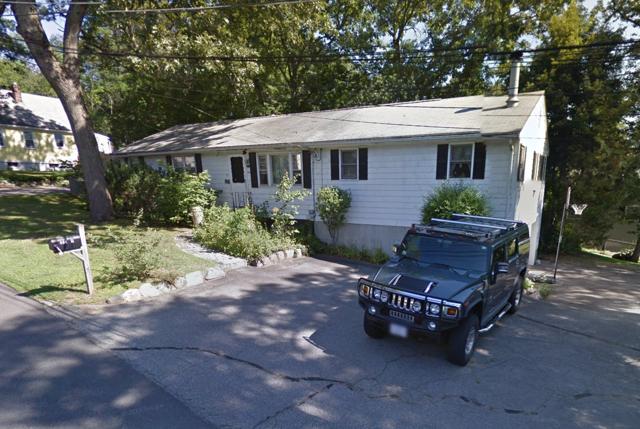 (Source: Google Maps)
CTIX entered into compensation agreement with Paul Ginsburg, an attorney residing at 1740 East. 23rd St. Brooklyn, NY, 11229. Under the agreement, Ginsburg will be granted options to purchase 40,000 shares of CTIX. More interestingly, the options are granted "on the date that work on an application begins." As of the date of this filing, 2 patent applications have been started. Are there any provisions to prevent Ginsberg from filing patent applications every day? Oddly enough, it never even mentions that he has to complete them, just that he has to start them. Below is the address from the filing. Again, I ask, does anyone believe any major scientific work is getting done here?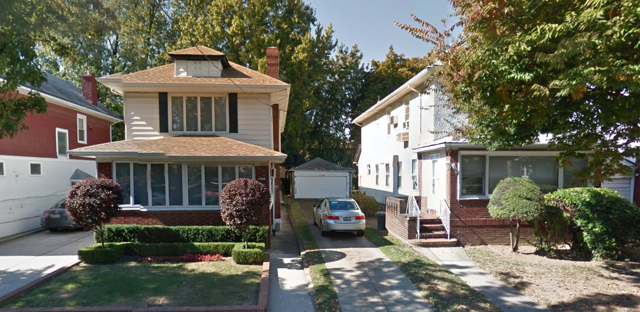 (Source: Google Maps)
CTIX entered into an agreement with another consultant by the name of James M. DeAngelis, an individual residing at 541 Bellvue Avenue, Unit #1, Newport, RI, 02840. As part of the agreement, DeAngelis will be granted options to purchase 100,000 shares of CTIX stock. DeAngelis is the CFO and COO of Verus Financial, LLC. He was also the CFO of Commodore Applied Technologies, Inc., which ended up being a major failure and accused of being a "pump-and-dump" on these message boards. Below is what happened to Commodore's overly trusting shareholders:

He was also involved with myTriggers.com, another company that the Huberfelds filed a 13G on. Another agreement CTIX signed was with Putnam Partners, LLC, which appears to be controlled by the former president of myTriggers.com, Glenn S. Meyers. Not surprisingly, since the Huberfelds became involved, myTriggers.com shareholders saw their capital destroyed in what appears to be a similar pattern as we've seen before.

The bottom line is that virtually everyone involved at CTIX has a long history of destroying shareholder value, misleading investors and participating in self-enriching financings. From my vantage point, it is clear that CTIX is not run for minority shareholders. The Yidam lawsuit against these same insiders at NNVC makes it clear that company wasn't run for shareholders, either.
Fair Value
Shares of CTIX are vastly overvalued in the market under any scenario. The science, as shown throughout this report, is demonstrably without value. When combined with the characters involved, CTIX is a very risky investment. My best-case scenario for the stock is a valuation 96% lower than the current share price. This is the value of the cash on hand, which values the CTIX self-enrichment shell as entirely without value.
A more realistic view of the shares would recognize that insiders will likely pilfer some of the cash, and the company will continue to produce negative free cash flow. Discounting the cash by 75% to account for these factors values the stock at $0.02, for 99% downside. I still would not recommend the stock when it gets to this price level.
The current valuation appears only supported by retail investors who can't, or haven't, done the appropriate work to understand what CTIX truly is, combined with what I believe are intentionally misleading statements by management (as detailed throughout this report) and a high probability of stock manipulation, including ties to overseas boiler rooms.
Conclusion
It's clear that CTIX is rotten to the core. In fact, I would say that it is certainly among the very worst of the worst in OTC penny stock land. I have personally never seen a company that is so obviously one-sidedly organized to enrich insiders, and so obviously stacked against minority shareholders as Cellceutix. I would absolutely recommend that shareholders completely avoid CTIX stock, as I estimate it has 96-99% downside from the current price. If you feel compelled to buy this stock, please do yourself a favor and buy an index fund instead.
I have contacted management, and the phone number goes immediately to voice mail - and the mailbox is full, so I am unable to leave a message.
Appendix A: INDIA New England article on Krishna Menon
Dr. Who?
July 1-15, 2008
Researcher's many claims don't check out
The story was to be one of success and promise: A scientist who had already co-developed two cancer-treatment drugs was now on the brink of bringing another to the market.
But routine fact-checking by INDIA New England soon revealed that the story of Krishna Menon and his start-up company Cellceutix contained many false claims and exaggerations. Menon, a former veterinarian surgeon who began working in the pharmaceutical industry after immigrating to America in the 1980s, it turned out, had mischaracterized his role in the development of two cancer-treatment drugs, Gemzar and Alimta. He was not a lead developer of the drugs as he claimed, but instead conducted lab animal work. In addition, Wilmington-based Cellceutix claims that two prominent doctors - one a Nobel prize winner - are scientific advisors to the company, but both say they have never heard of the company.
A spokesperson for Menon and his company first approached INDIA New England in early June with the news of Cellceutix's promising new cancer-treating compound Kevetrin. He wanted to give the South Asian community the scoop, he said, on a drug that had already shown great success in animal studies of shrinking malignant tumors of the head and neck.
"Dr. Menon is a well known pharmaceutical scientist with an unparalleled track record of taking a compound from the chemist's bench to FDA approval," read a press-release sent to the newspaper. "While at Eli Lilly & Company, he codeveloped two blockbuster cancer compounds, Gemzar and Alimta, which have produced billions of dollars in revenues."
Cellceutix's Web site also showed that top minds were behind the operation, including the company's scientific advisors, Dr. Emil Frei, director and physician-in-chief emeritus at the Dana Farber Cancer Institute, and Har Gobind Khorana, a 1968 Nobel Prize winner.
During the following interview with Menon and Cellceutix's Chief Financial Officer Leo Ehrlich, the two touted the 62-year-old researcher's experience and the company's streamlined drug development process.
"People work a lifetime in this industry without getting a single drug approved. Dr. Menon not only got a single drug - he got two blockbuster drugs," said Ehrlich, during a conference call with Menon, referring to the researcher's work with Gemzar and Alimta.
But their story soon began to unravel after initial fact-checking calls to Eli Lilly and a patent-holder of Alimta.
Menon was indeed an employee at Eli Lilly, confirmed Amy E. Sousa, a company spokeswoman for Alimta and Gemzar. But, he was not listed as lead developer of either drug, she said.
When reached by phone, Edward C. Taylor, a chemist and professor at Princeton University, who holds Alimta's patent, said he had never heard of Menon. Taylor said that Menon could have played some role in the drug - along with the dozens or even hundreds of other researchers at Eli Lilly - but that he is in no position to take credit as a co-developer or lead developer of Alimta.
"I'm afraid I have to tell you that Mr. Menon really did not play any significant role in the development of these two compounds," said Joe Shih, a distinguished research fellow at Eli Lilly Co. who worked with Menon. He said Menon only worked in a "technician" role.
"I think what he claimed is completely untrue," said Shih in a voicemail message to INDIA•New England.
Bob Marchesani, head of world-wide marketing for Alimta at Eli Lilly, made similar comments. "We do not feel it's credible for Mr. Menon to claim to have played a major role in Alimta," Marchesani said, indicating that this wasn't the first time Menon has made such claims.
A former Eli Lilly colleague of Menon who knew him for over a decade said that Menon's work was in fact limited to animal research on the drugs.
"Krishna worked with all of those compounds but the work had nothing to do with approval or disapproval [of them]," said the colleague, who added that Menon had been known to exaggerate. The colleague asked not to be identified for this story As for Cellceutix's scientific advisors, there is a dispute over whether Dr. Frei and Dr. Khorona - who are now both elderly and in ill health - are in any way involved in the company. When contacted by phone at home in Las Vegas, Dr. Frei, famed for his work in finding treatments for childhood leukemia, said that he had heard Menon's name before but could not remember how or why. A close family member who double-checked with Dr. Frei's secretary said that Dr. Frei, who suffers from Parkinson's disease, is not acting as a scientific advisor for Menon's company.
There is also a dispute over Dr. Khorana's involvement in Cellceutix. A 22-year colleague of the Nobel prize winner, who knows Dr. Khorana from his work at the Massachusetts Institute of Technology, said she is sure he is not involved in Menon's company. The longtime colleague, who asked not to be identified, contacted Dr. Khorana's family for INDIA New England and confirmed that he is "absolutely not" involved in Cellceutix as a scientific advisor. (INDIA New England also spoke with Dr. Khorana by phone, but appeared unable to understand the reporter's questions.)
When asked about these inconsistencies during a brief follow up phone interview with Menon, he stood his ground, at least at first. "I am one of the creators" of the Eli Lilly drugs, he said at the start of the phone call. But as the conversation progressed, he began to downplay his role to that of a member of a team that developed the drugs, and finally explained that his work was actually limited to animal testing. His role at Eli Lilly, he said, was as a group leader in charge of in vivo animal research, which is stated on Cellceutix's Web site.
Yet, Menon and other Cellceutix's officials remained adamant that he played a key part in the development of the drugs.
"Is he the patent holder of this? The answer is no. Is he a developer or co-developer of this? The answer is yes," said Ehrlich, referring to Menon's role in the development of Gemzar and Alimta, during a follow up interview. "I think there could be a misunderstanding about roles and that sort of thing. Dr. Menon's experience is more in early stages of development as opposed to late stage clinical development," said Cellceutix's chief economic officer, George W. Evans.
When asked if he felt it was misleading to say, as Cellceutix's Web site and press releases do, that Menon is "responsible for the development" of Gemzar and Alimta, Evans said no. "I'm not sure that I would say they are misleading. I think they are just different ways of looking at it. I think when the Eli Lilly people are looking at it, they say that this means to me some aspect of late stage development whereas I think what Dr. Menon is saying is he played a very key role in getting the product going, really. It's just looking at different sides of the same coin."
When asked about the claim that Dr. Frei is a scientific advisor at Cellceutix and why Frei's wife said it's untrue, Menon said, "He has Parkinson's. Sometimes his memory comes and goes." He promised to call Dr. Frei to remind him. Days later, during a follow up call to the Frei residence to confirm their position that he has no relationship with Cellceutix, an INDIA New England reporter was told by a family member that Menon had since called them to convince Dr. Frei of his involvement. "I told him we have nothing in writing," said a family member of the doctor.
Ehrlich, who spoke for the company after Menon left for India for a week in late June, insisted that Dr. Frei and Khorana were both scientific advisors of Cellceutix. He stressed that the position is an "honorarium" and suggested perhaps the reporter confused the position with that of a director.
"I don't expect ever to receive a letter saying Hey guys, why do you have our name there?'" he said. Later, in an e-mail message, he urged INDIA New England to hold its story about Cellceutix and Menon until the researcher returned from India to make sure the article is "accurate."
If it did, he said, a reporter could visit Menon's office to see a plaque that he received from Eli Lilly awarding him Employee of the Year,' and discuss the matter further. The newspaper decided not to hold the story. Parts of Menon's background, specifically his work with animal surgery, were confirmed. A native of Kerala who moved to Jamaica in the 1970s, Menon got his start as a veterinarian in the Caribbean after earning degrees in veterinarian surgery from Kerala University and Triniti University in Peru. In his late 20s, he became the chief agriculture and veterinary officer for the Cayman Island's Agriculture Department, a fact confirmed by a government spokesperson on the islands. (The former colleague of Menon from Eli Lilly said he was terrific in the animal lab and an extremely hard worker.)
According to Menon's story about his invention Kevetrin, it was during these early years that the seed of the drug was discovered.
The way he tells it, he was investigating the death of a bull that had been inadvertently sprayed for ticks with an agent that's toxic to living cells. He soon discovered that tumors in the bull died along with the animal. The finding, he said, began an ongoing pursuit for a chemical that would kill tumors, but without the same toxicity towards humans. The drug, he said, has so far been tested on animals. Ehrlich said Cellceutix plans to apply for FDA approval for the drug in coming months.
During the initial interview with Menon, he said that he pursued pharmacology because, coming from a family of doctors, he wanted to find cures for diseases.
He even recalled when he was a child and his aunt became ill with colon cancer. Doctors had no treatment and were able to provide no life-saving help. "It was a warrant to death," he said. That experience, he said, factored into to a lifelong quest to discover pharmaceutical cures.
Kevetrin, he said, was a promising new compound that could help him realize his goals, following his claimed successes with Gemzar and Alimta. And Ehrlich emphasized that all this also meant the potential for a lucrative business. "We believe that the minimum market size, if it's successfully developed, would be a half of a billion dollars a year for this compound."
(Source: Google)
If you are having difficulty accessing the link to the article, go to Google and search "indianewengland.com Krishna Menon," and it should be the first article that the search results show up. View the cached version of the webpage.
* Editor's note: A previous version of this article said "Phase II" while linking to Phase I trials. This mistake has been corrected.
Disclosure: I am/we are short CTIX.
I wrote this article myself, and it expresses my own opinions. I am not receiving compensation for it. I have no business relationship with any company whose stock is mentioned in this article.
Editor's Note: This article covers one or more stocks trading at less than $1 per share and/or with less than a $100 million market cap. Please be aware of the risks associated with these stocks.