The New Year crawled in with the pricing of Renewable Energy below the filing range, and traded down from there. Things picked up with the other two deals in January, Guidewire Software (NYSE:GWRE) and Verastem (NASDAQ:VSTM), which were better deals.
But the momentum has been picking up steadily, with 13 deals now in active marketing and 18 new IPO filings in January. So far it looks like the IPO market in 2012 will be a good one - and Facebook (NASDAQ:FB) will add to the fun. Our updated pipeline has 120 deals filed and in preparation.
At a macro level there's some evidence that the ecosystem for growing companies that can reach the IPO stage is getting better. The biggest one may be the new $1.5B fund raised by VC Andreessen Horowitz. Last year there was much talk of big VC funds dying off and leaving companies with enough capital to start and grow but not enough to reach an IPO. This is no longer the case.
At the same time, different models of funding like YCombinator, TechStars and a growing array of "accelerators" are thriving. (Remember when these were called "incubators?") Private markets and mezzanine investors have also become more active and viable for companies looking for growth capital.
Taken together, it's giving more companies a broader range of financing options and makes it more plausible to plan to start and grow a company to an IPO. More elements of the ecosystem still need to be filled in, but we think they will over time. In fact, we plan to try and do our part.
Performance
January was a great month for IPO stocks. We think it's due to the end of tax loss selling and the dearth of new names in marketing. And January is a month in which many investors like to put new money to work. Overall, the average gain was 15% for the month. The top 10 names were up 60% and the bottom 10 were down 11%.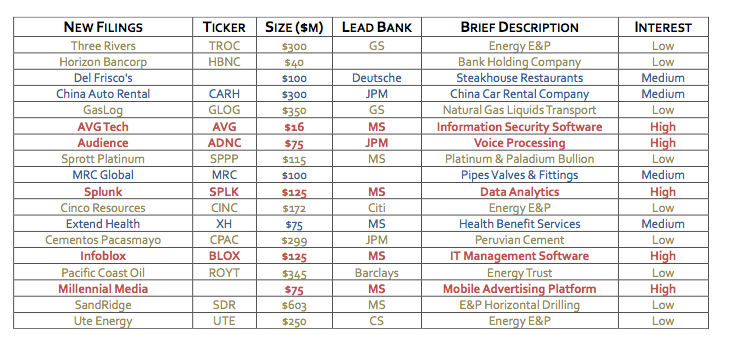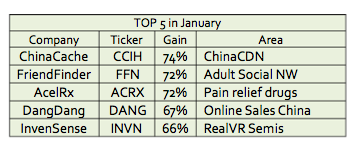 With the exception of InvenSense (NYSE:INVN), the top performing names were broken names from the past. We are intrigued by AcelRx (NASDAQ:ACRX), which we liked when they went public. They came public at $5 with a team led by Piper Jaffray one year ago.
The shares suffered in the aftermarket being "just another development stage biotechnology company" but the team seemed very good. Today the company is on the verge of starting a Phase III trial for their ARX-01 "NanoTab" delivery system for dispensing painkillers more reliably. It's not as sexy as a cure for cancer, but if it is adopted, AcelRx stock will do very well.
Sadly, some big losers continued to decline in January. They all are frequent visitors to the bottom 5, except for Carbonite (NASDAQ:CARB).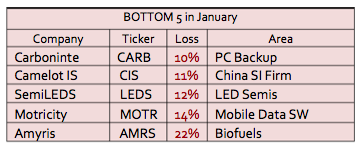 The Carbonite management team has been lackluster in terms of presenting to investors and getting them interested in the story. They have been largely parroting the roadshow script since the IPO. They have not been effective in addressing the threat that comes from more cloud-based infrastructure like the iCloud from Apple or cloud-based solutions like Dropbox. Carbonite continues to outshine older traditional backup vendors, but is losing some mind share these days to more cloud-focused providers.
Carbonite is a great acquisition candidate for Constant Contact. We think the product lines are complementary, and the company cultures and sales and marketing methods are simpatico.
IPO Candy Folio Update
So far in 2012, the lessons we learned and dramatic portfolio shifts are off to a good start. For the month of January, the IPO Folio was up 11.5% versus the Russell 2000, which was up 7%. We are mostly standing pat with the portfolio we set up in December, and did a rebalancing to set all target weights. Carbonite was sold out of the Folio ahead of lockup expiration next week.
Two new names were added, Zynga (NASDAQ:ZNGA) in social gaming and Verastem in cancer therapies. Both received 3% target weightings. Zynga remains undervalued by a wide margin. Verastem is a development stage company, but has assembled a "grade A" team and has some very strong science.
That brings us to 27 positions in the Folio with 18% in cash. For now, we are content to keep close to a full market exposure but may yet experiment with some hedging if the gains continue to mount.
The Pipeline
We've updated the pipeline for new filings and priced deals. The total stands at about 120 deals. The big Facebook IPO has been filed and no doubt it will be the main IPO event of 2012. See the IPO Candy Ecosystem Pipeline table for more details.
Coverage And The Calendar
There isn't much new coverage coming in February due to seasonality. Lockups coming off this month include Carbonite and Tudou Holdings (NASDAQ:TUDO). There are none coming off in March and only 2 in April. May is a big month for lockup expirations.
Disclosure: I have no positions in any stocks mentioned, and no plans to initiate any positions within the next 72 hours.