Yesterday was another day to forget for investors with commodity exposure, especially if that exposure is focused on energy producers and miners. Many of the smaller and/or leveraged E&Ps saw their share prices decline by double digits (on a percentage basis) while miners were also hit hard, highlighted by Freeport-McMoRan's (NYSE:FCX) fresh lows as its entire portfolio of gold, copper and oil look less and less appealing to investors. Freeport-McMoRan broke through the $11/share level to set another 52-week low and with where prices are now at we would not be surprised to see a move below $10/share.
Chart of the Day:
Freeport-McMoRan's shareholders have experienced five years of a defined downtrend, but more concerning to us is when a bottom will be reached. This ten year chart below shows the previous low, and we are very close to those levels now.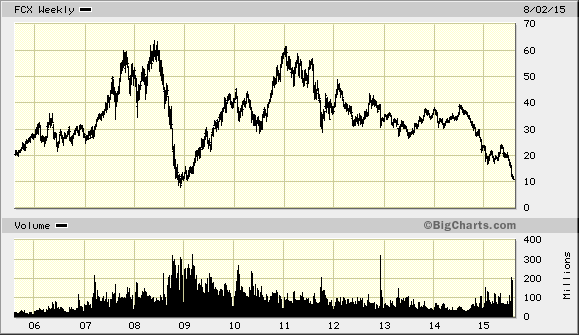 Source: BigCharts
Commodity prices are as follows (at time of submission):
Gold: $1,085.70/ounce, up by $0.10/ounce
Silver: $14.545/ounce, down by $0.008/ounce
Oil: $44.78/barrel, down by $0.37/barrel
RBOB Gas: $1.6638/gallon, down by $0.0067/gallon
Natural Gas: $2.771/MMbtu, down by $0.027/MMbtu
Copper: $2.3505/pound, up by $0.002/pound
Platinum: $952.30/ounce, up by $1.40/ounce
M&A To Pick Up
After looking through a couple of conference call transcripts over the past week or two it has become apparent that numerous companies are interested in making deals now that equity prices have retreated and have the ability to make deals happen without jeopardizing the overall entity. Most analysts have been focused on ExxonMobil (NYSE:XOM) and Chevron (NYSE:CVX) and have debated the merits of either of those two names targeting some of the domestic shale companies. While it is fine to debate which company has the most firepower and/or the most attractive equity to offer in a potential deal, the fact of the matter is that the acquisition has to make sense.
This is why we really liked what Anadarko Petroleum's (NYSE:APC) Robert Gwin said on the company's conference call about his company's strategy for deal-making. Analysts look at a myriad of things when they come up with their various buyout scenarios, but oil companies should be looking at acquisitions which allow them to cut costs and increase both margins and efficiencies. Looking at acquisitions in any other way right now is wrong and could put a company that is currently in a good position in a bad position.
With names such as Chesapeake Energy (NYSE:CHK), Goodrich Petroleum (NYSEMKT:GDP) and Magnum Hunter Resources (MHR) continuing to see their shares crushed and growth in the number of investors doubting the companies' ability to maneuver through this latest oil price correction, we think that there is an abundance of available targets. The question that must be answered is who the buyers will be outside of Anadarko, Chevron, EOG Resources (NYSE:EOG) and ExxonMobil as well as who the willing sellers will be. It takes two parties to make a good deal happen, and we think that another quarter or two of low oil and natural gas prices will force weaker names to capitulate and sell to their healthier peers.
Disclosure: I/we have no positions in any stocks mentioned, and no plans to initiate any positions within the next 72 hours.
I wrote this article myself, and it expresses my own opinions. I am not receiving compensation for it (other than from Seeking Alpha). I have no business relationship with any company whose stock is mentioned in this article.
Editor's Note: This article covers one or more stocks trading at less than $1 per share and/or with less than a $100 million market cap. Please be aware of the risks associated with these stocks.