Since the Fed started talking about tapering, the relationship between EM markets (stocks and currencies) and U.S. Treasury yields has gather a lot of attention. Unfortunately, the relationship is very unstable and no straightforward conclusion can be drawn as to what will happen when the Fed starts hiking in late 2015 and, more generally.
The chart below is a good example of the instability that characterizes the link between EM stocks and U.S. Treasuries.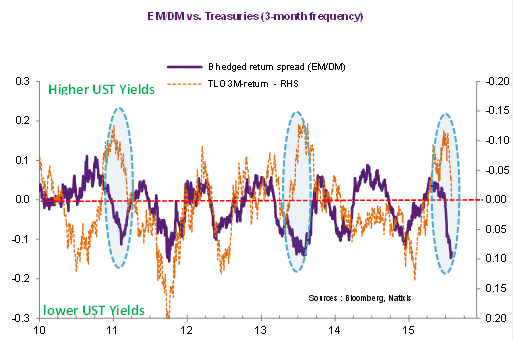 Over the last five years:
Episodes of sharp increase in UST yields (a fall in Treasury prices as can be seen on the chart) have led to a strong underperformance of EM stocks. If higher U.S. yields are taken as a proxy of global liquidity, this relationship makes sense.
Unfortunately, when UST yields fell sharply EM stocks also underperformed. This reflects the traditional safe haven status of U.S. sovereign bonds when risk aversion rises.
Hence, the best environment for EM stocks is generally a gentle rise in U.S. Treasury yields (synonymous of sound economic growth), the second half of 2014 being an exception (the move in yields was rather smooth though). The current strategy of the Fed to "go early but slowly" should therefore provide the less adverse backdrop to EM markets.
A chart based on higher frequency (1-month returns) provides even more color. It shows the same pattern of divergence during the "taper tantrum" but the recent episode is tremendously noisier.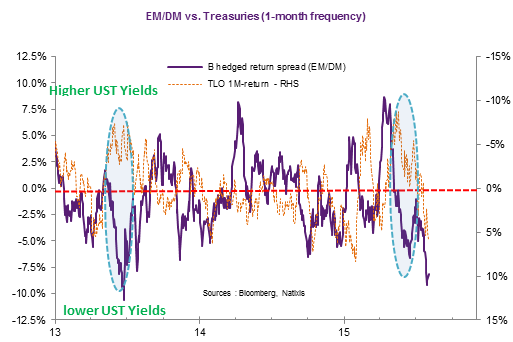 We note in particular that the underperformance of EM vs. DM equity markets has:
Reached a level close to that of the "taper tantrum" came.
Along with - over the last few weeks notably - a positive performance of U.S. Treasury bonds. the recent behavior of U.S Treasury yields has not led to any rebound in the relative performance in EM vs. DM stock indexes.
Comparing the EM/DM ratio to the EM currencies is even more compelling. As can be seen below, the relative performance of EM to DM stock returns is generally mimicked by EM currencies against USD. Overshooting episodes are not rare in the EM equity space, but one may wonder if any reversal in EM currencies could lead to a rebound of the EM/DM relative performance.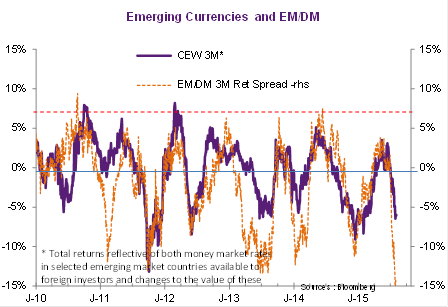 The question now is whether EM/DM equity stock returns are leading the way and will drive Treasury prices higher and EM currencies much lower. Or, on the contrary, should we bet on a short term rebound in both the WisdomTree Emerging Currency ETF (NYSEARCA:CEW) and EM/DM ?
The chart below is the output of a simple model of emerging currencies based on commodity prices, U.S. Treasury yields and the VIX (same message if we use the MOVE index). It suggests that, according to the development in the commodity and FI market, emerging currencies are bound for a temporary rebound unless commodity prices fall much further, bond volatility picks up and U.S. Yield continue. This is not an unlikely development but I would not be surprise by a little respite, especially if Nonfarm Payrolls turn out to be in line with expectations.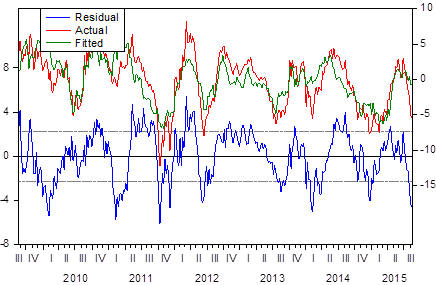 This would not be inconsistent with the UST vs. EM/DM analysis above as the chart suggests that Treasuries bond prices are poised to a pause.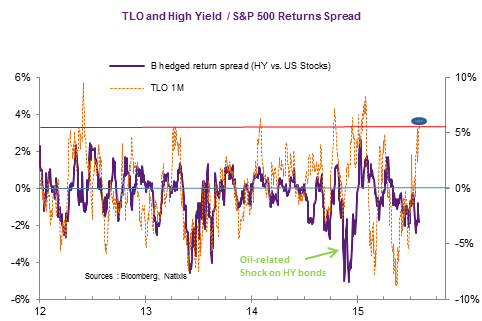 Bottom Line: the relationship between U.S. Treasury yields and EM stocks and foreign exchange markets is far from straightforward. This is due to the many different premia that are embedded in long term yields: liquidity, growth, risk aversion. The behavior of emerging markets will depend on which of those factors is at play.
The strong under performance of EM stock indexes against their DM counterparts may have come - temporarily at least - to a halt. This is the message sent by the latest trend in EM currencies and the U.S. Treasury market. I would therefore tactically bet on a temporary reversal of the relative performance of EM vs. DM stock prices.
Disclosure: I/we have no positions in any stocks mentioned, and no plans to initiate any positions within the next 72 hours.
I wrote this article myself, and it expresses my own opinions. I am not receiving compensation for it (other than from Seeking Alpha). I have no business relationship with any company whose stock is mentioned in this article.