In the first installment of my new series of articles, I explained the basis for an aggressive twist on dividend growth investing. Tactical dividend growth will generally seek out companies that possess qualitative and/or quantitative factors where robust payout growth appears sustainable. We may also look at other contrarian or high dividend situations that offer yield punch for the portfolio.
Due to my desire to maintain flexibility in securities we pick, I placed little iron fast parameters on the portfolio. The only one was that the security had to pay a dividend -- and even then I left the door open to picking stocks on occasion that don't have one.
Well, I'm closing the door on that. The security must have at least announced a pay date for an initial dividend. Further, to keep blended yield of interest to the average dividend investor, I'm setting a 1.5% floor on any stock we buy for the portfolio. I want to keep some degree of focus here and believe that 1.5% represents something meaningful -- meaningful as far as company commitment goes, and meaningful as a foundation point for the individual investor looking to begin a dividend growth partnership.
Portfolio Summary
We are starting with a hypothetical $100,000 and are looking to own at least 10 different stocks/securities. Due to general valuation concerns, we are going to implement somewhat of a DCA strategy on purchases. The idea isn't to time, however, we will look to be fairly fully invested and deal with whatever pitfalls we may see as ZIRP and "frothy" valuations continue to pervade securities markets.
The three initial purchases in the TDGI were:
50 Shares of HON @ $103 $5150 (2% yield)
240 Shares of STOR @ $20.90 $5016 (4.8% yield)
230 Shares of AYR @ 21.90 $5037 (4.0 % yield)
We discussed business differentiation, strong management, and a secular commodity theme as being the crux for these selections. Forward-thinking and elevated dividend sustainability will be our mantra. While we'll consider history, it will be a generally subordinate point. We will sell and reallocate if reasons behind our purchase start to fall apart. Price action alone generally will not be a reason to sell.
Two New Names
Today, we'll add two more stocks to the portfolio.
The first is Cisco Systems (NASDAQ:CSCO), a name somewhat synonymous with Internet-focused hardware. While Cisco is clearly not a rapid growth company anymore, it is developing into a diversified cash cow that brings balance sheet strength and the potential for continued robust dividend growth to the TDG portfolio.
Though nearly half of Cisco's revenue base still comes from switching and routing, it is more diversified than most investors realize.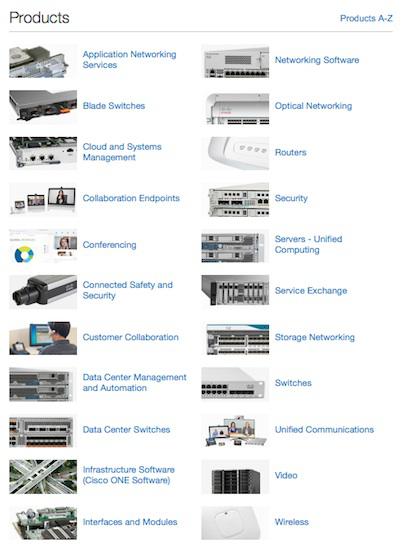 Images sourced from Cisco.com
Like Honeywell, we'll view this diversity as a strength to our end of building a portfolio with sustainable, robust, and better-than-average forward payout growth. Below is a chart that illustrates where the company's revenues are coming from.

And it is not just a player, but a dominator in its fields: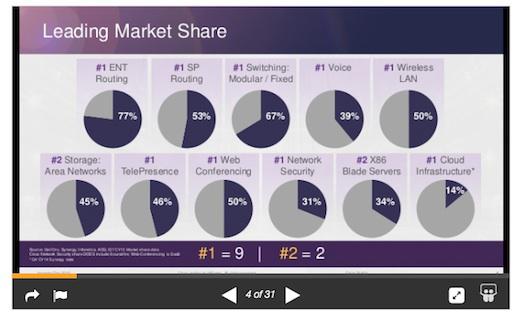 This dominance has led to a strong balance sheet, with $50B of cash as of last quarter. A market cap of around $150B and 5B shares outstanding equates to around $10 per share just of cash. You're buying the business for less than $20 a share, less than 10X earnings.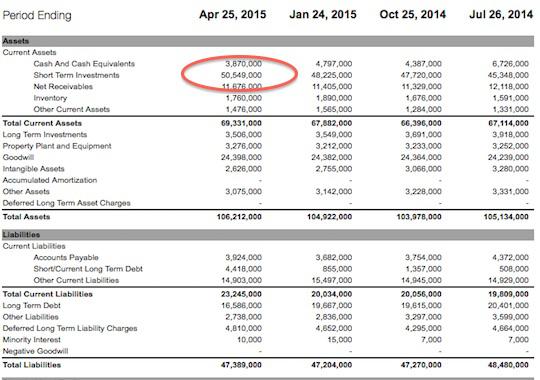 Notice also that total liabilities are down YOY.
We are also going to take the position that the recent exit of long-time CEO John Chambers will be a net positive for company fortunes. While executive change can similarly be viewed as a risk, new CEO Chuck Robbins seems keen on tightening the ship. For tactical dividend growth, we will assume reasonable risks such as this one.
Within the past two weeks, the company has sold both its set-top box and data storage businesses. Early on, it seems Robbins has hit the ground running, with a clear eye on profitability and margin expansion.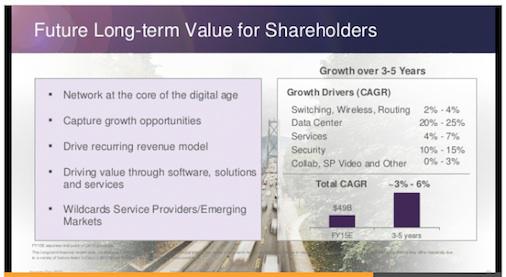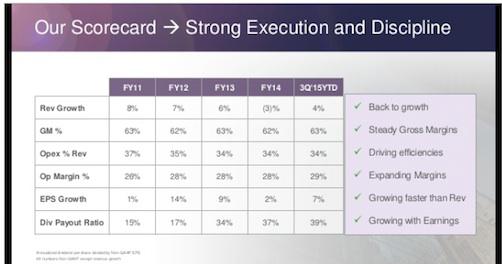 At 13X earnings, I believe we're getting a decent deal on a very healthy business flush with cash that could see acceleration in fortunes as world communications technology evolves. With the dividend at about a 40% payout clip and 3% yield point, continued double-digit or near-double-digit dividend growth appears like a reasonable expectation.
Carnival Corp.
Our next addition to the portfolio is Carnival Corporation (NYSE:CCL), the cruise line operator. In addition to its namesake line, Carnival also runs eight other cruise brands around the globe -- Holland America and Princess probably being the most recognizable and Costa, the most infamous.
The thesis here is pretty simple and has multiple prongs to it. Lower oil prices and somewhat benign near-term new cruise ship supply is providing a secular tail wind for all of the cruise line operators, lowering operating costs and increasing price control. Further, recent reports peg the number of Americans who have taken a cruise at only about 25%, although that is up 5% from 8 years ago. Americans account for about 50% of global cruise demand, which means there is a huge untapped passenger potential overseas, especially in Asia.
Competitive Landscape
Royal Caribbean (NYSE:RCL) and Norwegian (NASDAQ:NCLH), Carnival's major competition in the space, have actually benefited more over the near-term due to their younger fleets and onboard amenities, superior revenue yields (a cruise line performance metric), and generally better reputation for providing a higher quality getaway or vacation. Carnival has 23 ships currently sailing under its core brand, with one, Carnival Fantasy, now 25 years old.
But Norwegian, which I currently own, does not pay a dividend, and Royal Caribbean's yield is under our floor. Still, I think the sector theme, the brand diversity, and the potential for Carnival to improve its fleet, including next year's delivery of the new Carnival Vista makes it worth taking a position. Vista will include an iMax theater, the first of its kind, on a cruise ship.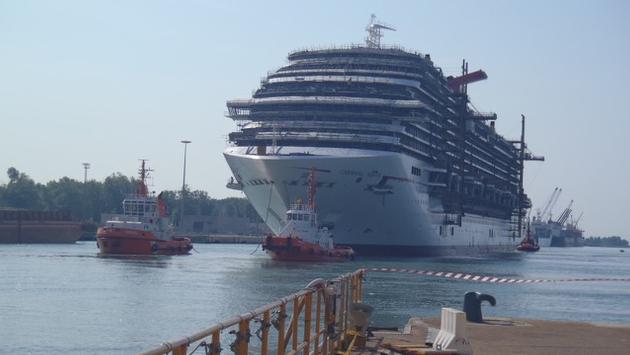 Carnival Vista "float out" at Fincantieri Shipyard, Monfalcone, Italy
Vista will hold 4,000 passengers, which is a small city, but RCL's Oasis class vessels have double occupancy capacity of over 5,000! RCL's newest class of ships, Quantum, are smaller than Oasis class, but have a number of new amenities and activities for passengers.
Carnival Ships By Brand - as of Jan. 2015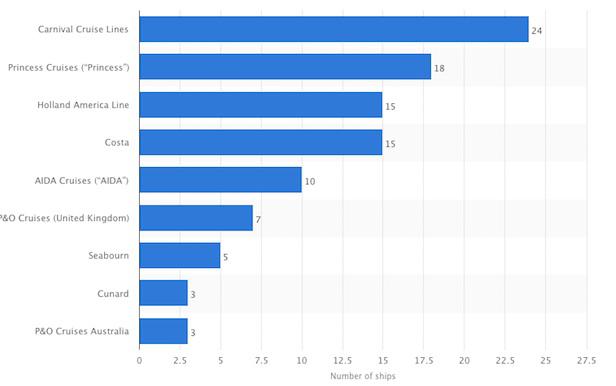 Source: Statista.com
One must wonder if we are near the ceiling for cruise ship size. The larger a ship is, the less ports of call it can make. While new docks are being built to accommodate larger ships, the lines need to have adequate terminal size to support ease and efficiency of passenger embarkation/debarkation, which are typically handled the same day.
In any case, I'd argue that cruise lines are in a sweet spot of earnings and dividend growth potential right now.
CCL Fundamentals
Looking at its operations, Carnival is expected to earn $2.52 a share this year, which equates to a 21 multiple. However, next year consensus sees $3.25 with 7% revenue improvement. Given the fact that shares are about 60% higher than 52 week lows, this isn't an exactly unknown story, but it could prove a surprisingly pervasive one.
Carnival is about the last company showing up in most traditional dividend growth portfolios. Prior to this year's increase from .25 to .30, the last time CCL raised its dividend was February of 2011, although it did issue a special 50 cent dividend at the end of 2012. The $1.20 it will pay this year represents about 50% payout, but that drops to 37% if CCL hits $3.25 next year.
If we are entering a secular period of lower fuel prices, Carnival will undoubtedly become more shareholder-friendly. The 20% dividend hike this year evinces forward operational confidence. If they are able to trim the reputation gap in the core brand between themselves and RCL/NCLH and increase passenger yields, this could turn out to be a decent longer-term dividend growth story.
But since we're probably looking at the worst house in what appears to be a great neighborhood, we'll have to keep close tabs on relative performance. If CCL is unable to make incremental gains against the other operators -- or worse yet, loses ground -- or if any of the secular tailwinds start to shift direction, threatening the dividend growth potential, this is one stock in the portfolio where we won't be afraid to abandon ship.
Portfolio Summary
| | | | | | |
| --- | --- | --- | --- | --- | --- |
| Stock | Shares | Avg. Cost | YOC | Dividends Realized | Total Return |
| HON | 50 | $103 | 2.01% | | |
| AYR | 230 | $21.90 | 4.02% | | |
| STOR | 240 | $20.90 | 4.78% | | |
| CSCO | 180 | $28 | 3.00% | | |
| CCL | 100 | $52 | 2.31% | | |
Disclosure: I am/we are long AYR,NCLH,CSCO,STOR,HON.
I wrote this article myself, and it expresses my own opinions. I am not receiving compensation for it (other than from Seeking Alpha). I have no business relationship with any company whose stock is mentioned in this article.
Additional disclosure: Disclaimer: The above should not be considered or construed as individualized or specific investment advice. Do your own research and consult a professional, if necessary, before making investment decisions.