For a while there was a bit of a CPI thing going on - trying to justify stock market performance "ex-energy" and "ex-commodities."
By that we mean, the Consumer Price Index (CPI) has long been criticized by some as a distorted measure of inflation due to stripping out the "volatile" items like food and energy. Because of the exclusions it's been joked that, sure, the CPI is a reasonable gauge of inflation - as long as you don't drive, heat your house, eat food, and so on. (We are not making the stealth inflation case here, just noting this way of thinking.)
In similar fashion, it has been suggested for a while - not by all US equity bulls, but a fair number - that the US stock market is actually fine "if you just take out energy stocks." Various breadth and earnings measures supposedly didn't look so bad if you discounted for oilmageddon… the disproportionate impact that collapsing oil and gas prices have had on a meaningful portion of the market.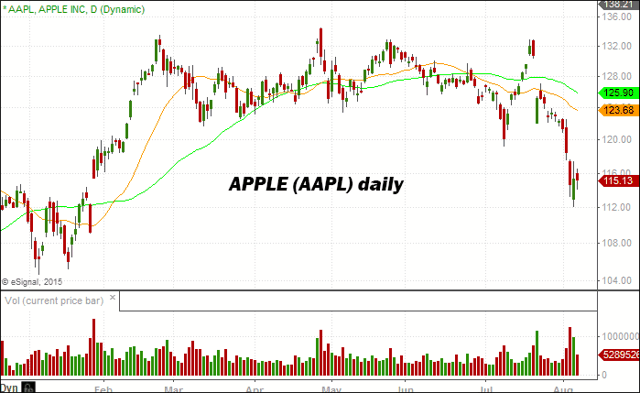 Then commodities in general became the thing to ignore (if one sought to maintain an optimistic outlook). That is still the case, as WTI crude falls into the mid-$40s, with $4.4 trillion worth of oil revenues expected to be lost over the next few years, and commodities in general showing meltdown performance on par with 2008 (as the China slowdown begins to really bite).
Except now it's no longer possible, really, to say the carnage is contained - because it's starting to show up in places that have nothing to do with energy or commodities.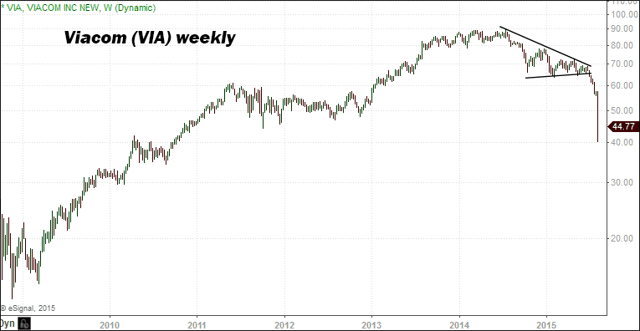 Like tech juggernaut Apple (NASDAQ:AAPL), for example, or the major media companies whose cable channel revenues are in danger of "cord cutting" and being "Netflixed."
Then too you have some tech names that continue to win - like Facebook (NASDAQ:FB) and Google (NASDAQ:GOOG) (NASDAQ:GOOGL) - and others taking frying pans to the face, like Linkedin (LNKD), Twitter (NYSE:TWTR) and Yelp (NYSE:YELP).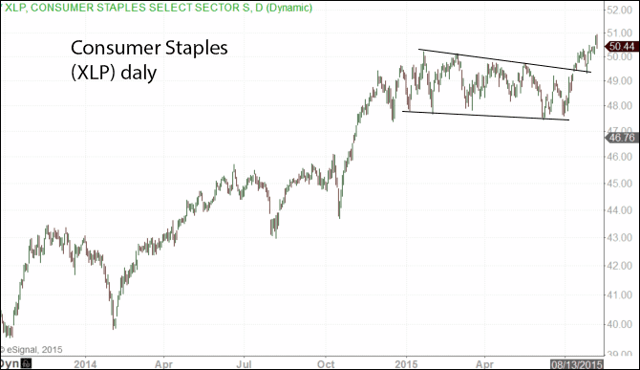 Meanwhile, outside a handful of dominant and rare social media and e-commerce juggernaut names, one of the few exceptional areas of strength in equity market performance is - drum roll please - consumer staples! This is not the place you want to see big gains… it's kind of like throwing a party at a bomb shelter.
For a while now the investor's response to emerging market equities has been "look away" (in mild horror), turning back to the US for a measure of comfort. Now US equity markets are losing their teflon coating too…
Disclosure: I/we have no positions in any stocks mentioned, and no plans to initiate any positions within the next 72 hours.
I wrote this article myself, and it expresses my own opinions. I am not receiving compensation for it. I have no business relationship with any company whose stock is mentioned in this article.