SunEdison(SUNE) announced its Q2 2015 earnings before the market opened on August 6. As we have written earlier, the company had a tall hill to climb in the earnings call. To put simply, it fell short.
In terms of the positives, we believe management did a good job laying out a clear case for how it has the financing necessary to meet its current dividend commitments. Outside of routine project financing, it appears that the company only needs a modest $200M public capital raise before the end of the year.
In terms of the TerraForm Global (NASDAQ:GLBL) fiasco, the management commentary was that even at the current price on TerraForm Global stock, the company has a lower cost of capital than competition and the company can still do accretive deals. Management attributes this to international spreads which are wider. With construction cost of projects being lower than the U.S. and the cost of PPAs being higher than the U.S., the company believes it has considerable opportunity.
However, what was unsaid was the reason behind why many of the emerging market PPAs are so much higher. The reason, in our view, is that international markets are risky and have significantly higher capital costs.
The management argument essentially is that SunEdison, through TerraForm Global, has a cost of capital advantage over rivals when it comes to international projects. The other way of looking at this is that TerraForm Global investors are affording SunEdison a lower cost of capital. We agree this is the case today but we believe it is because TerraForm Global investors are not properly pricing in the risk. If TerraForm Global risk is properly priced, SunEdison is unlikely to have a sustainable cost of capital advantage - at least not in a meaningful way. However, there is certainly merit to the management argument in the near term. The company is negotiating a warehouse facility and will use this warehouse to extend the runway to 6 quarters. Management also expects TerraForm Global capital costs to go down over time with experience and does not see a need for capital for at least a year.
From our perspective, the good news in the call was more or less limited to the above items.
On the question of the thorny Vivint Solar (NYSE:VSLR) acquisition, CFO Wuebbles presentation and the presented data decidedly undercut the optimism that Mr. Chatila tried to portray.
Management commented that by using a "conservative" 50% renewal rate, the returns are meaningful. However, if one were to assume a 10% renewal rate, which we consider to be far more reasonable, the levered IRR is forecasted be in the 6% range. This IRR, we are certain, assumes a very favorable default rate that the company did not share. In our view, unlevered IRR, adjusted for default rates is likely in the 5% range, if not lower.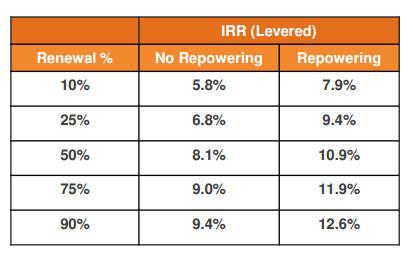 Mr. Chatila's claimed that internally the company would shoot for a 90% renewal rate by approaching customers' couple of years before their contracts end and making a deal when there is no competition. We find this line of thinking rather farfetched and expect that all residential solar installers, including SunEdison, will have a challenge keeping the renewal rate meaningfully above 0%.
In our view, it is incredibly aggressive to assume anything significantly above 0% renewal rate given the technological obsolescence, aesthetics of future solutions, customer ill will that is likely to be caused by current leases, and a likely radically different energy landscape. While not an apt comparison, investors can roughly equate the renewal task to the uphill task of selling the old Motorola brick cell phones in today market. Interested readers can find our views on why this is so from our earlier missives. Another fallacy in Mr. Chatila's argument is that, to the extent customers renew or buy newer equipment, the related costs and benefits of such transactions stand independent of the current leases.
Considering the low IRR, and the increasing cost of capital for TerraForm Power (NASDAQ:TERP) and TerraForm Global, it is clear that this Vivint Solar transaction does not pencil out. We are not certain if the management is being defensive or in denial but with these economics it is difficult for us to see why this deal should go forward.
The company also addressed the issue of the impact of IDRs on capital costs of TerraForm Power and TerraForm Global. Management argues that given its use of debt, in 2019, the IDRs will only result in about a 57 basis point increase in cost of capital in terms of the overall WACC. While we do not dispute the company's math, our view is that even this amount can be a significant drag on the YieldCo business model. We also believe that this number is somewhat understated in the later years and can also change significantly based on debt assumptions. When it comes to YieldCos, we would much rather prefer a Yieldco without an IDR than one with an IDR. We, therefore continue to be negative about TERP and GLBL even as their yields are increasing.
In terms of the SunEdison operating model itself, the management raised considerable doubts on the profitability of the DevCo model by stating that cash margins were in the low teens and around 13%. We consider this level to be low. Low margin also cast doubt on the Company's ability to overcome a cost of capital related shock.
As if the low margin was not bad by itself, management suggested that by reducing the cash margin on the SunEdison side, the company could increase the Yield on the Yield vehicle and make the transaction more palatable to yield investors. While one can argue that this is a rational thing to do in terms of value levers, we cringe at this unnecessary financial engineering. This type of maneuver puts into question both the cash generation capability of SunEdision as well as the sustainability of the nature of relationship with the Yieldco. This is precisely the kind of financial engineering that, over time, leads to opaqueness, inefficient capital utilization, and investor discount.
This also reflects poorly on the "related party" nature of the sponsor/yieldco model. SunEdison's numbers, which already are difficult for investors, have now become even tougher to decipher.
The business model is becoming too complex for investors to digest. Investors cannot easily understand and the interdependencies and conflicts which will make them question the numbers and assumption. This in turn implies that safety conscious investors are likely to stay away from investing in SunEdison, TerraForm Power, and TerraForm Global.
Given this commentary, we expect the Company to face significant headwinds in recapturing its valuation unless the companies dramatically change their business model to a cleaner, transparent model devoid of conflicts of interest.
In summary, the financial engineering continues to be disconcerting and Vivint Solar acquisition remains a problem. On the upside, TerraForm Power and TerraForm Global yields are reaching a more rational level and there is not much further downside on the yield front.
Disclosure: I am/we are long SUNE.
I wrote this article myself, and it expresses my own opinions. I am not receiving compensation for it (other than from Seeking Alpha). I have no business relationship with any company whose stock is mentioned in this article.