By Jason Napodano, CFA
On August 5, 2015, InVivo Therapeutics (NASDAQ:NVIV) reported financial results for the second quarter ending June 30, 2015. It has been an extremely eventful past several months for the company, with significant news made on both the clinical and financial fronts. Below I briefly touch on the financial position of the company, provide a quick update on the recent clinical news, put the impressive data generated to date into context, and then conclude with why I believe the shares are fairly valued at $26 per share, nearly double what the stock is trading for today.
Financial Update
InVivo exited the second quarter ending June 30, 2015 with $25.1 million in the bank. The company burned approximately $4.2 million over the three month second quarter period. Year-to-date, operating burn is $7.2 million, or around $1.2 million per month. I think the company will burn around $1.5 million per month for the second half of the year, meaning the cash balance at December 31, 2015 should still be north of $16 million. That is, of course, if the company does not raise new cash through warrant exercises or the recently signed ATM agreement with Cowen.
First on the potential for warrant exercises: This has been a fantastic generator of cash for the company so far in 2015. Through June 30, 2015, the company has raised roughly $6.9 million through investors exercising outstanding warrants. InVivo has approximately 1.3 million warrants outstanding, the vast majority (~94%) in-the-money with strike prices below $6.00 per share. These warrants have to be included in any reasonable valuation model as long as they exist; however, they provide no real benefit to the company until exercised. Once exercised, they provide cash to the balance sheet and less derivative liability to calculate each quarter for the income statement. For example, my financial model on InVivo (discussed below) includes all 1.3 million warrants in my fully-diluted share count but none of the cash. Once exercised, I add in the cash. If all outstanding and in-the-money warrants are exercised by investors it would provide an additional $7.6 million in cash to the company. Given the trend seen in the first six months of the year, I would expect to see more cash coming in through warrant exercises before the end of the year.
In late July 2015, InVivo entered into an at-the-market (ATM) agreement sales agreement with Cowen & Co. Management at InVivo, using their own discretion, can raise up to $50 million in capital by selling stock into the open market through Cowen. Some investors dislike ATMs. I'm baffled as to why. They are done with little to no impact on the stock price, as opposed to a secondary offering that might usually price at a 5% (best case) or 25% (ugly case) discount and the fees are at least half (Cowen is charging InVivo 3%) what most banks charge small-cap biotechs for a registered direct or secondary offering (range 6-8%). InVivo's CEO, Mark Perrin, did an excellent job of explaining this financing strategy to investors via a shareholder letter on July 29, 2015.
Nevertheless, InVivo's financial position is solid, with enough cash to fund operations for at least 16 months based on my best guess monthly burn rate. Management has readily available access to another three to four year's worth of cash at it fingertips. I think the financing risk has been completely removed from the equation for InVivo.
Clinical Update
On June 5, 2015, InVivo Therapeutics announced that a third patient has been enrolled in the company's ongoing pilot trial of its investigational Neuro-Spinal Scaffold (NYSE:NSS) in patients with acute spinal cord injury at the Carolinas Medical Center, in Charlotte, NC. The surgery was performed by Dr. Dom Coric and Dr. Mark Smith of the Carolina Neurosurgery and Spine Associates. We note that Dr. Dom Coric was part of the team at Carolinas Medical Center that performed the same surgery on patient No. 2 back in January 2015.
A month later, on July 6, 2015, the company reported that this patient made "significant improvement" after only one month of the neuro-spinal scaffold implant. For example, after only one month, the patient improved from a complete AIS A spinal cord injury to an incomplete AIS B spinal cord injury. The patient regained sacral sensation with improved bladder function. I view this as an incredible breakthrough.
In the same press release, the company also provided an update on patient No. 2, noting that this patient demonstrated marked improvement in sensory function with partial sensation present five dermatome levels lower on the right side compared to the three-month assessment. This translates to regaining partial sensation from the lower ribs to the hip on the right. I'll remind investors that after three months post-implant, patient No. 1 progressed from complete AIS A to AIS C, and has even posted a video of himself walking with braces and support on YouTube.
The pilot study is currently seeking to enroll patients No. 4 and No. 5, a goal I believe will be accomplished before the end of the year. That gives investors, at a minimum, two more chances to see the type of amazing progress demonstrated so far in the next six months.
...Putting Things In Perspective...
InVivo's press release noted that, "Historically, fewer than 4% of patients with a high thoracic neurologic level of injury convert from AIS A to AIS B in the first month after injury." I've went back and looked at all 106 pages of the 2014 Annual Report of the National Spinal Cord Injury Statistical Center (NSCISC) and think the odds are even lower that this type of spontaneous recovery happens. For example, the NSCISC report has data on 154,832 patients from dozens of spinal surgery centers around the country, dating back over three decades. For 2014, a total of 22,790 new patients were included in the tables for the annual report.
However, what investors in InVivo Therapeutics might find the most interesting is the comprehensive data on patient outcomes comparing time of discharge (when they leave the hospital following the initial surgery) to follow-up twelve months later (not 30 days). For example, the figure below shows the stratification of neurological category for patients.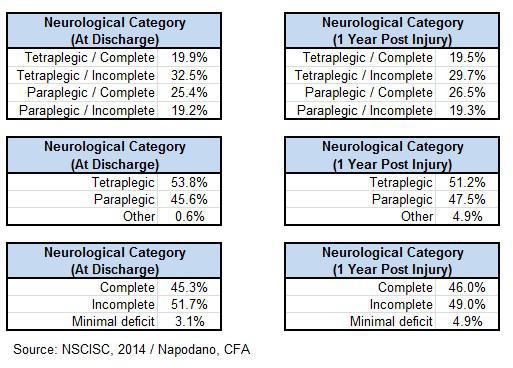 All three patients in the pilot study were both classified as paraplegicwith complete injury at time of surgery and discharge. According to the 2014 annual statistics from NSCISC, 45.3% of all injuries are considered complete, and 45.6% result in paraplegia. The combined subset equates to 25.4% of all spinal cord injury patients.
Twelve months later, 46.0% of all injuries are still considered complete, or 102% of the baseline scores classified as complete. This tells us that when a patient leaves the hospital with a complete injury, there is an exceedingly high likelihood that same patient will still score as a complete injury twelve months later. If anything, doctors are missing a small percent of complete injuries at discharge, only to realize the injury is complete upon follow-up.
Similarly with paraplegia, 47.5% of all patients are paraplegic twelve months following discharge, or 104% of the original baseline score. Again, this tells us that if one leaves the hospital as a paraplegic, there is an exceedingly high likelihood that they will remain paraplegic a year later.
Similarly, all InVivo patients were both classified as "A" on the American Spinal Injury Association Impairment Scale (AIS). Below are the statistics from 2014 on ASIA Impairment Scale scores for all spinal cord injury patients.
The statistics show that approximately 50.6% of complete injuries are classified as "A" on the AIS at time of discharge. At twelve months later, 47.2% of patients are still classified as AIS A; that's 93.2% of the original baseline population.
Two of the three Patients in the InVivo pilot study moved from complete injury to incomplete injury. The same two also improved on the AIS scale, No. 1 to AIS C and No. 3 to AIS B, and patient No. 3 did it in only 30 days, not twelve months! I believe this is unequivocal proof that InVivo's NSS is working.
What's InVivo Worth Today?
The inclusion criteria for the pilot study calls for patients to have a complete injury scored as "A" on the American Spinal Injury Association Impairment Scale (AIS) occurring between T3-T12/L1 within the past 21 days. The injury must be non-penetrating, no less than 4 mm diameter and limited to two contiguous vertebral levels. Based on my combing of the 2014 Annual Report of the National Spinal Cord Injury Statistical Center (NSCISC), I put the following "target population" data together.

As such, I think the target population under the existing Humanitarian Device Exemption (HDE) is approximately 1,800 patients. That being said, given the strong evidence that the NSS seems to be working, I think it is a very safe assumption that neurosurgeons will use InVivo's NSS in patient populations outside the narrow HDE criteria. There are another 10,000 acute spinal cord injury patients in the U.S. each year that might benefit from InVivo's device. Some of these injuries are in the cervical region where surgeons might not be comfortable implanting the device, and some of these injuries are penetrating to the point where the spinal has been shredded and the device simply will not work; but, after looking at the 2014 NSCISC statistics, I think the target patient population for InVivo's device is at least another 5,000 patients.
The graph below is pulled from the 2014 National SCI "Facts and Figures" worksheet. It shows the average yearly health care and living expenses and the estimated lifetime costs that are directly attributable to SCI based on severity of injury. These figures do not include any indirect costs, such as losses in wages, fringe benefits, and productivity, which average $70,849 per year in November 2013 dollar.

I present this data so that investors can get a good sense of what InVivo can charge for the NSS. For example, so far all patients enrolled in the pilot study are paraplegia AIS A. In the first year of treatment, the average health care and living expense cost for this type of injury is $510,883. Each subsequent year this patient will incur an additional $67,677 in health care and living expense costs.
InVivo has shown that it can take a complete injury paraplegic patient with no motor function below the level of the injury and not only improve their AIS score but also return bowel and bladder function. The difference in cost between paraplegia AIS A/B/C and motor function AIS D is approximately $168,000 in health care and living expense costs for the first year. Each subsequent year this type of improvement would save $26,000.
To me it seems clear that InVivo can go to hospitals, insurance companies, and patients, show them this data, and effectively negotiate a price of at least $150,000 for a one-time implantation of the NSS. Based on InVivo's pilot study, two of the three patients would already be on a path to recoup the majority of this cost in the first year, and then save tens of thousands of dollars each additional year of their life.
I also think, based on the existing clinical experience, implantation of the NSS will be very high penetration among the target patient group. If you had a severe thoracic spinal cord injury that left you completely paraplegic, why on earth would you not want to try this device? The safety to data has been outstanding and so far the efficacy looks like a homerun. I'm modeling 75% penetration into the HDE market and 50% penetration in the other 5,000 "off-label" patients for my DCF.
Under these forecasts, InVivo's NSS is a blockbuster, this sales eclipsing $1 billion five to six years after commercialization. I also note that the model I build below does not include any sales of the NSS device seeded with human neural stem cells. This would be to target spinal cord injury patients long after the injury, potentially using the device to seed and support neural stem cells that would sprout new axonal growth and re-connect the signal below the site of injury. The cartoon below depicts a very good representation of how this technology would work.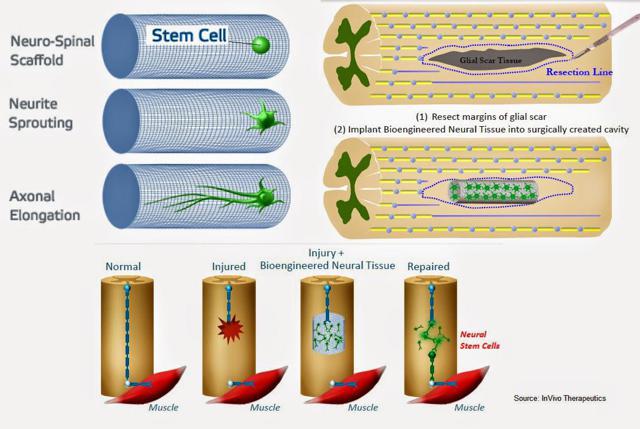 As I noted above, we know InVivo will pursue this development. The company received a Notice of Allowance from the United States Patent and Trademark Office (USPTO) for U.S. Patent Application No. 14/496,742, titled "Methods and Compositions for the Treatment of Open and Closed Wound Spinal Cord Injuries" that includes the NSS plus stem cells in June 2015. The chronic spinal cord injury market is approximately 25X the size of the acute injury market I discussed above. And as noted above, I think InVivo's device will generate over $1 billion in sales from the acute market alone.
I've plugged in some additional financial metrics into my DCF model to value InVivo. These include a 10% initial cost of good on the device, dropping to 6% at peak. I'm also assuming a model $50 million per year operating budget and 30% effective tax rate. I'm using a 15% discount rate on the future cash flows, 2% terminal growth rate, and then adjusting the entire thing down by 50% just to be ultra-conservative on the risk profile. Even at 50% probability, my DCF pegs the value of InVivo today, sans any stem cell partnership, at over $26 per share.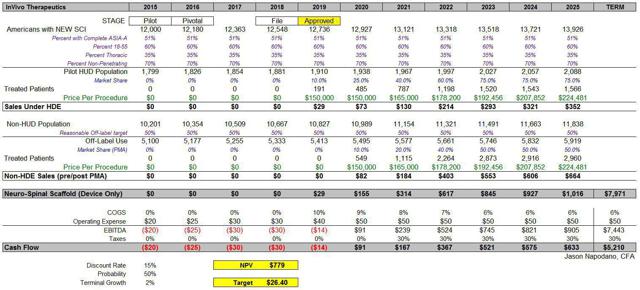 Disclosure: I am/we are long NVIV.
I wrote this article myself, and it expresses my own opinions. I am not receiving compensation for it (other than from Seeking Alpha). I have no business relationship with any company whose stock is mentioned in this article.