Despite the recent benign interest rate environment, investors continue to widely speculate what may or may not happen to real estate trusts if and when borrowing costs start to tighten. Brad Thomas, in his latest analysis of the issue, focused on a report from Mizuho Securities that identified and analyzed five tightening spates of the 10-Year Treasury over the past two decades.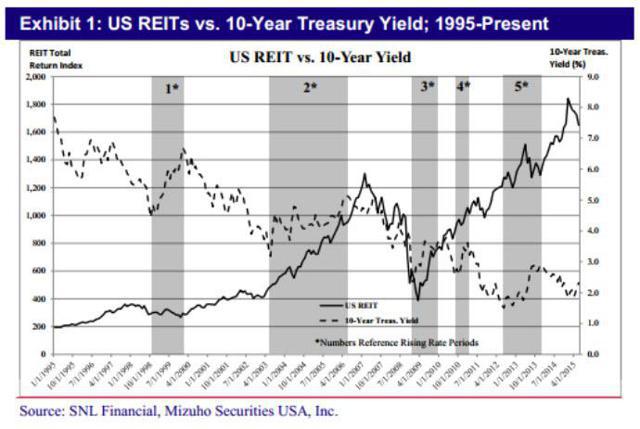 Mizuho's conclusion to the analysis, according to Brad, was that "it isn't a foregone conclusion that rising interest rates are bad for U.S. REITs." My opposing logical take is that it isn't a foregone conclusion that it is good for them, either. Keep in mind that Brad, in the past, has referred to the purported negative REIT/rate relationship as an "urban legend" and a "myth."
The Real Deal On REITs and Rates
I see a number of problems in trying to draw any conclusions from these somewhat short spurts of rising rates, both operational and market sentiment-related. First, the general trend in rates was down 500 basis points over the 20-year period of the study. If we extended the chart back another 15 years, the rates would be down well over 1000 basis points. While I think it's very fair to say that lower rates and positive rates of return can be seen as correlative in the REIT space, logic would tell us that shorter time periods and smaller rate moves would be much less statistically significant.
Given the general staggered debt maturities that levered REITs maintain, it might take half a decade and several hundred basis points of tightening to have more than negligible impact on REIT operations/cost of capital. Rising rates, therefore, should be seen as having lagging operational impact. The taper tantrum, for instance, seemed to have little near-term effect on REIT FFO, despite the market's willingness to sell them off en masse.
Second, these studies paint a certain homogeneity in the REIT space. As we progress in time, we should accept that all REITs are not the same in regards to revenue source, capital structure, and yes, their operational sensitivity to rates. We've seen the same thing occur in the bond market, where analysts use broad brushes to make points, when something much more fine-tuned should be utilized.
There are huge differences between REITs that lock in longer-term lease contracts and those that reset more frequently. Some REITs are managed to generate more income for investors, while others are more total return-oriented. Especially key if we do, in fact, see a secular rise in rates is what the right side of the balance sheet looks like. Variances in EBIDTA/debt ratios may give clues as to whose business models may be more vulnerable than others.
While we can speculate on quantitative factors, we also need to take into consideration the ZIRP-inspired premium that is currently being applied to REITs. If the 10-Year goes to 3-4%, it seems unlikely that the market is going to pay 17X FFO for a 4.5%-yielding REIT growing in the mid-single digits. It may continue to pay up for something growing faster, however, even if it possesses a lower yield.
Having said all this, my own perspective is that the "rising rate effect" would be dependent on the speed and severity of the rate rise. Further, we also need to consider the direction of cap rates and general leasing trends. I don't currently envision a scenario where rates are off to the races or where cap rates go "wonky" in either direction. In my opinion, most of the space would have a problem if the rates spiked several hundred basis points in a small number of years.
While I don't necessarily agree with Mizuho's means to come to its conclusion, I don't think the conclusion itself is unreasonable.
Strategy Session
My new preferred space to overweight is apartments. Recent M&A activity, as well as a clear trend away from single-family home ownership are two themes that should propel these landlords.

Brookfield completed its acquisition of Associated Estates (NYSE:AEC) on August 7, and Home Properties (NYSE:HME) is being taken private by Lone Star Funds. Several of the operators have raised FFO projections, including Mid-America Apartment Communities (NYSE:MAA), which I recently took a position in.
I'm looking at others, including Camden Property Trust (NYSE:CPT), Aimco (NYSE:AIV), UDR, Inc. (NYSE:UDR), and Post Properties (NYSE:PPS). A more aggressive investor might consider the "wheeler dealer" Bluerock Residential Growth REIT (NYSEMKT:BRG). This looks like a space you want to be allocated to over the intermediate term. As opposed to net lease REITs, which typically write long-term contracts with 1-2% bumps, apartment landlords can take advantage of near-term supply constraints, reset leases more frequently, and see better incremental revenue.
The decline in home ownership obviously means more bodies are looking at a rental situation. And who could blame them? While some markets are seeing firmer pricing, the days of a house being a shrewd financial investment with predictable positive annual return are long gone. If development doesn't get too slap-happy, this could turn out to be a more than passing phenomenon.
Disclosure: I am/we are long HME,MAA.
I wrote this article myself, and it expresses my own opinions. I am not receiving compensation for it (other than from Seeking Alpha). I have no business relationship with any company whose stock is mentioned in this article.
Additional disclosure: Disclaimer: The above should not be considered or construed as individualized or specific investment advice. Do your own research and consult a professional, if necessary, before making investment decisions.