Back after a one week hiatus, your author was encouraged by some of the action in the financial markets over the last couple of weeks. Trends that we saw beginning to emerge are now establishing themselves, and we can be increasingly confident that we are positioning correctly for the current market environment. Let's dig into the details.
Perspective
Stocks: After a sideways move the prior week, stocks resumed their advance on positive economic data, and in spite of some concerns about earnings announcements. The recent trend of outperformance in the smaller and higher beta stocks also continued: while all of the major U.S. equity indexes posted gains, the Russell 2000 led the way with a 4% gain, followed by the NASDAQ composite with a 3% advance, then the S&P 500 and Dow Industrials, rising 2% and 1.6% respectively. All of the S&P sectors advanced on the week, led by the financials with a move of better than 4%, and tech with a gain of more than 3%. Bringing up the rear again were the defensive sectors, showing that the optimistic outlook is beginning to displace the cautious stance that characterized so much of 2011.
Ten of the twelve of the major foreign indexes we monitor recorded gains, the exceptions being Japan's Nikkei and Australia's All Ordinaries. Advances of more than 3% were recorded on Brazil's Bovespa, whose break out we noted two weeks ago, the French CAC 40, and the German DAX Composite. The Shanghai Composite, long a relative laggard, was nearly flat.
Bonds: Longer maturity U.S. Treasury bond yields as the curve steepened; now we're at 1.95% on the ten year and 3.15% handle on the thirty. Corporate bond yields, on the other hand, fell once again, as did municipals, continuing their amazing run. TIPS yields were flattish to slightly higher on the week.
Commodities: Oil prices slid back below the $100 mark to close at $97.69. Natural gas prices fell again after seeing a bounce the prior week; there is no strength in that market and the fundamentals look poor. Copper's rally stalled for the time being at $3.90, above the 200 day moving. Gold slipped a bit after breaking its down trend the prior week. Grains and livestock were both modestly higher.
Currencies: The U.S. Dollar Index broke its fall and was flat on the week, while the euro again met resistance at $1.32, a previous support level. The Aussie and Canadian dollars, Sterling, and Yen all moved higher against the greenback.
Outlook
There was a good variety of U.S. economic data released last week, but the headlines were focused on the decline in unemployment, spurring optimism in the stock market. Unit labor costs rose while productivity declined, and factory orders and ISM manufacturing fell short of expectations, so the news was not entirely positive. On the housing front, the Case Shiller 20 city index was nothing short of ugly, again giving little indication of recovery in the sector.
Stocks: Earnings season rolled on, with half of the S&P 500 having reported, 60% of them beating expectations. It hasn't been the most inspiring of earnings seasons, and we had some high profile misses from the likes of Amazon and Google, but on balance the market has reacted very well. The S&P 500 index is up nearly 4.5% this year, the Russell 2000 7%. Our modestly bullish stance on equities has been rewarded, as positions we began to accumulate in Q4 of 2011 have been working. At this point, a move back to last year's highs, above 1,350 on the S&P and 850 on the Russell, looks highly likely. Volume has not been exceptional, the summation indexes are reading overbought on both the NYSE and NASDAQ, and the VIX is nearing a previous bottom, so a modest pullback is probably coming. As always the choice of entry point will make an important difference for all but the longest term holdings. However in the larger scheme of things my outlook is solidly bullish.
images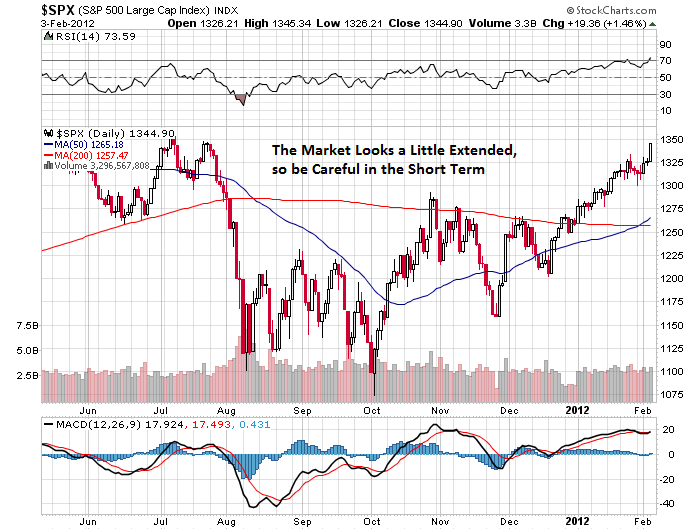 While my analysis - and portfolio - is focused on U.S. markets, as noted in my weekly perspective I do regularly follow a dozen major foreign indexes. Foreign markets generally have lagged the U.S. coming off the summer correction. However several are breaking out of their corrections. We have been commenting on Brazil, where the transition to the Dilma Rousseff government coincided with a prolonged slump in the stock market. The Bovespa is up nearly 15% in 2012. Another is Germany, where the DAX crashed in the summer debt crisis. It is up more than 10% in the new year. Investors who think that Brazil won't abandon market economics, or that the eurozone will not collapse, can invest in these markets through popular ETFs like EWZ and EWG from Barclay's. Price and volume analysis shows that both have broken out of downtrends and both are under accumulation. Again, investors should be wary of a near term pullback, but the signals on these funds, and several others, are bullish.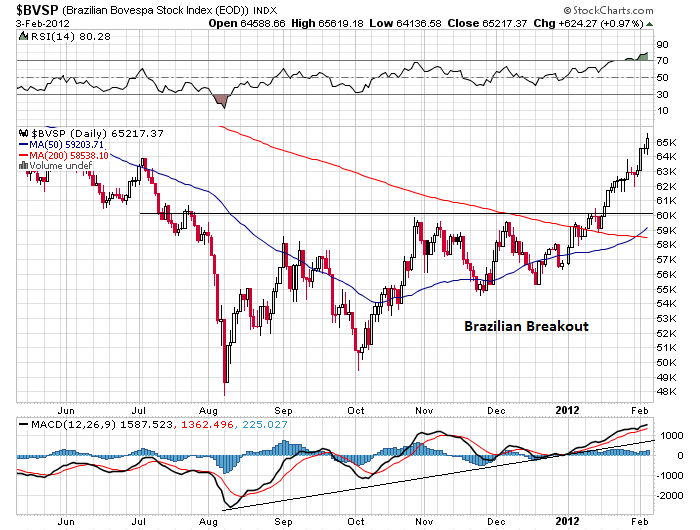 Bonds: I have been commenting for months that U.S. Treasuries yields appear to be forming a bottom. It still looks that way to me - there is little upside in extremely low yielding Treasuries. Corporate and municipal debt securities, higher yielding alternatives, have been bid much higher, driving down yields in those markets as well. Income investors really do face a dilemma, as safety of principal is always a major concern, but decent yield is difficult to find. Another alternative we have turned to is preferred stocks. We have an allocation through the iShares fund (NYSEARCA:PFF) in our income portfolio; as the fund is heavy on bank issues, there is more risk than we like. However with bank earnings stabilizing and their common shares gaining traction, our comfort level with the preferreds is increasing. As with our high yield bond allocation, we are keeping a close watch on it.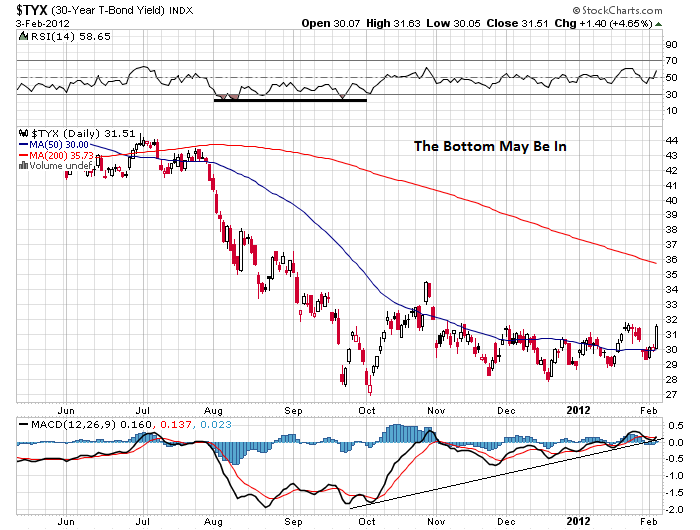 Commodities: The recent Fed commentary set off a rally in the price of gold. We opened a speculative position the next day, which is intended to be a position trade rather than a long term core holding. More broadly commodities seem to have put in a bottom, and if there is another round of QE on the way, the general expectation is that it will be commodity friendly. However I do not see the same outlook for energy prices. For this reason, my preference is to play this with precious metals rather than energy heavy broad commodity positions. The added benefit: research has shown that precious metals have lower correlation to equities, and therefore a better portfolio diversification effect, than energy prices.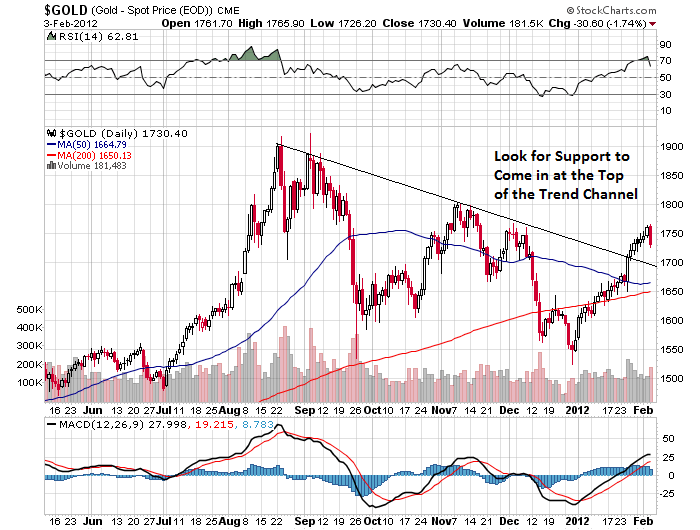 Currencies: In terms of correlation, if not causation, the dollar's recent correction has coincided with the nice bull run in equities and precious metals. The stabilization in the dollar index, therefore, is a concern in our otherwise bullish general market outlook. A possible scenario which I would not be surprised to see in the short term: the dollar turns back up, equities correct and gold pulls back toward the 1,700 level. Longer term, we'll have to wait and see.