Uranium miners and the radioactive commodity itself depreciated significantly during 2011. Much of the weakness followed the Japanese nuclear catastrophe, which hit the industry's immediate and future demand projections.
Shortly after, and because of the Japanese nuclear problems, Germany indicated that it will reduce its use of nuclear power and slowly eliminate its use. Expectations of additional similar policy decisions, coupled with rapidly falling natural gas prices, rendered nuclear power a largely unloved source of alternative energy.
Nonetheless, several of the uranium miners and producers started 2012 with a vengeance, dramatically outperforming the strength seen in the broader market. During the second half of 2011, a short-term bidding war broke out between uranium miner Cameco Corp (NYSE:CCJ) and Rio Tinto (NYSE:RIO), a large and diversified mining company, over Hathor, a Canadian uranium miner. Rio Tinto ended up winning the war and Hathor.
Such competition for mining assets indicates these competitors recognize a potential future demand increase for uranium, possibly for the emerging power needs of China and India. Both nations announced ambitious multi-year nuclear development plans during 2011. China announced plans to increase its nuclear capacity eight-fold by the end of the decade, and India plans to increase its production thirteen-fold.
Below are listed several companies with business substantially relating to uranium mining and/or production: Cameco, Denison Mines (NYSEMKT:DNN), Uranerz Energy (NYSEMKT:URZ), Uranium Resources (URRE) and USEC (USU). I have included their 1-week, 2012-to-date and 1-year equity performance rates.
images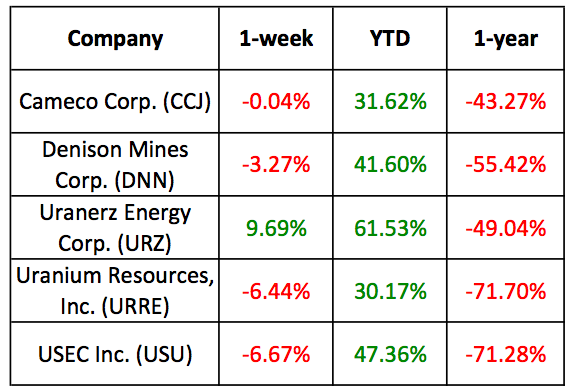 These stocks are now up an average of 42.46 percent so far in 2012. Still, they are all down compared to one year ago, and on average down 58.14 percent.
It is possible that uranium demand from new and sizable locations such as China and India, will soon outpace uranium supply, possibly creating dramatic shortages and price spikes to both uranium and the shares of uranium producers.
In addition to these individual companies, some ETFs allow investors to gain exposure to uranium pricing and demand. For example, the Global X Uranium ETF (NYSEARCA:URA) tracks the Solactive Uranium Index, which tracks the performance of the larger players in the uranium mining industry. See the recent chart for URA, below: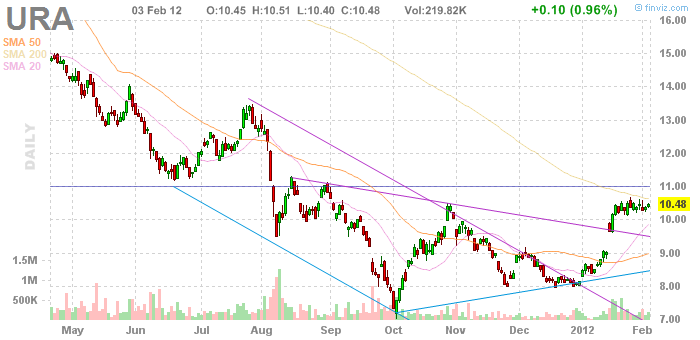 It should be expected that this industry will continue to exhibit high risk/reward characteristics, and that investment allocations should be limited accordingly.
Disclosure: I have no positions in any stocks mentioned, and no plans to initiate any positions within the next 72 hours.
Disclaimer: This article is intended to be informative and should not be construed as personalized advice as it does not take into account your specific situation or objectives.