Natural gas prices have been plummeting more than 50% since its peak in 2010 and is attributed to the huge oversupply in natural gas. More and more natural gas has been found while consumption doesn't keep up with supply. But as Marc Faber famously quotes: "The best time to buy commodities is when markets are glutted." This is because the prices are the most depressed during these times. One company that I highly recommend is Gazprom (OTCPK:OGZPY), due to its exposure to natural gas and oil.

Natural Gas Spot Price
Gazprom is a Russia based energy company and one of the largest in the world. Its exposure is mainly in the natural gas sector while oil comes second. Gazprom is severely undervalued and has a P/E of 3.5, hands out a dividend of 2% and has a price to book value of 0.6. Based on these valuations I see Gazprom at least doubling if natural gas prices pick up. The only risk to buying Gazprom would be the unstable political environment in Russia.
What is very interesting though is that Gazprom pretty much follows the natural gas price historically. But the last few weeks we see a disparity. While natural gas prices keep plummeting, Gazprom is steadily going up.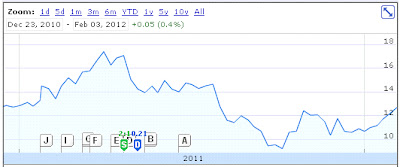 Gazprom
There is a reason why this disparity happened. On 04-Feb-2012, Russian prime minister Vladimir Poetin instructed Gazprom to give priority to its own country for natural gas supplies. Due to the cold weather Europe would need to wait for extra supplies of natural gas. At the moment demand is picking up in Europe due to snow, so Gazprom is increasing its production right now to be able to deliver enough natural gas to everybody. Today Gazprom is producing 1.6 billion cubic metres of natural gas, which is 30% higher than its normal production.
On another note, oil prices are going up unlike natural gas. On 19-Jan-2012, the oil/gas ratio hit a 22 year high of 43 to 1. Historically the oil/gas ratio should be 6, because one barrel of crude oil has 6 times as much energy content as 1 mmbtu of natural gas. I'm not saying that this ratio will go back to 6, but I know that many companies are shifting now to using natural gas, which will support its price eventually (as an example Novagold (NYSEMKT:NG) is using natural gas for its Donlin mine development project).
Conclusion: Gazprom has been bottoming out recently and has good short term prospects due to cold weather in Europe and excellent long term prospects due to its undervaluation, which makes it a screaming buy.
Disclosure: I am long OTCPK:OGZPY.