The purpose of this article is to discuss just how much of a decline in Canadian real estate prices can be expected in the coming years based on observations in the US housing market, and what that means for housing values.
The US Housing Market
All US housing price data comes from the non-seasonally adjusted S&P/Case-Shiller Home Price Indices (which I will denote CS-HPI). Inflation figures come from the BLS.
Chart-1: USA All CS-HPI Markets from 1987 to present. The CS-HPI data extends back to 1987 for most of the US markets, but not all. I've plotted everything that is available, including the C-10 and C-20 (composites), and an inflation curve that is based on BLS inflation values multiplied by a 'baseline value,' which is taken to be 100 at January 2000.
Click to enlarge images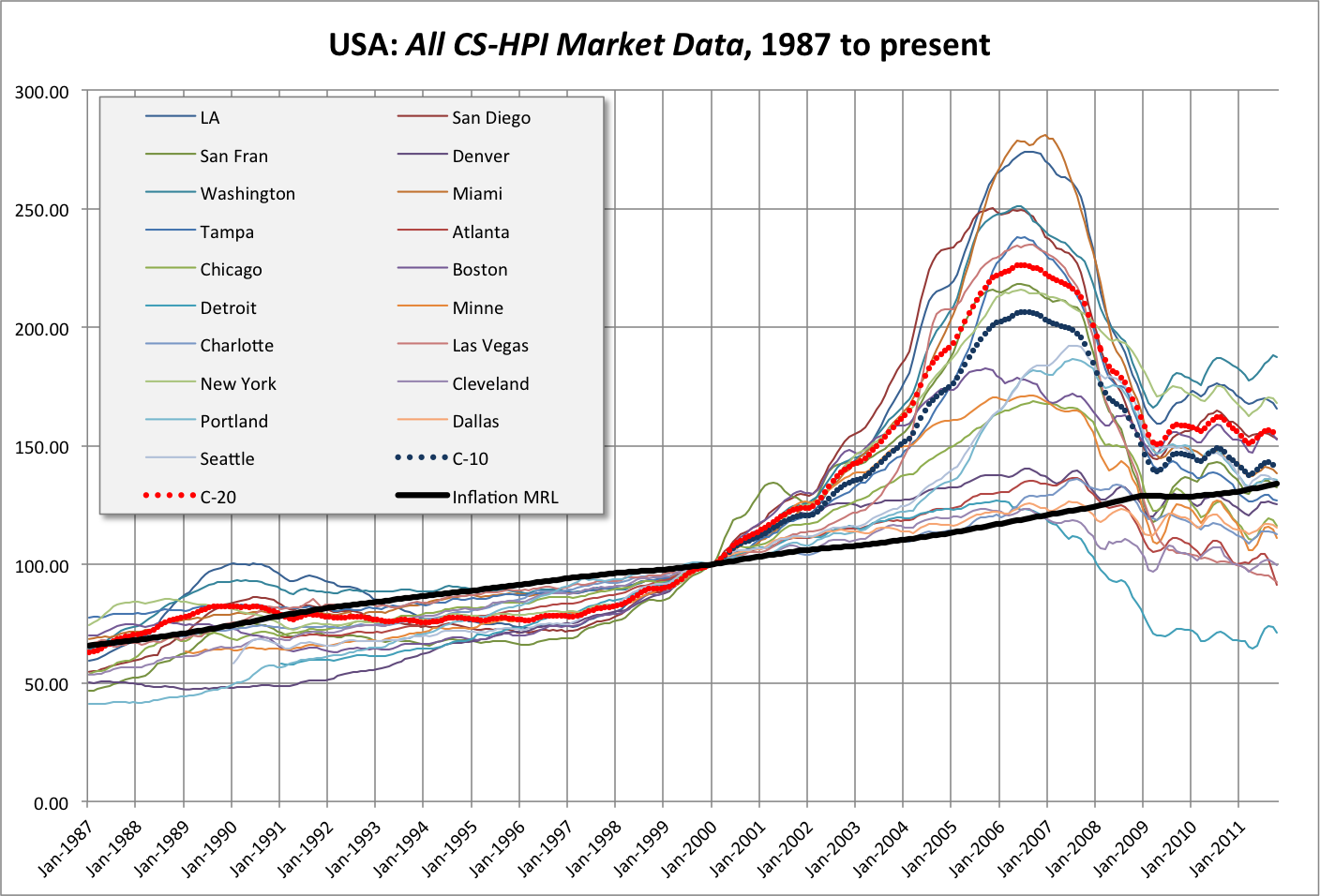 The most interesting thing about the above chart is that it's pretty clear that from 1987 to around 2000 the HPI data more or less followed the inflation curve. After 2000, however, the HPI outpaced inflation in most markets by quite a bit.
I'm reminded of Bob Farrell's 10 rules for investing, in particular rule number 1: markets tend to revert to the mean over time. From the above chart it appears that the US market is trending back towards the inflation line, which is denoted "Inflation MRL" in the charts, for Mean Reversion Line.
Chart-2: Selected Markets in the USA. This chart shows several markets (chosen somewhat randomly) that exhibit different reversions to the mean. LA and NYC seem to be hovering well above the inflation MRL, Miami and the C-20 are right above the line, and Las Vegas and Dallas has shot well past it.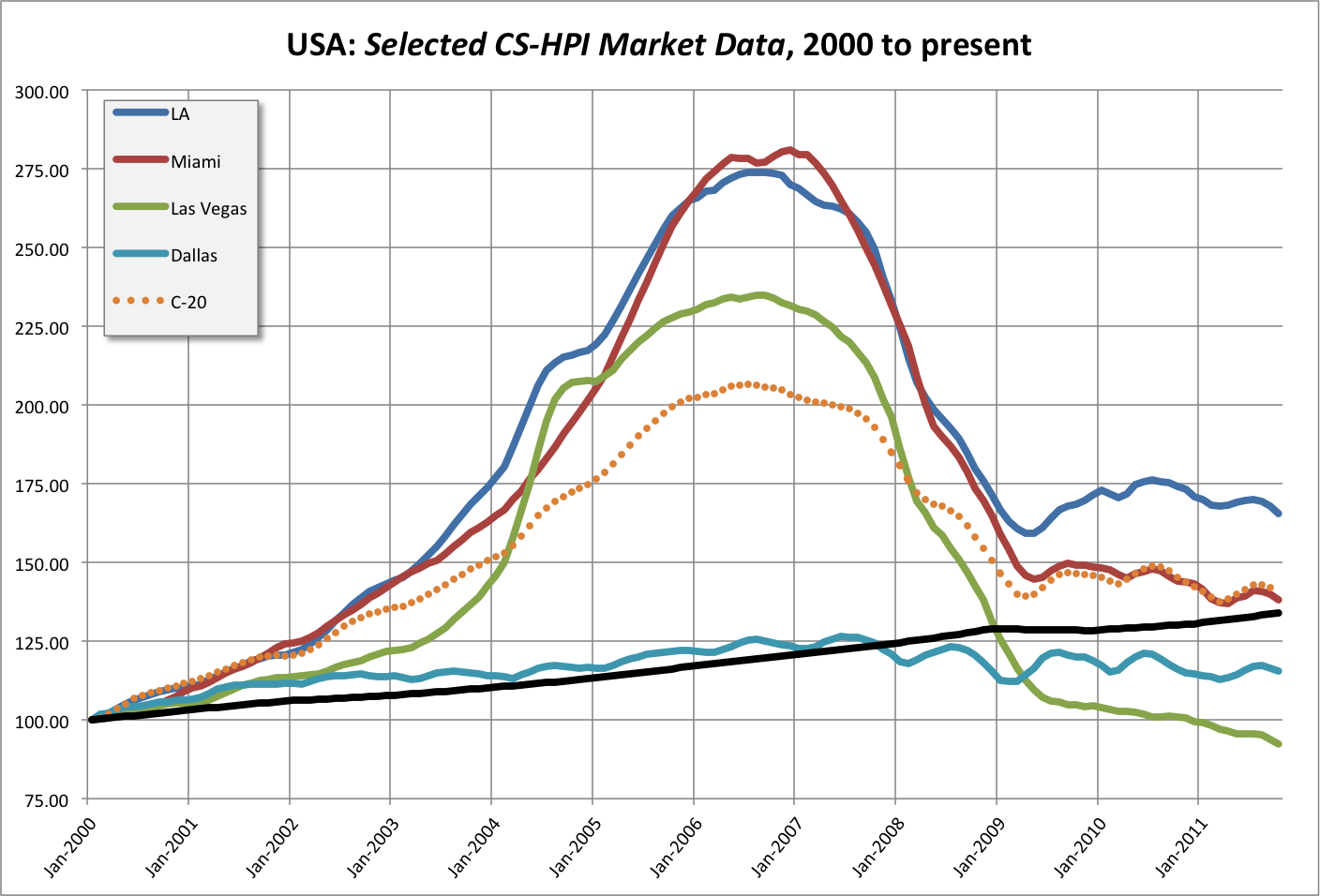 The above chart reminds me of another one of Bob Farrell's rule, number 2: excesses in one direction will lead to excess in the opposite direction. This means that not only has the US housing market not bottomed out yet in all markets, but also it could ultimately shoot past the inflation MRL before starting a real sustainable rise.
Does this mean that investors should buy in LV and not LA? Probably, because it appears that LA has further to go, while LV has shot well past the MRL.
The thing to take away from these US charts is that it's clear that the US real estate market is reverting to the mean, albeit by different amounts in each location. It's also important to see how the US real estate market has been going through this housing deflation for about 5 years, and probably still has more to go.
Table-1: USA Selected Markets Annual HPI Change (1987 to 2006). As the title suggest, this presents the change in HPI for selected markets from 1987 to the 2006 peak. I separated the data from 1987 to 2000, and 2000 to the 2006 peak to highlight how different the average annual price appreciations were in each period.
Table-1
1987 to 2000

2000 to 2006*

Total

Ave Yrly

Total

Ave Yrly

Dallas

n/a

n/a

25.7%

3.5%

LA

50.7%

3.2%

173.9%

16.3%

LV

59.2%

3.6%

134.8%

13.8%

Miami

46.0%

3.0%

180.9%

16.1%

C-10

n/a

n/a

126.3%

13.6%

C-20

n/a

n/a

106.5%

11.8%
Table-2: USA Selected Markets Annual HPI Change (2006 to present). This data shows the decrease in HPI values from the peak in 2006 to today's values. The purpose of this data is to show just how much of a decrease occurred during each year after the bubble popped.
Table-2
% Change for the Year

Total

Portion of Total, after:***

2006*

2007

2008

2009

2010

2011**

Decline

12 mon

24 mon

36 mon

Dallas

-1.6%

-2.3%

-4.4%

2.9%

-3.5%

0.7%

-8.2%

n/a

n/a

n/a

LA

-1.4%

-13.7%

-26.4%

0.0%

-0.2%

-3.2%

-39.6%

35%

94%

94%

LV

-1.4%

-15.3%

-33.0%

-20.6%

-4.7%

-7.2%

-60.7%

26%

72%

91%

Miami

0.0%

-17.5%

-28.8%

-9.9%

-3.7%

-3.4%

-50.8%

34%

81%

93%

C-10

-1.7%

-9.8%

-19.2%

-2.4%

-1.3%

-1.2%

-31.9%

32%

88%

94%

C-20

-1.5%

-9.0%

-18.6%

-3.1%

-2.4%

-1.5%

-32.1%

29%

84%

91%
*Note: in 2006 from the peak not start of year;
**Note: to most recent CS-HPI data;
***Note: from end 2006
In the first 12 months after the peak, about 25-35% of the total decline had occurred; and after 24 months about 70-90% of the total decline had occurred; and after 36 months more than 90% of the total occurred.
Canadian Housing Market
For all Canadian housing market home price data, I used the Teranet National Bank House Price Index (I will call it T-HPI). Inflation figures come from the IMF.
Chart-3: All Canadian T-HPI Markets. This chart shows all of the data sets from the T-HPI data series, as far back as 1991 in many cases. It appears that all of the Canadian markets more or less followed the inflation curve until around 2000, at which time the Canadian housing bubble started to accelerate. Note that markets are peaking across the board and there has been no reversion to the MRL.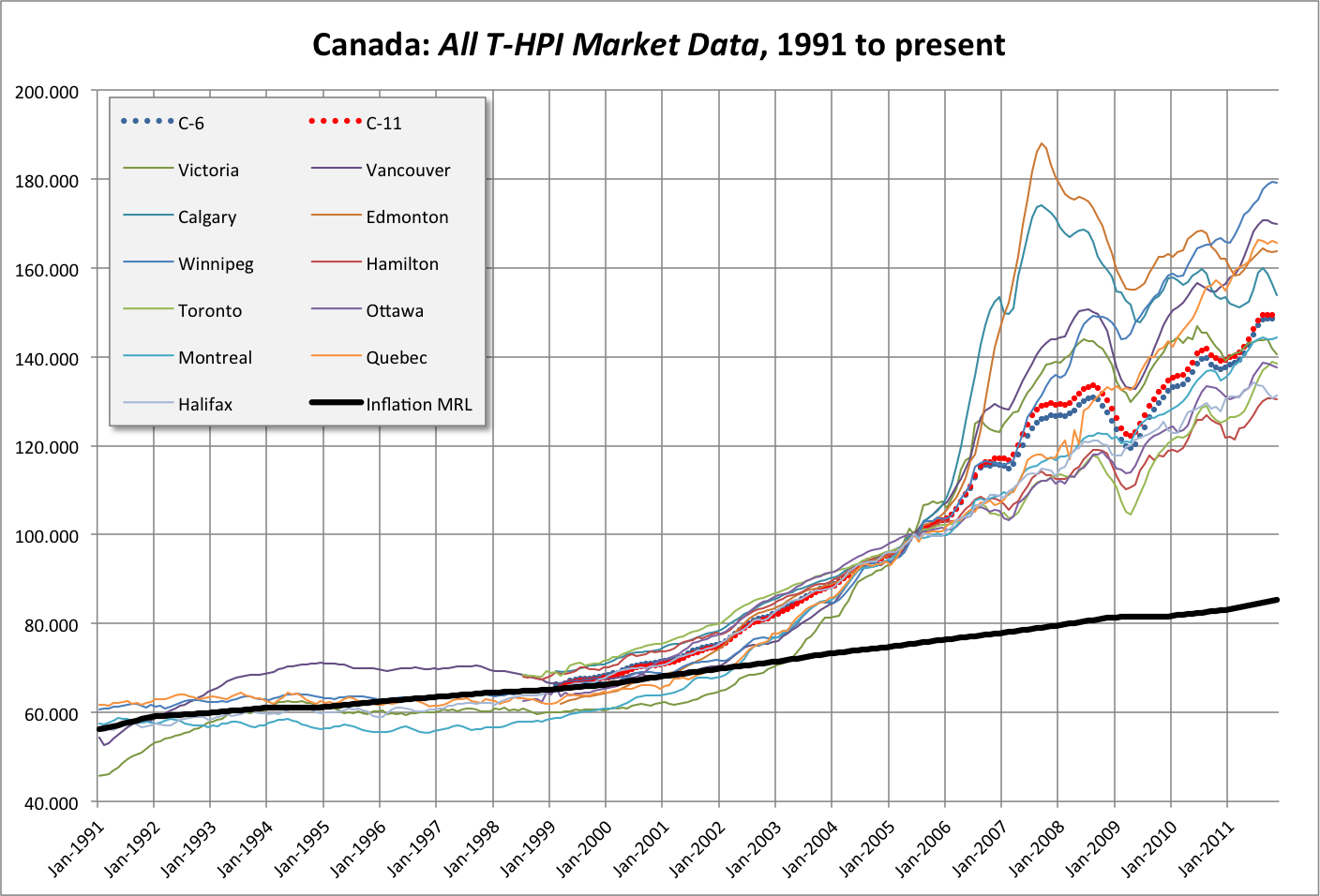 Chart-4: Canada Selected T-HPI Markets. I altered the T-HPI data so that each set present was base lined to 100 (same as Case-Shiller data) starting in January 2000. This makes comparison between markets easier.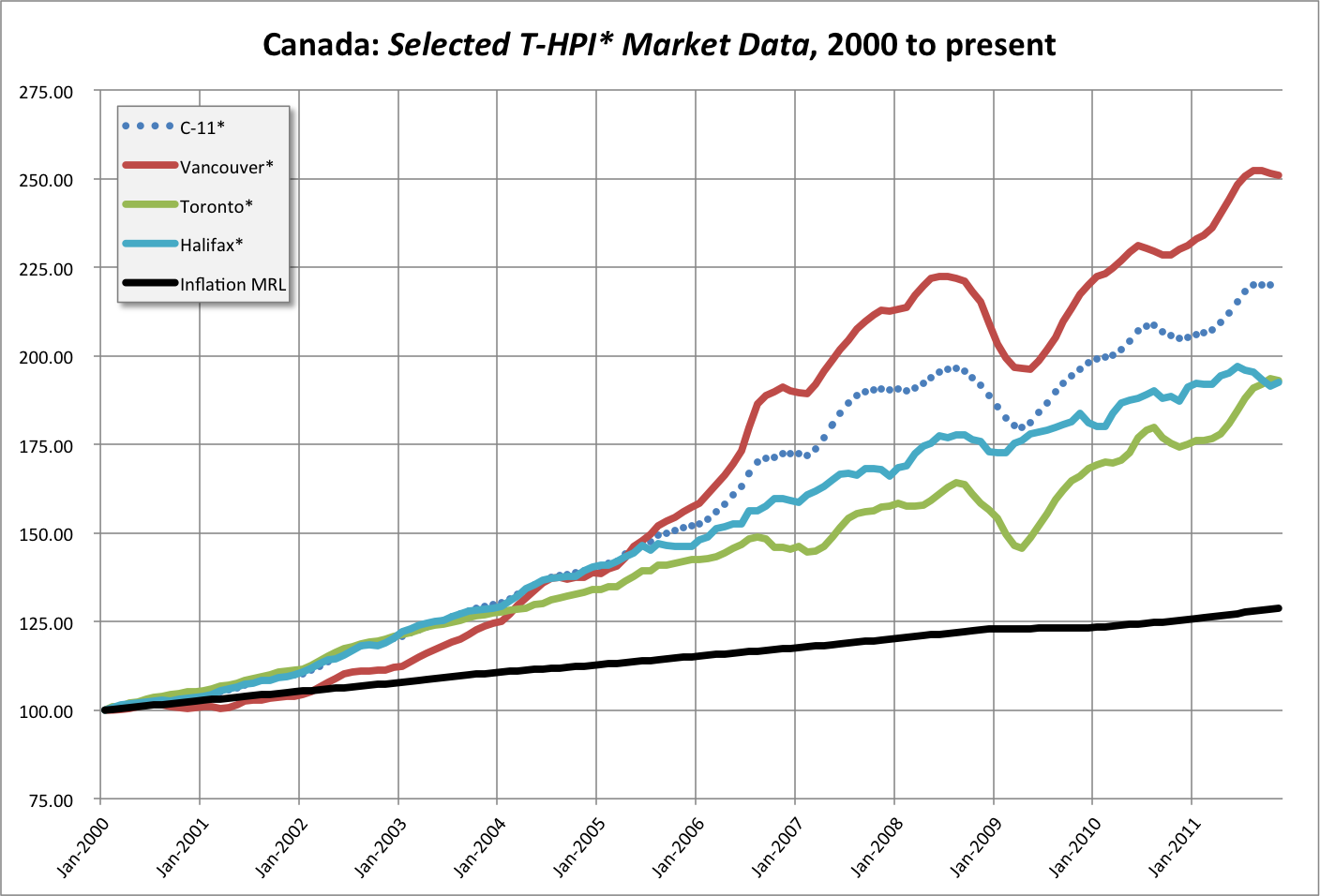 Note: All T-HPI datasets are base-lined to 100.
From the above chart we can see that reversion to the mean has not taken place yet in the Canadian housing markets. It does appear as though the peak has been reached in some markets late last year, but that could have also been said in 2008 and 2010 which saw similar peaking of data.
So how does the rapid ascent in Canadian housing prices compare with those in the USA? Table 3 shows growth in Canadian home prices from 1991 to present.
Table-3: Canadian Housing Price Increase in Selected Markets. Comparing the data in this table to the US data in Table-1, it's pretty clear the US had a more spectacular average annual rise from 2000 its peak in 2006: US C-11 rose at an annual rate of 11.8% from 2000 to 2006 peak, whereas Canadian C-11 only rose 6.9% on average. However, USA C-20's total rise at 106.5% is less that Canada's C-11 total rise of 119.5%.
Table-3
1991 to 2000 Growth

2000 to present

Total

Ave Yrly

Total

Ave Yrly

C-6

n/a

n/a

116.4%

6.7%

C-11

n/a

n/a

119.5%

6.9%

Vancouver

24.5%

2.2%

150.8%

8.1%

Toronto

n/a

n/a

93.1%

5.7%

Halifax

21.5%

2.0%

92.4%

5.7%
Table 4: Calculations of estimated amount of HPI decrease. Some explanation is needed here obviously. The first column is simply the current amount of each HPI market above its inflation curve. The second column is the estimated total inflation after 5 years (same duration as USA's deflation), which is to be subtracted from the first column. This brings us to the third column, which is the total estimated decline in each market based on reversion to the inflation MRL. I wanted to include the positive effects of inflation because it significantly affects the amount of price decline over time.
Table-4
Decrease to MRL

Housing Price Estimates

HPI above

5y of 2.2%

Tot Price

Approx

Decline

Decline

After Full

MRL

Inflation

Decline of

Ave Price

in 12m*

in 24m*

Decline

C-6

40%

11%

29%

n/a

n/a

n/a

n/a

C-11

41%

11%

30%

n/a

n/a

n/a

n/a

Vancouver

49%

11%

37%

800,000

710,823

547,332

502,743

Toronto

33%

11%

22%

475,000

443,939

386,993

371,462

Halifax

33%

11%

22%

250,000

233,817

204,148

196,056
The second part of the above table simply shows what the approximate average single family house costs in each region, and how that price may decrease over the first 12 months, 24 months, and after the full decline is reached.
HPI Rise: Is this a Paradigm Shift?
So what does this mean for the Canadian real estate market? Well, only one of three things can be going on here:
A true paradigm shift has occurred, and this time is in fact different. Canadian real estate prices will remain intact and continue to rise. Or…
Housing prices will stagnate with inflation eventually catching up. At the current average inflation rate of 2.2%, that would take about 15 years of price stagnation, depending on the market. Or…
There actually is a Canadian housing bubble and home prices need to revert back to their mean, which is what has happened in the USA, Ireland, Spain and every other market where 'irrational exuberance' was abound.
That's the end of Part-1. In Part-2 I will discuss household debt, mortgages and the Canadian banking system.
Disclosure: I have no positions in any stocks mentioned, and no plans to initiate any positions within the next 72 hours.