Timing is everything when you drill shale oil and gas wells. The most important determinant of the ultimate profitability of a shale well is the commodity price in the first 24 months after it is drilled. Especially the first year.
That is the nature of a shale well. The production comes on strong and then declines at a dizzying rate. After a couple of years the well is a mere trickle of its original flow rate at which point those decline rates lessen and you are left annuity like production stream. The image below shows the decline curve for a Statoil well in the Bakken.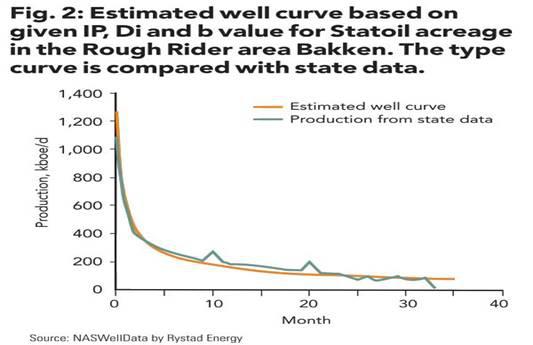 This production profile means that these wells are so front-end loaded that commodity prices in the first couple of years need to be sufficient or the well is not going to be sufficiently profitable. Those high rates of decline are also why we expect to see shale production in the United States decreasing pretty significantly over the next 6 months. The EIA's monthly Drilling Productivity Report is showing that the rollover actually happened back in May 2015 in the big 4 shale plays.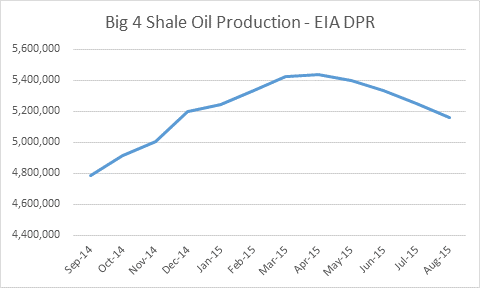 Data Source - EIA DPR
The curve of that production chart may not quite do justice to the significance of the decline that the EIA sees setting in. We prepared another version of the chart just showing monthly changes in production which helps illustrate better.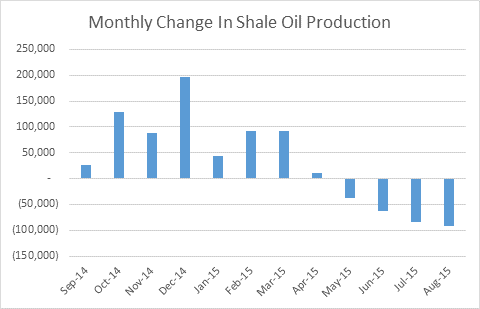 Data Source - EIA DPR
You can see that the big rig count decrease is (according to the EIA) starting to show up in a big way in July and August. If the rig count doesn't rebound those declines are going to continue.
It Just Isn't in This Industry's DNA to Slow Down
This front-end loading doesn't work well for the oil and gas industry which is known to, shall we say have a bit of a lead foot when it comes to its desire to spend money drilling. If the cash is available these guys have a hard time saying "no, thank you" and instead waiting for higher prices and better returns.
David Einhorn's "MotherFracker" presentation included the quote below from Stan Druckenmiller which we thought captured the oil and gas industry's "lead foot" pretty well.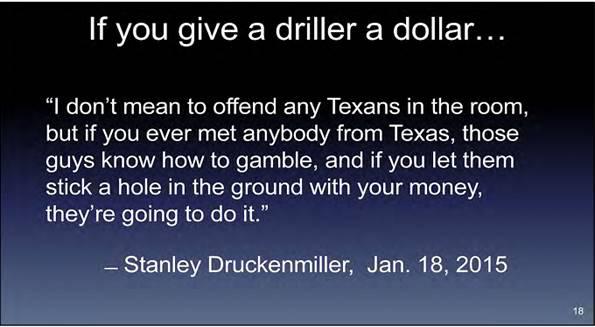 Image Source - Greenlight Capital
The thought of that quote provided us with a bit of a chuckle as we watched the price of WTI oil dip down under $45 per barrel, and as we listened to Pioneer Resources (NYSE:PXD) tell us proudly how they intended to ramp drilling back up to pre-crash 2014 levels. It raises the question: What's the rush?
Our thinking is that since timing is so key in maximizing the profitability of these shale wells that Pioneer should be content to defer drilling until prices are better. It can't possibly be that Pioneer management thinks that $45 per barrel is a sustainable price for oil going forward. Now, to be fair to Pioneer, next to almost all of their peers they are operating from a tremendous position of strength for a couple of reasons.
Positionof Strength No. 1 - They Do Have a Strong Hedge Book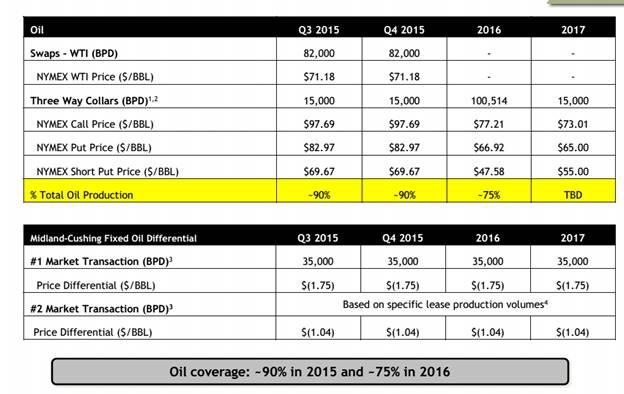 Source: Pioneer's Q2 Earnings Presentation
It does make more sense to drill if you are getting a good price thanks to hedging. Pioneer does have one of the best hedge positions we are aware of. 90% of oil production is hedged for 2015 and 75% of oil production is hedged in 2016 at $67 per barrel.
That is great for the company and shareholders. But does that mean that it makes sense to try and grow production with oil at $45? We don't think so. None of the production that is added through growth is going to be hedged. That means that Pioneer is adding rigs in order to drill wells that produce a huge percentage of all of the oil that they will ever produce into an incredibly low oil price.
Here is Pioneer's reasoning for ramping their drilling back up (from the previously linked conference call):
The rig ramp is expected to bring horizontal activity back to the level it was at prior to the oil price collapse in late 2014. We've already added four rigs. The IRRs, which are most important, what are the returns in this type of price environment? The Spraberry/Wolfcamp and Eagle Ford range from 45% to 60% at current strip prices, including all costs, tank battery, salt water disposal, capital costs. For example, also in a $50 flat environment, we're still getting 30% to 35% returns.
Those are half cycle returns of course, and we would note that we have yet to come across a shale driller that was pessimistic when making assumptions that go into calculate those returns. Perhaps Pioneer can turn a profit drilling wells into $45 WTI but there is no doubt they could make a lot more money if they had the patience to wait half a year for oil prices to be better. Perhaps significantly better.
Position Of Strength No. 2 - They Also Have a Good Balance Sheet
We do find it hard to be overly critical of the Pioneer strategy since they did a good job with their hedging and because they have pretty much the best balance sheet in their peer group. Pioneer's debt to cash flow isn't much over 1.0 times, while most of their peers have debt to cash flow ratios that range from 2.0 to 4.0 to 1. These guys can actually afford to do what they want with their drilling program. They also did indicate in the conference call that they aren't willing to weaken their balance sheet in order to chase growth with an upper end debt to cash flow target of 1.7 to 1.
Implications for Investors
Although we think chasing growth at $45 per barrel oil prices is a foolish strategy, we do like Pioneer Resources. The company has a huge position in the Permian, one that can't be replicated and is likely to grow in value over time as technology keeps improving.
We also like the company's balance sheet and hedge book, which lets investors sleep comfortably while many shale producers are in real danger if oil prices don't rebound in the coming months. We just wish Pioneer would follow the lead of EOG Resources (NYSE:EOG), which is choosing to not growth production into an oversupplied market despite having the ability to.
Disclosure: I/we have no positions in any stocks mentioned, and no plans to initiate any positions within the next 72 hours.
I wrote this article myself, and it expresses my own opinions. I am not receiving compensation for it (other than from Seeking Alpha). I have no business relationship with any company whose stock is mentioned in this article.