As bank stock prices slipped into the drain pipes last year, New York Community Bancorp (NYB) seems to be one of the proverbial babies thrown out with the bathwater.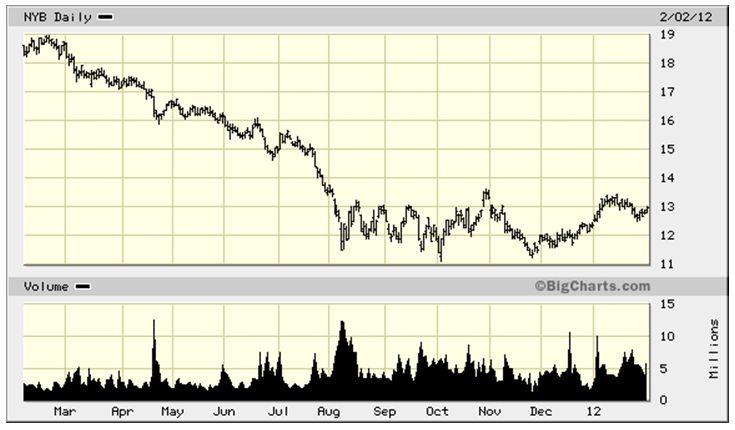 NYB doesn't own European debt. NYB never engaged in subprime lending. NYB doesn't have a large, speculative derivatives portfolio. NYB doesn't have conflict-of-interest problems with investment banking clients. Yet, NYB's one-year chart looks just like all of the other large banks plagued by those issues.
To be fair, NYB is a bank and will have to cope with uncertainties and obstacles presented by implementation of Dodd Frank. But NYB's sell-off seems overdone, the shares trade at a very attractive valuation, and the dividend is sustainable in my opinion.
One legitimate concern about NYB was their uncharacteristically elevated level of non-performing assets (NPAs),which caused some investors to wonder if management had strayed too far outside their bread-and-butter NY market area with some FDIC-assisted transactions. But NPAs appear to be under control having crested last quarter, declining 47% year-over-year. A silver lining on what detractors see as a cloud over recent acquisitions is a decline in NYB's cost of funding. Their new non-NY markets have significant and growing deposit bases that are helping NYB diversify its funding away from more expensive CDs with lower-cost money market and savings deposits.
Yes, those funding cost savings are being offset by margin compression by new loans being booked at lower rates than the ones rolling off. But NYB also generates pre-payment fee income when payoffs accelerate due to rate declines, and last quarter's earnings again demonstrated NYB's earnings persistence in an unfavorable rate environment.
Management indicated on the most recent earnings conference call that they continue to be confident about the sustainability of the dividend, as the company has conservative underwriting practices, a balance sheet with excess capital and opportunities for modest growth.
If NYB can continue to clean up its mostly acquired NPAs, maintain its disciplined underwriting standards that have delivered better-than-peer charge-offs historically, and eke out even modest growth, the shares' total return potential is quite attractive. If they're only able to muddle along earning enough to pay the current $1/share annual dividend, 7.8% is a nice rent payment while waiting for some growth to materialize.
Disclosure: I am long NYB.