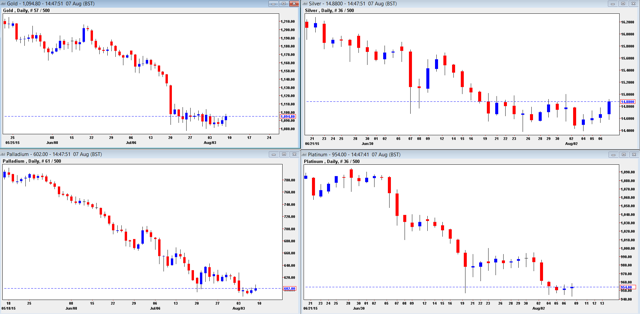 Source: Net Dania
Selling pressure across the precious metals complex has slowed of late despite deflationary pressure stemming from the steep sell-off in energy prices. Further, it is interesting to note that the precious metals complex has held relatively better than the base metals complex, because (1) precious metals were supported by the recent sell-off in equities in light of their negative relationship, and (2) the spec positioning has reached an extreme short positioning so short-covering seems presently necessary despite the release of a good US employment report in July.
According to the US Bureau of Labor Statistics (BLS), total nonfarm payroll employment increased by 215,000 in July, slightly below market expectations of 220,000, while job gains for June were upwardly revised from +223,000 to +231,000. Additionally, the unemployment rate remained unchanged at 5.3 percent, in line with market expectations, while the civilian labor force participation rate was unchanged at 62.6 percent in July. Finally, average hourly earnings were up 0.2 percent in July after having risen by 2.1 percent over the year, which continues to be below the necessary level to convince the Federal Reserve that inflation will move gradually toward its 2 percent target.
Although the pace of job creations slowed in July, the US economy continued to produce 200,000 + monthly jobs for the fourth consecutive month, suggesting that the economy continues to improve after having experienced weakness in real GDP during the first quarter of this year, raising the likelihood of an initial increase in the federal funds rate at the September FOMC meeting. The US, which was slightly weaker prior the release of the report, surged after the report to a two-week high, while US government bonds, which were trading higher prior the report, reversed some of their gains.
Interestingly, this macro bearish environment did not exert downward pressure on precious metals markets that I would have expected. In fact, despite a stronger greenback and higher interest rates, precious metals have pushed quite higher after the release of the employment report.
To sum up, despite a stronger US employment report, money managers covered their short positions, pushing prices higher. In a recent note, I highlighted the fact that shorts were beginning to run out of steam and were not inclined to accumulate additional positions. While this report should have, in theory, elicited some fresh selling across the precious metals markets, money managers reduced their gross shorts instead. The current deep oversold conditions combined with the bearish spec positioning is likely to induce a mini short-covering rally in the short term. I am therefore willing to reverse my short position by 180 degrees to play the precious metals markets from the long side.
Disclosure: I/we have no positions in any stocks mentioned, and no plans to initiate any positions within the next 72 hours.
I wrote this article myself, and it expresses my own opinions. I am not receiving compensation for it (other than from Seeking Alpha). I have no business relationship with any company whose stock is mentioned in this article.