Donald Trump may be considered obnoxious but he has drawn quite an audience to the conservative political spectrum. Certainly as his rhetoric gets louder and more boisterous an even larger number ears and eyeballs will tune in. Further the large number of competitors in the Republican presidential race means lots of dollars will be spent on media. One medial company particularly well positioned in this environment is Salem Media Group (NASDAQ:SALM)
SALM is a conservative and Christian media company operating across multiple media channels including radio, digital, and publishing. The company operates more than 100 local stations with 67 of those in the top five media markets. Some readers will recognize their hosts such as Bill Bennett as household names. One the internet, SALM owns numerous brands including the popular conservative political site redstate.com. On the publishing side SALM authors include Ann Coulter, Newt Gingrich, and Michell Malkin.
Drivers Are Not Unplugging the Radio
Unlike media companies such as Disney (NYSE:DIS) and Time Warner (NYSE:TWX) that are dependent on cable, SALM's medium is largely radio. To date radio has not been affected by cord cutting. AM/FM Radio reaches 92% of the population and is still the best medium from 5am to 5pm better than television, on-line and mobile mediums. In particular drivers are listing to radio with 86% of drivers in a typical month and more than 58% indicating they listen all or most of the time. In addition listeners are now streaming radio programming including 4 million hours for SALM itself.
For SALM broadcast revenue typically accelerates in election years as you can see from the graph below and we expect a jump headed into the 2016 year as well.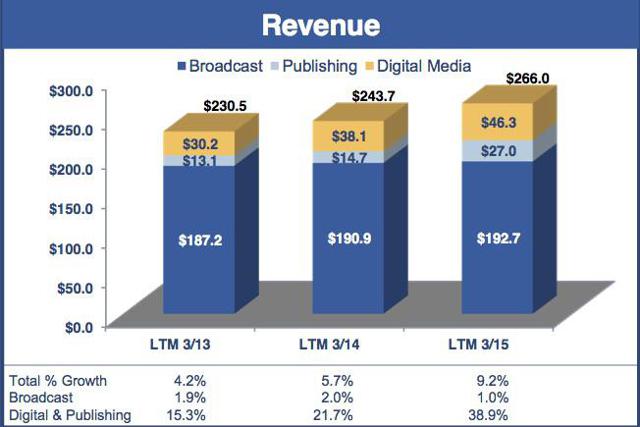 Digital
SALM has made quite a few acquisitions on the digital front including the well read political site redstate.com. The acquisitions have paid off well as revenue from digital is growing 27% CAGR over the last four years. Even more impressive is the impact on the bottom line growing at a 60% CAGR in the same period.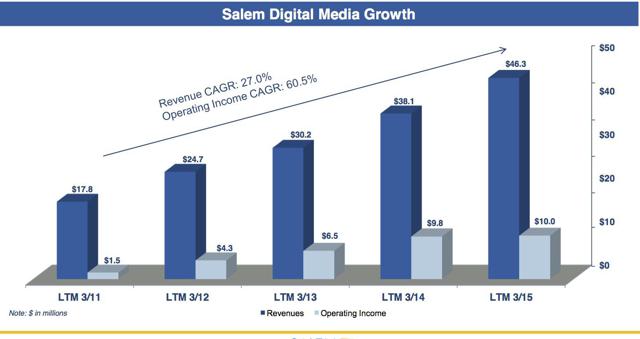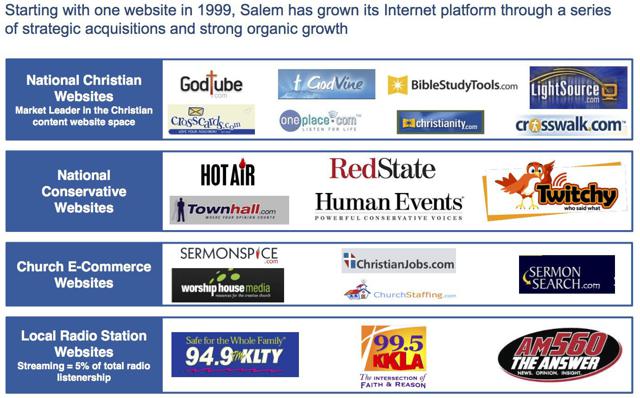 Valuation
Up to this point we've identified why SALM is an attractive growth stock headed into the election season. However, looking at SALM on an EV to EBITDA basis shows the stock is considerably under valued too.
Looking at the chart below we see the mean and median EV to EBITDA multiples for broadcast media are 11.0x and 9.6x respectively. Currently SALM trades at a multiple of approximately 8.4 times EBITDA. If SALM were to only close the gap given current EBITDA the shares would trade just under $8.00 nearly a 33% premium to the current stock price.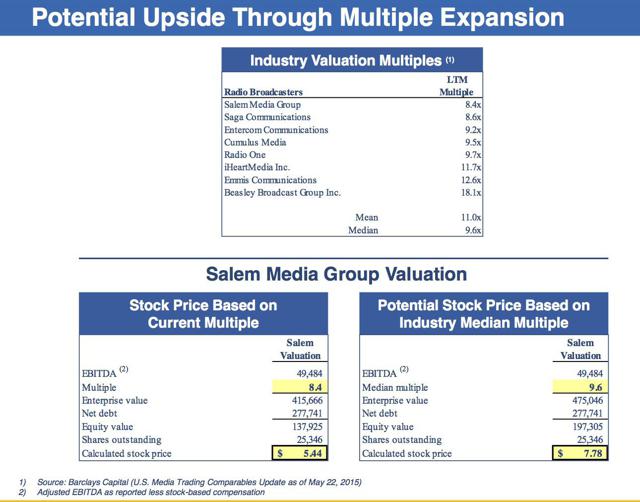 Conclusion
With or without Donald Trump in the presidential race it is clear SALM is poised to benefit from conservative political spending given their stronghold on the conservative political audience. SALM is well positioned in the breadth and quality of their broadcast properties. The digital media segment continues to grow by leaps and bounds making SALM a fantastic growth story - particularly over the next 18 months.
Add to the growth story SALM's compelling valuation - even at current levels. The valuation should cushion any downside risk leading investors to a fantastic risk/reward ratio for this unique stock.
Disclosure: I am/we are long SALM, TWX.
I wrote this article myself, and it expresses my own opinions. I am not receiving compensation for it (other than from Seeking Alpha). I have no business relationship with any company whose stock is mentioned in this article.