"Rashness belongs to youth; prudence to old age." - Marcus Tullius Cicero
The biotech sector started to break down in a significant way last week especially towards the back end of what was a very challenging week overall for investors and the market.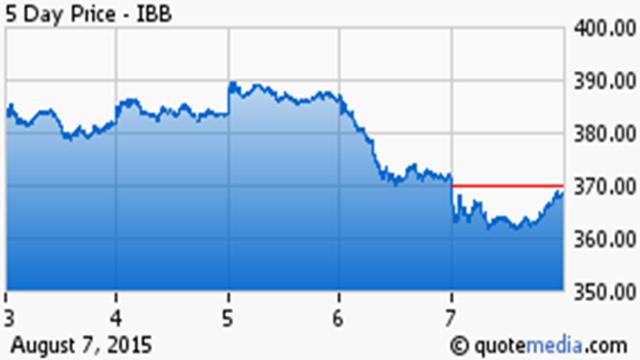 Over percent of stocks in the IBB (above), an ETF that represents the high beta biotech sector; with a market cap of more than $500 million, are down more than 10 percent from their 52-week highs. It has been a correction within a leading sector of the market that has drawn little notice so far from pundits.
I have been saying throughout late spring and early summer (I, II) that this lucrative but very volatile area of the market at the very least was overdue for at least a decent pullback, if not a larger correction. The biotech sector has been one of the strongest, if not the best-performing sector, in the market over the past year. It feels overdue for a breather at the moment.
Just like trees cannot grow to the sky, this outperformance cannot continue forever without at least a shake-out at some point, especially if the market goes into "risk off" mode. Equities do seem to be entering a more cautious environment with fellow highflying momentum stocks like Tesla Motors (NASDAQ:TSLA) and Fitbit (NYSE:FIT) getting crushed this week as both companies failed to live up to the lofty and overambitious expectations investors had put on them.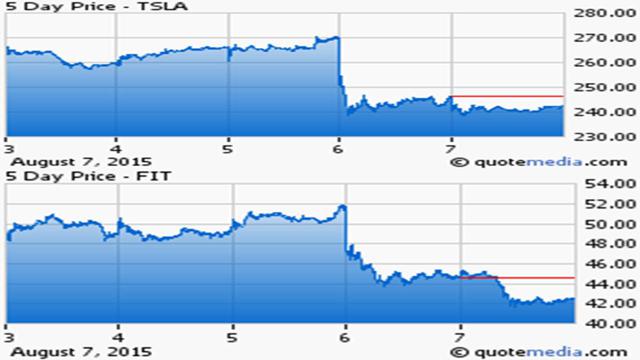 As I recently articulated, I believe it is likely that the overall market could easily have a 10% correction from its previous highs. If that turns out to be an accurate forecast, the high beta biotech sector will take an even harder hit. These are the three things biotech investors should keep in mind to navigate this latest bout of turmoil in this volatile but lucrative part of the market.
Don't be in a rush to "Buy the Dip"
The biotech sector historically goes through long bouts of outperformance to the overall market interspersed with deep, quick and sudden pull-backs. The last real correction we had in the sector occurred in early March of 2014 and lasted until approximately the end of April. During that relatively short timespan, the large cap names in the sector such as the "four horsemen of biotech" quickly gave up 20% to 30% of their value. The more speculative small cap area of the sector was hit even harder with myriad small caps being sliced in half or worse.
I don't know if last week was a blip or the start of one of these sporadic deep corrections the sector sees from time to time. However, investors should not be in any rush to buy the dip given the huge outperformance of the sector to the overall market over the past year.
I think a good rule of thumb is determining now what if any additional funding you want to allocate to the sector over the next quarter or so. Divide that by 10. Every time the sector has a decent dip, put one tenth of that overall allocation to work.
Stick mainly with the large cap growth names
I would stick mainly to the large cap growth names in the sector like Gilead Sciences (NASDAQ:GILD), Celgene (NASDAQ:CELG) and Amgen (NASDAQ:AMGN) to allocate this additional funding towards. In the last major correction in the first quarter of last year, these types of stocks suffered lesser declines than their small cap brethren. They were also the first to bounce back.
The names offered above also all sport reasonable valuations currently, and delivered standout second quarter earnings results. They are a good place to start; to put money to work, should this turn out to be a larger correction within the biotech sector.
Be selective in the small cap arena
I would not be in any hurry to add or initiate stakes in most of the small cap part of the sector. If this is a correction like the one we had last March, the pain is just starting for this more speculative part of this space. I would stick with names that either already have actual earnings or are highly likely to have profits in the next 12 months. Companies that are currently losing money while hoping for successful trial results from candidates in their pipelines can be "re-valued" by the market in a blink of an eye when the sector has a real correction.
The type of name I would add to on an additional significant dip is ANI Pharmaceuticals (NASDAQ:ANIP), a mainly generic drug maker I profiled recently. The stock has already pulled back last week as the company slightly lowered revenue guidance even while slightly raising earnings guidance. ANI is solidly profitable, almost tripled revenues year-over-year in the just-completed quarter, and based on next year's earnings, is trading in line with the overall market multiple, despite the company's vastly superior growth prospects. I have already added some shares to my core stake this week but another 5% to 10% dip would also be an actionable gift.
That is my take on the current state of the biotech market. Hopefully, this week's action was just a temporary "hiccup" and the sector can resume its upward glide in short order. However, if this is the start of a larger correction, being forewarned with a game plan in place is the way to go right now. Happy Hunting.
Disclosure: I am/we are long AMGN, ANIP, CELG, GILD.
I wrote this article myself, and it expresses my own opinions. I am not receiving compensation for it (other than from Seeking Alpha). I have no business relationship with any company whose stock is mentioned in this article.