According to the broad market media, stocks got an early lift Monday because of a developing fresh deal for Greece. More likely, though, stocks are simply higher given the dearth of U.S. data this morning to stop it. The S&P 500 is also benefiting from support at its 200-day moving average. Still, watch out friends, because today a previously disruptive force is due to deliver a dose of reality again. Also later this week, critical data will reach anxiously awaiting eyes fearful of being poked out. But mostly, we cannot get comfortable now because we are locked in a waiting game heading into the important September Fed meeting, where it may finally initiate its program of monetary policy tightening. Considering capital flow factors as well, this is hardly the time to get comfortable and to follow the herd to the butcher's block.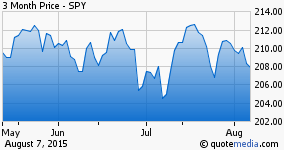 3-Month Chart of SPY at Seeking Alpha
The 3-month chart of the SPDR S&P 500 (NYSE: SPY) shows a whole lot of movement without actually getting anywhere. Unfortunately, the situation is likely to continue into the fall in the best case scenario; the worst possible scenario shows investors are at risk of a significant setback, with a market correction possible over the next 3 months.
| | |
| --- | --- |
| Sector Security | Monday Morning 08-10-15 |
| Vanguard S&P 500 (NYSE: VOO) | +0.9% |
| SPDR Dow Jones (NYSE: DIA) | +1.0% |
| First Trust NASDAQ-100 Tech Index ETF (NYSE: QTEC) | +1.0% |
| iShares Russell 2000 (NYSE: IWM) | +0.9% |
| Vanguard Total Stock Market (NYSE: VTI) | +1.0% |
| iPath S&P 500 VIX (NYSE: VXX) | -3.3% |
This morning, the media turned a weak catalyst into a reason to buy stocks, but investors are really buying on a dearth of data to stop stocks rising off their 200-day moving average. News that Greece was hopeful of having a new deal by Tuesday was hardly important enough to give stocks the lift they got in the premarket. Closer inspection of the S&P 500 Index shows it sits now at its 200-day moving average, a place from which it has bounced in the past. But, if you'll again refer to the 3-month chart above you will note that it has hardly gone anywhere despite regular rises.
Later today things could go sour when Atlanta Fed President Dennis Lockhart, a voting member of the Federal Open Market Committee (FOMC) addresses a conference in Atlanta. When last he publicly spoke, a little over a week ago to the Wall Street Journal, Lockhart troubled investors. He said that at this point he would actually need to be dissuaded from voting for a rate hike at the FOMC's September meeting. In doing so, he strayed a bit from the Fed's party line, which is that it remains data dependent. Lockhart is inclined to vote for a rate hike and needs to see a good reason not to - that is hardly a neutral position.
The week is rather light on economic data, but it does contain the critical monthly Retail Sales Report. Sales were down 0.3% in June and down 0.2% when excluding autos and gasoline. For July, economists expect something a bit better, with overall sales seen rising 0.5% and 0.4% before autos and gasoline. That's good news right? Wrong, it is representative of good enough economic growth to allow the Fed to raise rates. We do not want to see a soft result though either, as that would present the market with reason to worry about the economy, which is a far worse threat to stocks than the Fed.
We will receive a bunch more data that matters to the Fed this week. With regard to inflation, we'll get the Atlanta Fed Business Inflation Expectations data on Wednesday. Maybe you think this will be what Lockhart needs to see to change his mind, but odds are against it. Last month, the index showed an increase of 2.0%, which was higher than the previous 1.9%. This is not a very critical inflation measure anyway folks, so do not get too excited about it.
The Producer Price Index (PPI), due Friday, is far more important. There's good news to report too, as economists expect July's reading to show a far smaller increase in prices. The PPI was reported up 0.4% in June and up 0.3% before food and energy; economists expect producer prices rose 0.1% in July and 0.1% before food and energy. Though, I warn again against excitement about the lower rate of rise, as it is measured month-to-month and will be based off of the sharply higher figure for June. And if that figure is adjusted lower, then the July figure could come in hotter than expectations. It's all bad news for stocks as I see no escaping Fed fear on Friday, at least not for discerning investors.
Industrial Production, Import/Export Prices, Wholesale Trade and Business Trade data will also be reported along with several other reports. Expect these data to continue to show a bifurcated economy in the U.S., where manufacturing is still being hampered by lower energy prices and fewer orders for industry relative equipment.
There's just no escaping the elephant in the room friends, and it will stay that way until we have had that September Federal Reserve meeting. And even if the Fed holds off a bit longer, the weight will remain on our shoulders. At the same time, we have capital flow disfavor to worry about as institutional fund managers work around their fiscal year-end now. I see that leading to risk coming off and the potential for a market correction. Yeah, maybe don't follow the herd on these days that offer a dearth of data to get in the way of stock buying, because the herd seems to be heading to the butcher block. I cover the market closely and invite interested parties to follow the column here at Seeking Alpha.
Disclosure: I am/we are long VXX.
I wrote this article myself, and it expresses my own opinions. I am not receiving compensation for it (other than from Seeking Alpha). I have no business relationship with any company whose stock is mentioned in this article.