CenturyLink (NYSE:CTL) investors are frustrated, and rightfully so. 2015 was supposed to be the year for CenturyLink's returned to growth after four years of frustration. However, that growth is not going to happen, and might never happen, but that doesn't mean CenturyLink is a bad investment.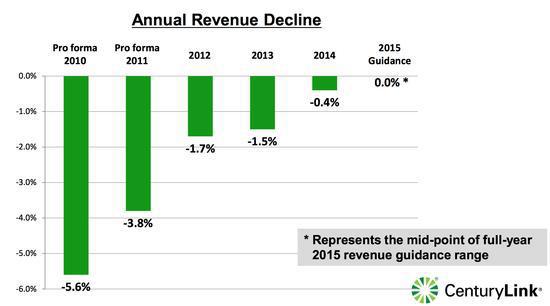 As seen in the above chart, provided by CenturyLink, the company has slowly but surely closed the gap of year-over-year revenue loss, and after four years of improvement, 2015 was expected to breakeven if not produce a very slight year-over-year revenue increase. Instead, CenturyLink lowered full-year revenue guidance last week to a midpoint of $17.8 billion. That will represent a year-over-year loss of about 1.5%. In other words, CenturyLink is going the wrong way if you take into account the above chart.
CenturyLink's fundamental problem over the last five years has been the decline in landline telephone service use, which used to be CenturyLink's core business. CenturyLink has found growth by offering high speed broadband internet and Prism TV services, but the growth of these two businesses has not been fast enough to combat the declines in home phone. Furthermore, after growing its high speed broadband business to well over six million customers, CenturyLink noted that in the second quarter, it actually lost 9,200 customers. Therefore, it appears that CenturyLink's internet business might have peaked, thereby leaving Prism TV as its only legitimate growth driver.
The issue is that Prism TV is still a smaller business, adding 8,400 customers in the second quarter and totaling just 258,000 subscribers. Also, pay-TV hasn't exactly been a growth driver in the U.S. over the last year, as cord cutters take to services like Hulu and Netflix (NASDAQ:NFLX) and do without the more expensive pay-TV services. Lastly, even large pay TV providers like DISH Network (NASDAQ:DISH) have branched out to offer low cost monthly streaming options with Sling TV, further questioning the longevity of Prism TV's growth.
The bottom line is that CenturyLink may never return to growth, those days may be long gone. But, it's OK! This is a company that generated nearly $2.25 billion in free cash flow over the last 12 months. That means CenturyLink trades at less than 7x FCF, an unprecedentedly cheap multiple. Further, after announcing plans to cut 1,000 jobs, there's a good chance that FCF will rise even more.
Normally, I don't like to see a company cut employees, as it usually indicates that growth is no longer a realistic goal. However, we already know that about CenturyLink, so it's not as big of a deal in regards to the company's investment outlook. Instead, CenturyLink's appeal comes down to its dividend and valuation. I already showed its cheap multiple to FCF, but CenturyLink pays a 7.5% yield, a dividend that is sustainable.
If CenturyLink's stock were to trade flat and its dividend payout unchanged, it would pay approximately $1.17 billion in dividend payments over the next year. That's slightly more than half of its FCF. While that may seem like a high percentage, keep in mind that telecommunication companies tend to spend a very large percentage of their FCF on dividends. In fact, AT&T (NYSE:T) would pay 78% and Verizon (NYSE:VZ) more than 100% of their respective trailing 12-month FCF on dividend payments if dividend payments were to remain unchanged over the next year.
As a result, I am buying CenturyLink for its dividend, a 7.5% yield, and because I think there is some stock upside due to its valuation. After a near 30% stock loss in 2015 alone, I don't think there is much downside from this point forward, likely not 7.5%. Therefore, CenturyLink's yield becomes a nice hedge, a safety net, and while the company is unlikely to find too much growth in the years ahead, it is a very rare case where a lack of growth really doesn't matter.
Disclosure: I am/we are long CTL, T.
I wrote this article myself, and it expresses my own opinions. I am not receiving compensation for it (other than from Seeking Alpha). I have no business relationship with any company whose stock is mentioned in this article.