Apricus Bio (NASDAQ:APRI) released its 2Q15 earnings on August 5 and showed a company that is generally on track with commercializing Vitaros and continuing to develop its pipeline. During the conference call the company stressed three points:
Advancement of the clinical pipeline
Commercial growth of Vitaros
Improvement of the financial position
Advancement of the clinical pipeline
The company has two products in its clinical pipeline: Fispemifene and RayVa.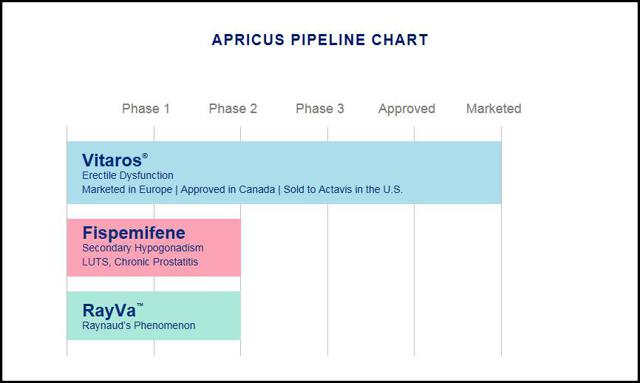 Fispemifene is a selective estrogen receptor modulator (SERM) in development to treat men with secondary hypogonadism. It acts through an estrogen-blocking effect at the pituitary, resulting in increased testosterone production which restores testosterone levels to a normal range. During 2Q15 the company began the enrollment of the first patient in a phase 2b proof-of-concept trial.
RayVa topical cream is being developed to treat Raynaud Phenomenon secondary to systemic sclerosis. The intent is for the cream to work similar to Vitaros, in that it increase blood flow by dilating veins. During 2Q15 the company completed enrollment in a phase 2a proof-of-concept study in patients with scleroderma who also suffer from Raynaud's phenomenon.
Both of these pipelines look promising and have strategic value for the company assuming they can reach completion. The company discussed the pathway for RayVa during the earnings call:
After full review of the data we will prepare for and request guidance from the FDA by the end of 2015 to confirm the regulatory path for subsequent clinical trials so that we can move the RayVA development program forward as soon as it's practical to do so in 2016…The FDA has indicated that RayVa may qualify for priority review, given the unmet medical need and lack of approved products in the U.S. to treat this condition. The FDA would determine if the RayVa new drug application qualifies for priority review following its submission which could occurs early as 2017.
Commercial growth of Vitaros
Vitaros began its commercial launch in 2014 with the U.K. and was soon followed by Germany, Belgium, Sweden, Spain, and France.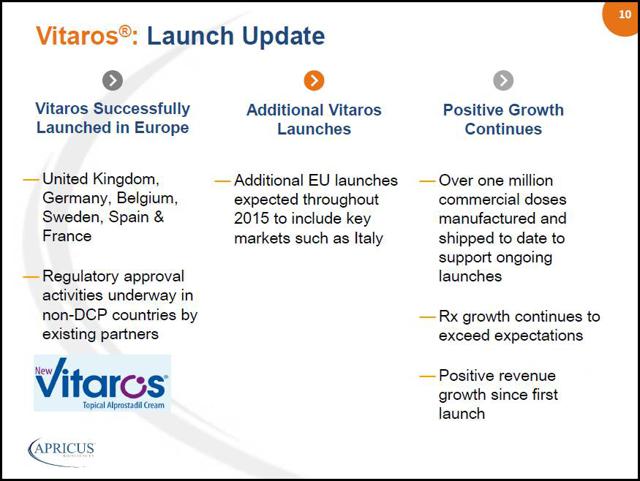 (Source: company presentation)
The company is still planning on a launch in Italy later that will open up the last major European market. In terms of sales, Vitaros has been catching on:
On the Vitaros commercialization front, we continue to witness substantial progress in Europe. According to interim data obtained from IMS Midas, European unit sales of Vitaros in the second quarter were approximately 74,000 units. In comparison, European unit sales in the first quarter of this year were approximately 37,000 units, an increase of over 100% quarter-over-quarter. The primarily driver of this increase was a launch in France, coupled with continued growth in other markets…Looking forward, Bracco, our partner in Italy has indicated that they expect to launch later this year and as such have placed commercial product orders from our contract manufacturer, Therapex, to support that launch.
The company reported $387K in product sales for 2Q15 compared to $37K during 1Q15. This in reality is product that was sold during 1Q15 and 4Q14 respectively, but recognized a quarter later due to the lag in reporting. It also doesn't represent the additional territories of Spain and France during May 2015, and should add to 3Q15's reported product revenue.

(Source: Company 10Q)
Moving forward, the company has a few more goals with Vitaros. The first is expanding licensing for Latin America and Asia-Pacific. The second is launching in Canada and securing the U.S. The third is the approval of the Vitaros Room Temperature Device in Europe for 2016.
Improvement of financial position
APRI is a developmental pharmaceutical company, and as such is still operating with losses. It has one product in the commercial market, but is still growing the revenue base with Vitaros. During 2Q15, the company recorded a net loss of $5.2 million primarily due to increased spending on the company's development programs for Fispemifene and RayVa clinical trials.
The company ended the quarter with $7.4M in cash, having burned thru $4M during the first 6 months of the year. During the conference call the company stated its position on cash:
With our cash on hand, access to additional capital under the existing committed equity facility with Aspire Capital and ongoing cash flows from Vitaros, we believe that we have an appropriate level of cash to support our current operating plans into 2016.
There are a few ways the company could improve its cash position, but the most likely will be a secondary offering sometime around December. Revenue from Vitaros will still be in its infancy, and while the existing debt facility will help, it's not likely enough to get the company to the finish line with Fispemifene and RayVa.
Conclusion
The growth of Vitaros offers near-term growth for investors while the positive prospects of Fispemifene and RayVa offers strategic long-term progress. During 1Q15 the company made significant strides with Vitaros as shown by the revenue recorded during 2Q15. During 2Q15 the addition of Spain and France opened two huge markets for the company, although significant revenue will likely not be seen until 4Q15. Around 4Q15 or 1Q16 investors should be prepared to see a secondary offering to keep the development of Fispemifene and RayVa on track. Overall the company has a long-term strategic vision and will reward investors that can keep their eyes on the horizon.
Disclosure: I am/we are long APRI.
I wrote this article myself, and it expresses my own opinions. I am not receiving compensation for it (other than from Seeking Alpha). I have no business relationship with any company whose stock is mentioned in this article.
Editor's Note: This article covers one or more stocks trading at less than $1 per share and/or with less than a $100 million market cap. Please be aware of the risks associated with these stocks.